Why are the pokies so popular?
Why are the pokies so popular?
Charles Fey is a man many people would not know, but there are very few of us that haven't been in contact with his invention – the slot machine. Fey invented the slot machine, or the pokies as they are colloquially called in Australia, in 1895, and by 1910 they were beginning to take hold. These days pokies in Australia can be found in pubs, clubs, and land-based and online casinos, and have a large following among both males and females.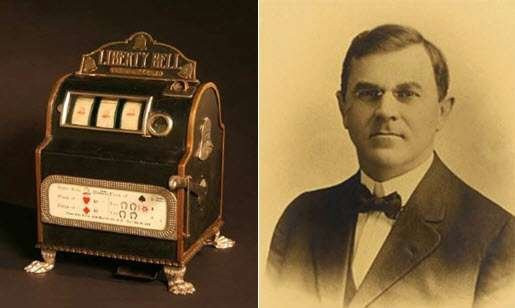 Classic machines had three reels and only one pay line, but now, we will find computerised slot machines that have variable pay-lines and coin denominations, bonus payouts, bright lights and ambient sound effects, and huge jackpots, often combined with other slot games.
Why Do People Spend Millions of Dollars Playing Pokies?
Pretty lights and loud jackpots play their part, but it's certainly not a social event like attending the races or playing poker. Surely not every person playing the pokies online or offline is chasing that big win? We at TopOnlineCasinoSites.com decided to put a few questions to regular Australians who enjoy playing the pokies, and found the overall reason for playing the slots was for the enjoyment and excitement the game provides.
---
Check out the best online pokies for Australians

Best Online Pokies for the AU
---
Alana, 32, is an artist, and admits to playing the pokies "two or three times a year." Her response to the question "why do you play pokies?" elicits a thoughtful silence.
"I have never really thought about it," she says. "I usually play when I am visiting my parents, we play the same machine together, and put $20 or $30 dollars into it. We often have a win."
Alana believes most people play the pokies for fun, and that the thrill of having a small, or potentially larger win, outweighs the knowledge that the machines do have a built in edge towards the vendor.

In October 2011, there was one poker machine for every 108 Australians, this figure not including the booming number of AU online casino players.
"It's a bit of fun for me," Alana says. "My boyfriend has a bet on the horses and I sometimes play the pokies.
New South Wales, as of October 2012, had the most machines in Australia, with 97,105, with Queensland (47,387) and Victoria (26,778) rounding out the top three.
Western Australia has the least of any state with 2,386. But Mick, an apprentice auto electrician, says Australia's love of the spinning reels is definitely alive in his home state.
"You always see people playing the pokies," he says. "I have played before, and will certainly play again. I think I mainly play when I'm bored, it gives me something to do."
While the amount of poker machines in brick-and-mortar venues in Australia is huge, the online gambling world is bigger, and still growing. Thousands of Australians play online slot machines, and more are signing up daily.
Ann, 59, has played online slot machines for two years since she and her husband sold their retail business in rural Victoria. She has played the pokies since the 1970s, and when relocating in retirement it turned out the nearest township only had one pokie machine.
"I played for a little while for no money on the computer and then I signed up to play for real money," she says. "I just think playing for a small amount of money gives you a bit of a buzz."

When Fey first invented the slot machine he had three reels encased in an iron casing that was operated by coin. To win, you needed three symbols lining up on the same pay-line, and your payout depended on the symbol and the odds for each symbol.
The principal of slot machines has never changed, they have just become more advanced, and give the player more options. Most slot machines in Australia are now video machines; they can offer different bonus games and are generally more interactive. The computer generation of slot machines has allowed such games to have five reels rather than three, with 50 or more symbols per reel. The higher paying symbols may only appear on the reel a few times, while the lower paying symbols will appear more frequently.
"They are definitely more interesting than they used to be," Ann laughs. "The first machine I played, you pulled a lever and there were a few clunks, and sometimes it would spit some coins out. Now I have a few favourites that I play online – the most I have won is $1200 and the most I've lost in a sitting is $20."
"I always stop at $20 – that's the end of it for me."
With Australians spending millions of dollars each year playing pokies, is there anything the player can do to maximise their earnings? All gaming machines work on a payout percentage, and players should be aware of that percentage before playing online or at a land based venue, in order to find those which payout higher than others.
If a $1 machine has a return rate of 87 per cent, it doesn't necessarily mean you will receive 87 cents back from your investment. The theoretical payout percentage might be worked out over thousands of spins; one player could reap the benefits of the 50 players before him, as the machine works towards its goal of paying out 87 per cent of the money invested in it. An 87% return rate is, by law, the lowest payout percentage a poker machine can have in Australia.
---
Best online casinos for Australians

Best Online Casinos for Australians
---
The one word that Alana, Mick and Ann all used when talking about playing the pokies was 'fun'. The reason they play is for entertainment value, and they are aware that behind the flashing lights and clever interface is an algorithm dictating that the machine will, in the long run, be victorious over the player.
"I can remember a lot of times hearing about people winning and flashing money around. Obviously plenty of people lose, but I guess people enjoy taking a risk and find it fun. Everyone likes winning."
Critics of the pokies say that over 40 per cent of money put into gaming machines is done so by problem gamblers. If you think gambling is a having a negative influence on your life, head to Problem Gambling Australia.