Best online poker sites to play
Best online poker sites to play
Estimated reading time 7 minutes
Online poker is multi-billion dollar industry, attracting tens of millions of players each year. In comparison to real cash poker at land-based casinos, the online version is by far the better option in terms of value for money – in this article we explain why this is so, where to sign up, the bonuses we are entitled to and the options available to online poker enthusiasts.

Best online casinos with poker games
All the poker rooms we endorse are fully licensed and governed by random number generator technology – technology which has been examined and proven by independent testing agencies such as eCOGRA (eCommerce Online Gaming Regulation and Assurance).
Can USA players still play poker online?
In the dawn of the online poker days, no other country got quite as into it as the United States. Of course, the huge success of online poker attracted the authorities, and new laws were quickly put in place to prohibit online gambling in the USA, with the introduction of the Unlawful Internet Gaming Enforcement Act (UIGEA) in 2006 prohibiting gambling operators from offering real money services to USA players.
USA's online gambling laws are starting to relax, with some US states starting to legalise online casinos on a state-level, but most online poker sites remain off limits. American poker fans can access RNG (random number generated) poker games and some forms of live dealer poker at these offshore casino sites that still accept US players:
Best RNG online poker sites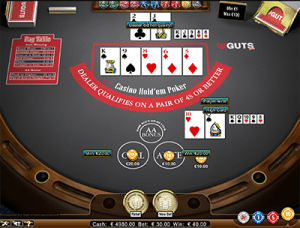 The RNG (random number generator) poker games you'll find on offer at an online casino are different to the poker games you'll find at dedicated online poker sites like those we've mentioned above. RNG poker uses highly advanced mathematical algorithms to allow players to play poker against the computer instead of against other players, with results generated in a fair and unbiased manner with RNG software certified by authorised third-party auditors like eCOGRA and iTechLabs.
Playing RNG poker at online casino sites opens you up to a whole new world of online gambling, with your casino account also giving you access to several hard to find poker variants and a wide range of other table games like blackjack, roulette and baccarat, plus hundreds of online slot games. Online casinos also have some excellent welcome bonuses for new players, so you can get a sweet reward when opening an account.
Our top-rated online casinos with poker games are listed in the casino table at the top of this page. Click on any of our links in the table to read detailed reviews of each casino site, or sign up using our links to get access to some exclusive bonus offers.
Player options and gameplay of web-based poker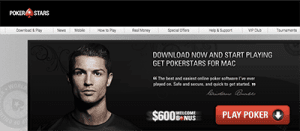 PokerStars and Full Tilt Poker offering only a downloadable version.
Within the software download we gain access to all special features, however, if you rather maintain space on your hard drive, share your computer with other people, or simply prefer avoiding downloads altogether, you can opt to play instantly through the Web where all the standard features are available within the browser-based poker client.
Real money mobile poker
Each of our recommended poker sites offers mobile play via smartphone or tablet. Downloadable poker apps are available from PokerStars and Full Tilt Poker for both iOS and Android.
1. PokerStars: A poker app is available to download for both Android and iOS smartphone and tablet users.
2. Full Tilt Poker: the award winning Full Tilt poker app is available to download for iPhone, iPad and Android.
The best online casinos also offer great mobile platforms, with several RNG poker variants optimised for play on your smartphone or tablet. If you're reading this on your mobile, tap our links to head directly to some of the leading casino sites and start playing poker for free in demo mode or for real money bets from anywhere you can secure an Internet connection:
How to register an online poker account
Once you've chosen your desired poker platform and the format you wish to play in, registering an account will take you less than two minutes, and afterwards you are free to explore the lobby, test out the games for play money, use your bonus cash for real money play, and securely deposit cash for more real money play. All you need to do to sign up is provide your basic personal details, like your name, address, age and email address. Keep in mind that you will likely be required to provide proof of your identification before you can withdraw any money won playing online poker, so make sure you sign up using your correct details.
Game formats
Dedicated online poker sites like PokerStars and Full Tilt Poker both offer the following three gameplay formats for low and high stake players to enjoy. All poker platforms allow players to continually top up their play money accounts, so you can practice until your heart's content.
Cash games: Real money cash games are available for six to 10 players per table for fixed limit, no limit and pot limit betting. The blinds in these games start from as small as $0.01/$0.02 and for high rollers, can reach $500/$1,000. Within these cash games, players have the option of sitting down and leaving whenever they desire.
Multi-table tournaments (MTTs*): Scheduled tournaments are constantly on offer at every hour throughout the day and night, and players need to register either with tournament tickets, or pay the set buy-in and entry fee (the buy-in is the money which goes into the total prize pool, and the entry fee is the cash given to the hosting party). Private and public tourneys are on offer.
Some tournaments are designed so the winners move on to bigger tournaments such as Satellites, while other tournaments simply provide winners, runners-up and other high-finishing players with a share of the prize pool. All players begin with an equal amount of chips (for example, $2,000 worth) and blinds increase steadily.
Sit-n-go's (SNGs): These are tournaments with set buy-ins which can range anywhere from $0.01 to $5,000. The tournament begins when enough players have registered (minimum of two), and like a scheduled tourney, every player involved starts with the same amount of chips and play until one player remains. SNG tournaments most often feature just one table of players, however multi-table SNGs are sometimes available. Those who place first, second, third and sometimes fourth (depending on how many players and the buy-in amount) are awarded cash prizes.
*MTTs are only available in real money mode.
Online casinos with RNG poker games don't offer these kind of poker games, but instead give players access to a range of different poker game variants which can be played directly against the computer using sophisticated algorithms.
Online poker is one of the most popular forms of interactive gambling across the world, and many professional poker players kick-started their careers by developing their skills within online poker rooms.
With security, service and quality first-class at our endorsed poker sites, we highly recommend registering a poker account to take advantage of fantastic player options, real money poker bonuses, free cash prize tournaments and the ability to hone your poker playing skills.
For more information about playing online poker, read our informative guides:
For instant access to a great selection of RNG online poker games, head to Raging Bull Casino, our top-rated casino site for players from United States, which has a selection of video poker and table games available for free or real money play.