Pokies
Pokies
Estimated reading time 6 minutes
If there is one game that defines Australian gambling, it's the poker machine. Pokies are a huge part of the gambling scene here, as they can be found not only in casinos – online and off – but also in many clubs and pubs throughout the nation. Easy to play and offering some of the biggest prizes, pokies are a favourite among casual gamblers and high-rollers alike.

Best online pokies sites
These days pokies can be found at pubs and clubs right across the country, although regulation has seen the number decrease over the years. This has not stopped a swag of offshore online casinos from offering their services to Australians over the Internet. This article will run you through the types of pokies, both online and offline, plus give you a history of these iconic games.
How to play pokies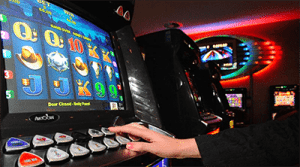 Pokies are so simple to play that you could probably figure them out just by walking up to one and trying it out, but that doesn't mean you'd have any idea what was going on if you tried. The basic concept of a pokie is that you'll be putting 'coins' into the machine, use those coins to pay for spins, and then win money by matching symbols.
When you first start using a pokie, you'll need to insert some money to play. Land-based pokies will require cash or perhaps a prepaid card – online the money comes out of your account. Once the money is in the machine, it will be converted to a number of credits or coins.
Every pokie has its own denomination – that is, a particular size of coin or credit that is the basic amount you'll be betting on each spin. For instance, a $0.01 cent pokie has a coin size of 0.01, while a quarter pokie uses a coin size of 0.25.
However, the coin size doesn't tell you the whole story of the bet you're making on each spin. Most pokies have multiple lines you can bet on. We'll talk more about what this means for game-play later, but for now, understand you can make bets of the same size on each line on the machine, with some games offering dozens of different lines to bet on. In addition, it is usually possible to bet up to three, five, or 10 coins on each line, further increasing your betting options.
Once your bets are set, you'll be able to hit the spin button to set the reels in motion. After a few seconds, you'll see all of the game's symbols lock into place on each of the three or (more common in modern pokies) five reels. Winning prizes is a matter of matching identical symbols on the lines you're playing. Typically, you'll need to match symbols from left to right, though some games use variations on this theme. The more symbols you can match, the more cash you'll win.
Online pokies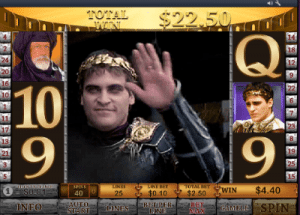 Australians can play thousands of online pokies on their computers, tablets and smartphones. These games emulate the games you would find at land-based venues but generally have more favourable conditions for players than physical poker machines. This is because online casinos have less overheads, are more competitive, and operators can afford to run the casino on a tighter profit margin.
These online casinos are licensed in various countries like Malta, Curacao, the United Kingdom and Gibraltar, but you won't find any based out of Australia, because our laws disallow them. But we can safely and legally play at online casinos based out of other jurisdictions and rest assured they are regulated by independent bodies like the United Kingdom Gambling Commission, The Malta Gaming Authority and then audited by third parties such as eCOGRA.
There are various software companies providing a platform for the online casino to use to power their games. Some of the more popular ones include Microgaming, NetEnt, BetSoft and Playtech.
The selection of games these software companies provide is much larger than you would find in the local RSL and include pokies games based around famous movies, books and bands.
Useful pages for pokies players
We love online pokies at CasinosOnline.com.au and we have a number of pages of informative guides on them, including many reviews, deposit guides, casino reviews and how to maximise your winnings. These are handpicked guides to make playing pokies online that little bit easier;
Progressive jackpots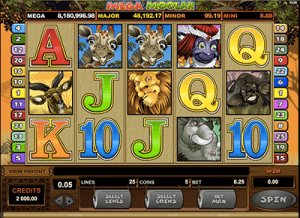 If you want to win the big, million dollar prizes that you hear casinos brag about, you'll want to play progressive pokies. These games feature jackpots which grow over time based on how many people play the poker machine. A portion of every bet made on the machine goes into the jackpot until someone manages to win the prize. The jackpot then resets to a minimum amount.
The ways in which you can win a progressive pokie jackpot vary depending on the machine you're playing. In some games, there are jackpot symbols you'll have to align on a particular payline, while others award their jackpots entirely at random. There are also often smaller jackpots which pay out more often than the main progressive prize.
Several jackpots have landed players in the 10s of millions of dollars, while one giant jackpot of over USD $20 million was won by a canny punter. Here are some of the better known progressive jackpot pokies on the web.
Mega Moolah: The most well-know and connected jackpot at online casinos open to Australians. The prize has been bigger than $10 million AUD on more than one occasion. It is a Microgaming-powered game. You can play it at www.RoyalVegas.com.
The Dark Knight: It is second behind Mega Moolah as the biggest progressive jackpot. It is obviously a Batman themed game. Again you can play it at Microgaming casinos like RoyalVegas.com and All Slots.
Tips for playing the pokies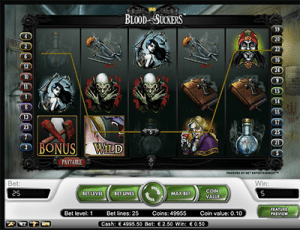 Unlike most casino games, there's no one standard way in which pokies work. They're also heavily based on luck, so it's hard to talk about any "strategies" you should use while playing them. That said, there are a few tips we can give you to help you get the most out of your pokies play.
Play the maximum number of coins: If you look at the payouts for most pokies, you'll notice that the highest-paying symbol offers a better return if you play the maximum number of coins. While other prizes scale as you'd expect – for instance, paying 10 coins if you bet one, and 20 coins if you bet two – the top prize will often go up significantly when you place a maximum bet. This is especially true in progressive jackpot games, where you may only be eligible to win the jackpot if you've made the maximum bet possible.
Higher denominations, higher returns: The returns on poker machines can vary tremendously, with different machines promising anywhere between 85% and 98% or more of your money back in the long run. While few machines will immediately tell you exactly what returns they offer, there is a quick rule of thumb you can use: the higher denomination of coins you're playing for, the better the returns will be. You can use this with the previous tip to help pick the machines that you should play – choose games at the highest coin size that you are comfortable playing for the maximum bet (this can still be quite low).
Play overdue jackpots: A progressive jackpot which hasn't been hit in a long time is not any more likely to give out a win than one that was just hit yesterday – pokies are completely random. However, a progressive pokie which has not been hit in a while will have a higher jackpot than normal, making your expected returns much higher. A big enough jackpot can even make a pokie theoretically profitable for the player, so be sure to seek out abnormally large jackpots.
Our number #1 site for players from United States to play online pokies with real money is Raging Bull Casino, which has hundreds of slot itles to choose from.
See also:
[rm_recent_news tags="Slots, pokies" exclude_tags="promo" title="Latest online pokies news"]
[rm_recent_news tags="promo" title="Latest online casino promos"]