eCOGRA online casino watchdog
eCOGRA online casino watchdog
Online casinos are only considered to be reputable and safe if they are governed by third party organisations such as advanced gaming jurisdictions and top rated watchdogs. One of the best watchdogs in the iGaming industry is eCOGRA and when you see the logo on a casino site this means the site is verified as safe, fair and responsible.
eCOGRA approved online casinos in 2019:

Best eCOGRA approved casino sites
By keeping an eye out and only playing at eCOGRA regulated web casinos, players can ensure they are in a safe gaming environment, can enjoy the online titles on offer without worrying about being cheated, and can make real money deposits without a problem.
About eCOGRA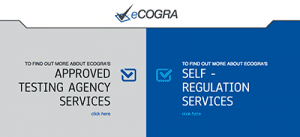 The watchdog is a testing service that operates independently and investigates online casinos in order to ensure high industry standards when it comes to fairness, safety, and customer service.
The organisation was founded in 2003 in the UK, where the legislative framework is quite advanced for online gaming unlike many other jurisdictions around the world.
It was the first organisation to offer a formal regulation service with the main aim to test both casino software and online operators to ensure a player's safety isn't being compromised and that online gaming is on par with the safety standards of land-based gambling.
While many regulation services have popped up, eCOGRA is the most sought after, especially since they have been certified by the UK Accreditation Service.
This is why it is incredibly important to keep an eye out for eCOGRA approved casinos.
eCOGRA verified casinos
We have a list of online casinos selected due to their security protocols in place, as well as being approved by eCOGRA.
You can also determine if the online casino you are playing at is verified by eCOGRA simply by scrolling down to the bottom of the homepage where a logo will be situated. However, we recommend the following online casinos as some rogue Internet operators can falsify these documents, and as such the following eCOGRA sites have been verified as authentic.
Read more about online casinos.
Each operate under the eCOGRA Generally Accepted Practices that detail how they should operate in order to offer maximum player protection and as such offer a fair and safe gaming environment.
eCOGRA Generally Accepted Practices
Also known as eGAP, these are the standards in place that online casinos are required to pass in order to receive their seal of approval.
These standards include;
Fairness – eCOGRA ensure online casino operators have never ripped their players off and have adhered to fair Random Number Generators, favourable rules, above average customer service, and the latest encryption technology.
Security – The online casino operators are also required to pass eCOGRA'S strict security guidelines in terms of payment and security systems in place in order to ensure safe and secure deposits and withdrawals.
Conduct – Finally, the online operators are required to ensure they behave in an appropriate manner in that they have anti-laundering policies in place, they advertise responsibly, and accept regular reviews into their operations by eCOGRA
As you can see the protocols set by eCOGRA are quite strict, meaning if you are playing at a verified eCOGRA online casino you are safe.
View eCOGRA certificates
If you want to see the accreditation for yourself, follow our links to one of the above listed eCOGRA verified casinos and scroll to the bottom of the homepage.
Click on the eCOGRA logo and a new window will appear detailing the certificates. For example, the certificate for Royal Vegas says the 'games are fair, the casino operates honestly and behaves responsibly, and monetary deposits are safe'.
Here, you can also view the overall percentage payout, for example Royal Vegas has a reported 96.17% overall payout percentage confirmed by eCOGRA's investigations. There is also information on the most popular games and an overall randomness report. These are regularly reviewed and updated and are eligible to view at all eCOGRA verified online casinos – making their operations quite transparent.
Resolve issues with eCOGRA
Another service that eCOGRA offers is a mediation service for any players who have a problem when playing at eCOGRA verified online casinos. If a dispute arises, and the player has contacted the eCOGRA approved casino with no avail, then they can contact eCOGRA, who will then step in, review the evidence presented to them, and take further action if required in order to help the player.
This is especially helpful when playing online as most players are playing at offshore Internet casinos and in the unfortunate event that a problem does arise it can be quite difficult to get the help they need.
Can Australians sign up with eCOGRA gambling sites?: Unfortunately eCOGRA does not offer their tick of approval to casinos based out of the jurisdictions that currently service the Australian online casino industry. It doesn't mean these sites are any less safe, it just means this official body chooses to remain associated with premium gambling jurisdictions like the United Kingdom and Malta.