Live dealer casino games
Live dealer casino games
Estimated reading time 8 minutes
Live dealers games at online casinos have become one of the most popular forms of online gambling. With real people dealing real cards and spinning real wheels, streamed via high quality video to our screens, these titles replicate table games at land-based venues and offer an enhanced gaming experience for Internet players. The top live dealer casino sites for September, 2023 are:

Best live dealer casino sites
Attractive croupiers run their own individual games from gaming tables set up in regulated studios, viewed and interacted with via live video. This is in stark contrast to the computer-based software used to control traditional online gaming (Random Number Generators), and gives those who are sceptical of RNGs all the more reason to play online.
Best live dealer casino sites for USA players
USA players don't have as many choices as players from other countries when it comes to online casino sites, but thankfully the few reputable offshore casinos that accept USA players also offer some great live dealer platforms. For access to US-friendly live dealer games with no downloads needed, these are the top-rated casino sites to try:
Each of these USA online casinos provide 24/7 customer support via live chat, email, toll-free phone numbers, and other channels. They all operate with real currency, have several USD deposit and withdrawal methods (bank wire transfer, Visa and MasterCard, Bitcoin, Cashier Cheque and more), and are accredited and reputable online gambling sites. New players who sign-up for a real money account can also take advantage of special USA bonus offers.

How live dealer game play works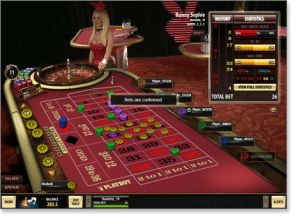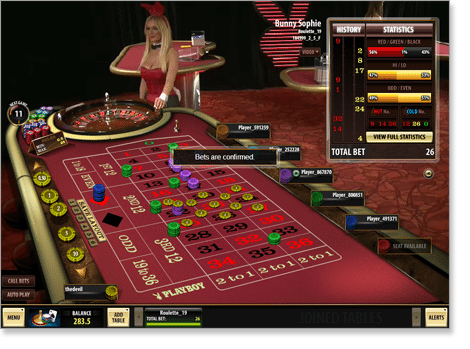 Random Number Generator software is used for online casino computerised games – those which don't utilise real-time dealers. The RNG software fairly calculates randomised outcomes which imitate how cards are dealt, how a roulette wheel is spun and how other casino games randomly operate. However, live dealer games hosted by Internet casinos eliminate the need for RNG technology, and while RNG software is 100 per cent verified at our recommended sites, being able to view, be dealt by, and have a genuine wheel spun actual people in real-time over the Internet is an extremely appealing model for all online players.
The live croupiers at play are broadcast to online gamblers from a casino-type venue (usually a studio set up to emulate a casino environment) and utilise real gambling equipment. In addition to the live dealers operating the different table games, the casino studio employs other staff members like IT experts to deal with any glitches which may occur, and an adjudicator to oversee the action and adjudicate any potential disputes between players and dealers.
The most common live croupier games
We do have a limited range of live croupier gaming choices currently available, but the ones on offer are some of the most popular titles played around the country: roulette, blackjack, baccarat, three card poker, casino hold'em and lotto. You will always be able to join a table/game.
Live Roulette – At live dealer roulette tables, you have the option of choosing which one suits your budget (betting limits are discussed below). You can select either the 'casino view,' which looks like a genuine land-based roulette set-up, or 'game view,' which is a similar view to how online non-live dealer roulette games look. You have a certain amount of time to complete your bet before the dealer spins the wheel.
Live Blackjack – Live dealer blackjack is generally played with eight standard 52-card decks. Via the live video stream, you can watch exactly what the dealer is doing, ask questions and seek advice. If you are playing with other people, you can bet on someone else's hand if you think they are on a hot streak (termed 'back betting' or 'betting behind').
Live Baccarat – The live dealer baccarat interface is similar to that of blackjack. You are shown recent results and player winnings via the video stream so players can keep track of the outcomes of several of the previous hands. You can also bet on a tie in live baccarat, in the hope the dealer's and player's hand will be of equal value.
Live 3 Card Poker – Live three card poker is currently available to play at AllSlotsCasino.com and is one of the most popular and simple games in the live format. Bet your ante, choose to play or fold once the croupier has dealt you three cards, and hope your hand beats the croupier's hand. Get paid out based on the paytable shown in the game. You can also bet on the 'pair plus' bonus payout. Stake up to $2500 per hand, with a minimum wager of $1.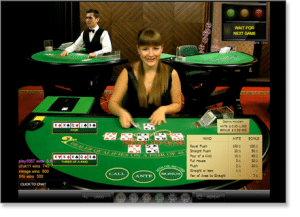 Live Casino Hold'em – Live casino hold'em works just like regular hold'em against others, however it's only your hand against the dealer's hand, here. Place an ante bet and the croupier deals only one set of two face up cards to you and whoever else is playing – visible to everyone, as all players use the same two cards. The flop is revealed, then you have the choice to call or fold, before the next two cards are dealt together. You can also place a bonus wager which is paid out according to a separate paytable if you have a pair of Aces or better.
Live Dealer Lottery – Powered by the Ezugi interactive casino software provider and playable at G'day Casino, live dealer lotto is a unique title available for real money play. Bet on a number of available options including, the numbers which will and will not appear, the colour of the balls drawn and the total sum of all six numbers drawn. Watch and listen as six numbers are randomly drawn from a barrel of 49 balls (numbered 1 to 49) each round, and as our live croupier reads each number out. Draws occur every three minutes.
Live Dealer Keno – Also powered by Ezugi software and playable at G'day, live keno is of a similar style to live dealer lottery, but stays true to keno rules – 20 balls from a pool of 80 are randomly drawn, and as the player, we get to pick up to 20 different numbers, and are paid out according to a fixed pay-table depending on how many hits we get (how many numbers we've picked match the numbers drawn). Our live croupier repeats all numbers drawn for us, and we watch them as they are drawn. Rounds also occur every three minutes, giving us ample time to choose numbers.
Other live dealer games you'll find at our recommended online casinos include:
Live Dealer Dream Wheel
Live Dealer Progressive Jackpot Blackjack
Real money play only
Due to the high costs of operating live dealer games, there is no free play option available at any casinos we endorse. Many of them will allow you to watch a table, but without a cash balance you won't be able to play.
In live dealer game play, your total account balance is constantly available for you to see, along with any bonuses you may have. Be aware of the different minimum and maximum betting limits when playing at live dealer tables.
At casinos using Microgaming's live dealer software (such as Royal Vegas Casino, 7 Sultans Casino and All Slots Casino), the wagering limits are as follows:
Roulette: You can sit at a table with a 50-cent to $10 wagering limit, a $1 to $25 limit, a $2 to $50 limit, a $5 to $100 limit or a $10 to $200 limit.
Blackjack: $25 bets through to $300 bets are permitted on blackjack hands.
Baccarat: $10 minimum bets and $500 maximum bets are allowed on baccarat.
*At G'day Casino, the limits are as follows:
Roulette: Sit at tables with stakes ranging from $1 to $5000.
Blackjack: Place bets up to $300, with minimums starting from $5.
Baccarat: Tables have minimums and maximum ranging from $5 through to $500.
Lottery: G'day's unique lottery game has a minimum and maximum bet of $1 and $50.
Keno: G'day's unique live keno titles holds betting limits also ranging from $1 to $50.
*These limits, and the amount of available tables, are subject to change. We are constantly checking for casino adjustments and will update this page accordingly if we come across any.
Why are live dealer games popular?
There could be any number of reasons an online casino player prefers to play at a live dealer table, with these ranging from reasons like not trusting graphical interface games powered by random number generators, to enjoying the social aspect of gambling on a live dealer table.
While we are not going to pretend playing on the Internet can match the thrill of game-play at land based casinos like the Crown, The Star or Jupiters, playing online is improving all the time. Now you can play on your PC, Mac, tablet, smartphone and any other modern device you can think of.
It brings you the thrill of sitting at a blackjack table or standing around the roulette wheel, with the ability to chat (via a text function) with the dealers and other players, without the need to travel to an actual casino. Our suggested sites have dedicated dealers – both elegant and traditional croupiers, along with sexy girls wearing (or hardly wearing, we should say) in Playboy Bunny outfits.
Our top-rated live dealer casino sites are listed in the casino table at the top of this page. We recommend Raging Bull Casino as our top-rated casino site for players from United States, which has some excellent welcome bonuses available for new players along with a great range of online slots, table games and other casino games.