Live dealer baccarat
Live dealer baccarat
Traditionally, baccarat was played by the rich, and playing a high stakes game could see thousands of dollars won or lost in a few hands. While this is still often the case, live baccarat can now be enjoyed by all gamblers – casual or seasoned, high or low rollers – experienced via high quality video streams of real croupiers on our computers.

Best live dealer casino sites
Live dealer casino games have changed the way we bet over the Net; the human element now available in online gaming has brought the excitement of the casino to our living room.
No matter how many times we assure you Web-based casinos' Random Number Generator (RNG) software is fully tested and fair (the sites we endorse, anyway), there are always going to be sceptics; those who don't 100% trust cards popping up electronically. With live dealer baccarat, players can witness real human dealers dealing players their own cards, and can rest assured the game is fully above board, with casino adjudicators (pit bosses) overseeing all the action in the studios.
Best Sites to Play Live Croupier Baccarat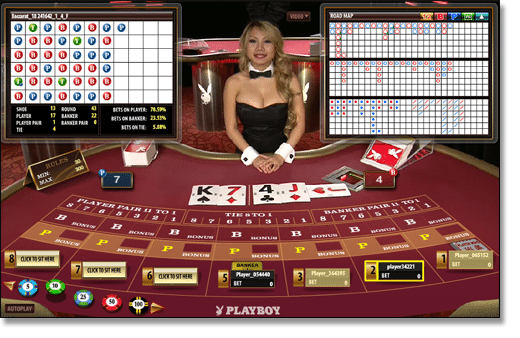 While each of the above online casinos do great jobs at providing high quality live baccarat games, we strongly recommend signing up at at least the following two sites to take advantage of the welcome bonuses and the unique interfaces:
Royal Vegas Casino – RVC offers an enticing sign up bonus for online players, of up to $1200 over your first three deposits, and hosts some of the hottest live games (and live dealers) on the Web. Powered by the largest online provider of gaming software – Microgaming – Royal Vegas gives us the option of installing either its impressive casino suite, or playing live baccarat instantly, without downloading any software, via the Net.
All Slots Casino – All Slots' live casino games are powered by Evolution Gaming and own a unique live studio and gaming table design, and stunning graphics. The live interface is accessed directly through our Web browser (no downloads) and we can choose the stakes we wish to play with, and whether we want to play classic or pairs baccarat.
Under the live casino option at both sites, you will find a list of available games; head to live dealer baccarat and a selection of all the available tables (with their respective betting limits) and dealers (with their respective recent results) will be available for you to choose from. We place our desired bets just like we would in a standard game of online baccarat; the interface is the same, with the addition of the live video feed. We usually have about 20 seconds in between hands to place bets.
Note: All live baccarat and other live dealer titles are for AUD real money only, so if you wish to hone your skills first with practice cash, play at least a few traditional computer-generated games (those run by RNGs) before jumping in to the exciting world of live croupier gaming.
Advantages of Playing Baccarat with Live Croupiers
Live dealer baccarat has several features that set it apart from your standard online baccarat, and even your brick and mortar casino version of the game:
There will always be a table for you to play at: even if all tables are full, new tables will automatically generate, and you can pick your favourite dealer too.
Sex sells: Playboy Bunny dealers are extremely popular at casinos sites such as Royal Vegas Casino and All Slots Casino, and we can understand why – just don't get too caught up on the dealers and forget what you are betting on.
The live dealer interface offers two modes: the standard game view, which displays the live feed in a small central video with a computer generated table below, or the casino view, where the live video feed and live table covers the entire screen, making things feel even more like a live casino.
Live Dealer Tips
Playing baccarat should be fun, so we shouldn't feel pressured when in the presence of a real human dealer. All dealers are welcoming, and give us ample time to make out bets. Just like in a brick and mortar casino, it's smart to know what we are doing before we enter the room, and have a good understanding of the odds associated with baccarat. Remember the smart money is on the banker. Choose a dealer you feel comfortable with, and just like at a land-based casino, you can leave at any time.