How to play Three Card Poker
How to play Three Card Poker
Three card poker (also referred to as 3CP and TCP) is a simple and fun table game played at land-based and online casinos. The game is played against the dealer using a single deck of 52 cards. Most three card poker table layouts have three boxes where the player can bet: an 'ante bet box', a 'play bet box' and the side bet of a 'pair plus box'. Some also add another side bet – the 'six card bonus' wager. Read on to find out how and where to play online.

Best online casinos with poker games
---
Best online casinos for 3 Card Poker
Three card poker is readily accessible at many of the top online casino sites around the world, although whether you can play it legally will come down to your location.
For instance, most of the top UK casino sites will have it available at least in RNG format, while many will also have it available in live dealer, with this because the gambling industry is regulated.
Australian online casinos, however, are banned and if you want to play Three Card Poker from this part of the world you will be doing so illegally. It is however possible, but you will need to play with an offshore casino site, based in a place like Curacao. So in essence, the top online casinos with three card poker variants will largely be determined by the laws you live under.
You will be able to play three card poker on both mobile and desktop computer with this game adapting, in RNG format at least, perfectly onto smaller screens and devices.
---
How to play 3CP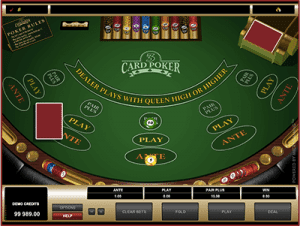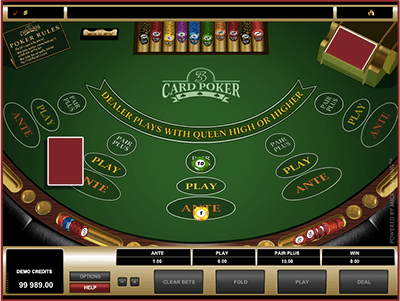 The game itself is fast-paced, simple, entertaining and widely popular, and with correct strategy, players stand to win often. 3CP holds a relatively low house edge when only betting the ante and play options, when compared to other table games like American roulette, Double Down Stud and Caribbean Stud Poker. The larger payouts for strong hands like a three of a kind and a straight flush make this a very enticing poker variant, especially playing online where we gain superior promotions and a wider variety.
Before any cards are dealt, we must decide whether to wager on one or both of the available starting bet options. These starting options are the ante bet and the pair plus bet:
Ante bet: This is a bet directly against the dealer, backing yourself to have a superior hand.
Pair plus bet: This side bet does not take into account what the dealer has and is paid out (or captured) regardless if you win or lose the hand against the dealer. It is simply a wager on whether your three card hand will have a pair, or something better, and is paid out according to a pair plus pay-scale (detailed further below).
Six card bonus bet: Some online casinos will feature an additional (and optional) side wager referred to as a 'six card bonus' wager, and like the pair plus bet, it is paid out according to a separate paytable (detailed below) based on the following: the best five card hand using any of the six cards shown on the table (three player cards and three dealer cards). This wager is often only available in live dealer 3CP.
Note: In most games, the ante, pair plus wager (and six card bonus bet if available) are optional and we can choose to play one, a combination of any, or all three. However, there are some casinos which force you to play the ante bet in order to play the game.
Once we have put forward our starting bets, we are dealt three cards only we may view, and the dealer is dealt three cards face down. If we have placed the ante bet (with or without the pair plus bet), we must now decide whether we wish to play or fold our hand; do we think our hand will beat the dealer's hand? Optimal TCP strategy suggests if we have a hand consisting of a Queen, Six and Four, or something better, then we should play. While we will know immediately upon looking at our cards whether we hold a pair or better (and thus know, if having placed the pair plus bet, whether it wins or loses), we are paid out, if we choose to continue, at the conclusion of the round, when all cards have been revealed.
Note: If we have played a pair plus bet only, and not the ante, then the bet option to play is not required, and our hand is resolved straight away.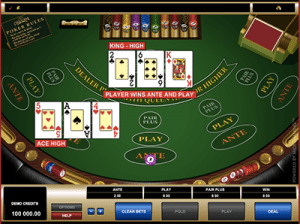 Play bet – If we opt to play to continue our hand, we need to place a bet equal to (or in some higher stake games, double) our ante, in the play bet box. If we have chosen to fold, our hand is over and we lose any and all bets already placed.
When all the appropriate action has taken place, the dealer reveals his/her cards. The dealer must have a hand of Queen-high or better to play against the player, otherwise their hand does not qualify. If the dealer's hand does not qualify, players' ante wagers are paid out at 1:1, and no action takes place on play wagers (bet is returned without any winnings). Any pair plus side bets are resolved, according to the pay scale, regardless of what the dealer has.
If the dealer does show a Queen-high or better, he/she qualifies and his/her hand is compared with the player's hand, to determine who wins:
If the player's hand is superior to the dealer's, ante bets and play bet are both paid out at 1:1, meaning you double your money on each wager.
If the player hand loses both the ante and play wagers lose.
If the dealer and player hands tie, there is no action on the ante or play bets.Play three card poker at Jackpot City Casino and grab up to $1600 in new player bonuses.
---
Hand rankings in TCP (highest to lowest)
As we only receive a total of three cards in this game, this changes the traditional hierarchy of poker hands and as such, the following rankings are adhered to:
Straight flush: Three same suited cards in succession. In the case of two straight flushes, the higher straight flush (highest card) wins. Combinations: 48. Probability: 0.22%.
Three of a Kind: Three cards of the same rank. Higher cards beat lower cards. Combinations: 52. Probability: 0.24%.
Straight: Three cards in succession. Higher card beats lower card. Combinations: 720. Probability: 3.26%.
Flush: Any three cards of the same suit. Higher card wins. Combinations: 1096. Probability: 4.96%
Pair: Two cards of the same rank. Combinations: 3744. Probability: 16.94%
High Card: None of the above. Highest cards are compared first. If highest cards are of equal rank, the second highest cards are compared, and then finally the lowest. For example King-Nine-Deuce beats King-Eight-Four. Combinations: 16440. Probability: 74.39%
The probability of being dealt a hand of Queen-high or better is 69.59%.
---
3 Card Poker house edge for ante and play bets
Since we can choose to bet on just the ante, or both the ante and play, it stands to reason that there would be two house edge figures; one for just the ante wager, and one for both wagers (also a separate figure for pair plus, shown in the next section). The house edge for the ante wager alone is 3.37%, but this figure means little if we are to play out the entire hand. So it makes more sense for us to understand the house edge on our total combined wager of the ante and play bets, which is 2.01%.
---
Three card poker Pair Plus pay scale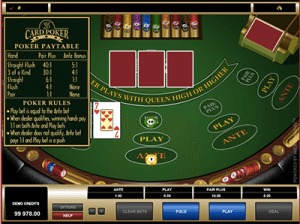 The following shows the return for the most common pay scale of the pair plus wager. The house edge on a pairs plus bet is 7.28%, significantly higher than the regular 'ante and play' house edge.
Straight flush pays 40:1
Three of a kind pays 30:1
Straight pays 6:1
Flush pays 4:1
Pair pays 1:1
Note: This is the pair plus pay scale used for the majority of TCP games, but there are some variants which offer slightly different odds (mainly for a straight flush, three of a kind and flush), and thus the house edge would change too.
---
6-Card Bonus paytable
The following shows the return for the six card bonus side bet available in some three card poker games (live dealer games, especially). For example, if a player has a K of Spades, a J of Spades and a 9 of Hearts, and the dealer has a 10 of Hearts, a Queen of Diamonds and a Five of Clubs, if this side wager was placed, the player would be rewarded with a 10:1 payout for holding a five-card straight (9, 10, J, Q, K).
Royal flush pays 1000:1
Straight flush pays 200:1
Four of a kind pays 100:1
Full house pays 20:1
Flush pays 15:1
Straight pays 10:1
Three of a kind 7:1
Ante Bonus in three card poker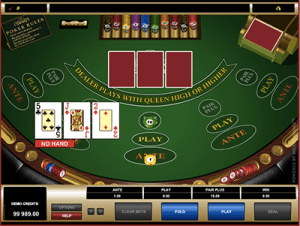 An additional feature in TCP is the ante bonus. If our hand is stronger than a straight, we get paid a bonus as per the following odds, regardless whether we win or lose our hand against the dealer:
Straight Flush pays 5:1
Three of a Kind pays 4:1
Straight pays 1:1
Note: This is also the most commonly used ante bonus scale in TCP, but payouts for three of a king and straight flushes can sometime be slightly different.
---
Correct strategy for 3 Card Poker
Three card poker strategy differs from most other types of poker, because most poker hands are based on five cards. Being dealt three cards thus alters the typical poker hand hierarchy, making a straight harder to obtain than a flush, eliminating the full house completely, and making three of a kind only inferior to a straight flush. Such rules can take time to adjust to for both new and experienced players, but after a few hands, begin to become much easier.
The optimum strategy in TCP is to 'play' when you have a hand of at least a Queen, Six and Four. However, a simple strategy of playing with a Queen-high hand or better (just as the dealer does) will yield similar results. Obviously, it would be a complete waste of money if we were to fold on a pair, or any higher hand for that matter, especially if we had placed a wager in the pair plus bet box. Like any card game, the best way to learn and become competent is to play.
Outside of land based casinos, there are online casinos available to players from United States to play a range of poker variants. We highly recommend Raging Bull Casino as the safest and best online casino providing real money poker games for players from United States. Give your new found Three Card Poker strategy a go online today, or consider trying live dealer Three Card Poker.