Online baccarat
Online baccarat
Estimated reading time 8 minutes
Online baccarat can be be played at the top gambling sites in 2023. The reality is even when you are based in a country that has banned online gambling, there are still casinos that will accept you as a player. This article will run you through everything you need to know to successfully play online baccarat, including the rules, best gambling sites for your jurisdiction and run you through the variants of this great game. The top online baccarat sites for October, 2023 include:

Best real money baccarat sites
Baccarat is a game which dates back well into the 16th century and has been favoured by the royals, rich, famous, and now thanks to the Internet, every day players too. Baccarat (also known as Punto Banco) holds one of the lowest house edges out of the available casino games at roughly 1.17%, and is one of the easiest games to learn.
How to play online baccarat in 2023
First up you need a funded online casino account in order to play the game with real money. Pick a secure site from the list above, register your details and fund your account via the deposit options available.
You can then head to the table game area of the online casino where there will be an array of Random Number Generator (RNG) baccarat variants to choose from – if you prefer human presence opt for the live dealer baccarat variants available in the live lobby. You can then get playing.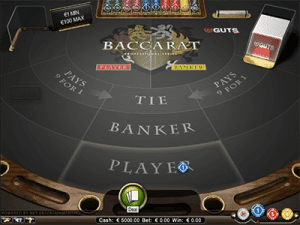 Best online baccarat sites
There are a number of great gambling casinos which feature online baccarat, including live games, which is our preferred method to play in 2023. Our top five baccarat sites for international readers are:
Guts: Has a great variety of baccarat games, in both RNG and live format, with the live section including all of titles by Evolution Gaming and NetEnt. Guts is one of the best baccarat casinos on the web. Read our Guts baccarat review.
LeoVegas: Our top mobile baccarat casinos, LeoVegas has more swagger than the average online gambling site. With games selection, including live baccarat games and RNG, Leo Vegas has got tables open around the clock. Read our LeoVegas baccarat review.
Mongoose: While Mongoose Casino is relatively new, their games selection is first rate, with the most RNG baccarat titles out of any of our options. Has some nice bonuses, but be aware these are best used on the slots, rather than baccarat. Read our Mongoose baccarat review.
Bet365: One of the leading gambling brands in the world, Bet365 pushes into over 200 countries around the world. The baccarat selection includes both random number generated games and live titles. If you're looking for a safe baccarat casino, Bet365 is a good option. Read our Bet365 baccarat review.
Wixstars: A UK brand that is still relatively new to the baccarat game. Has got both live games and other baccarat titles in an easy-to-navigate layout. Read our Wixstars baccarat review.
Online baccarat variants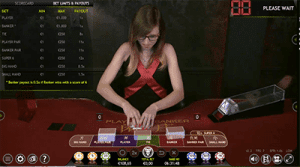 Online is the best place to play baccarat if you're new to the game, want to play at your own pace, or you're simply after a variant which offers low stakes.
You can find both Random Number Generator (RNG) baccarat which runs on computer software, as well as live dealer variants run by a dealer streamed live to your device. A few of the baccarat games you'll find online include:
Baccarat Pro
Baccarat Star
Baccarat VIP
High Limit Baccarat
Multi-bet Baccarat Gold
Live Baccarat Squeeze
Online baccarat rules
The object of baccarat is to have the hand closest to nine (higher than the other hand). Cards ranked 2-9 will score according to the rank of the card. Aces count as one point, and 10's, Jacks, Queens, and Kings are all worth zero points – said to be where baccarat, meaning zero, gets its name. In online play, the dealer remains the same throughout the game and you play exclusively in one-on-one scenarios.
To score the total of the cards, simply add the digits of a hand together and if the total is more than a one digit number, only take in to account the final digit, which will represent that hand's overall score. For example, if a 2 and a 5 are dealt, the hand's total will be 7. But if a 4 and an 8 were dealt, the score would be 2 (4 + 8 = 12, 2 is the final digit).
The computer (or live online) dealer, deals one card at a time to the player's hand and dealer's hand, until each has two cards. Depending on the version of baccarat offered, a third card can be dealt to either player or dealer according to certain sets of rules. The most common version of baccarat played in online casinos is called Punto Banco. If neither the player's nor banker's cards total to eight or nine, a third card may be dealt to either under certain conditions:
The Player Rules:
The first set of rules apply to the player's hand for the situations when the player has initially drawn less than a total of eight with two cards. If the player's hand total less than five, the player will receive a third card. If the player's hand totals six or higher, however, no card is dealt.
The Banker Rules:
If it is the banker's hand that totals less than eight, and the player has not drawn a third card, then the banker will draw according to the Player's rules, listed above. However, if the player has drawn a third card, then the banker will also be dealt a third card according to these guidelines:
If the player gets a two or a three as the third card, then the banker draws another card if his hand totals four or less, and stands if he holds a score of 5-7. (Obviously, if the dealer's total was greater than seven, the round would have ended before and a third card for the player would not have been necessary).
If the player is dealt a four or five, the banker must draw another card if his own hand totals five or less, and is required to stay if his total is six or seven.
If the player receives a six or a seven, then the banker must take another card if his current score is six or less, and take no more cards if his hand totals seven.
If the player's third card is an eight, then the banker takes another card if his own hand has a score of 0-2, and stays if his own hand total between 3-7.
If the player gets a nine, 10, J, Q, K or Ace, the banker must draw a third card if his hand's total ranges from 0-3, but must stay if his hand totals 4, 5, 6 or 7.
About baccarat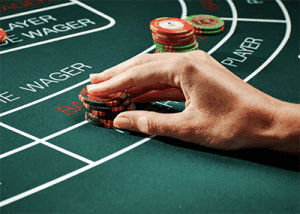 Baccarat was a game played almost exclusively by the rich and was widely unknown by the majority of gamblers until recently. Now, as the popularity of baccarat has significantly increased, casinos around the world have been adding mini-baccarat to their list of casino games. Mini-baccarat is just like regular baccarat but with lower minimum bets to appeal to gamblers of all levels and dealers are more involved – online the software does everything for you.
In addition to making baccarat more available generally, the online version has become available at most online casinos. Online baccarat offers an advantage of immediacy to your gaming needs and no longer do we need to drive far and wide to find a casino which features baccarat or mini-baccarat. Simply open your browser and a casino account and you're in business.
Baccarat bets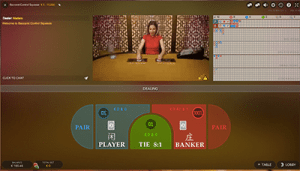 A player may make any one of three bets, and these are either on the player to win, the banker to win, or for a tie to occur. If the player bets on either the player or the banker and wins, the payout is even money (1:1). However, a winning bet on the banker can often be subject to a 5% casino commission because over the course of the game, the banker wins more hands than the player. Not all online casinos will have a 5% commission though; some will have no commission at all (more often the higher limit games), while others may even have a commission greater than 5% (try and steer clear of those that do).
A winning tie bet pays out at the minimum 8:1 odds, while other casinos offer 9:1 payouts. The probability of a tie occurring is around 9.5%, whereas the probability of winning a banker bet is 45.9%, and 44.6% for a player bet. Some online casinos will also offer additional side-bets such as perfect pair wagering, where you can nominate and bet on the dealer's and/or player's first two cards to form a pair (for example 7, 7 or Q, Q).
Online baccarat deposit options
As we mentioned above you need a funded online account in order to win real money on baccarat. To fund your account simply work out a payment method which is best to make a deposit with. Australian's will find credit and debit cards including Visa and MasterCard, web wallets such as Neteller and Skrill and prepaid methods including paysafecard available.
You can learn more about which option will suit you best by reading up on any fees and how to deposit here.
Casino software options for all devices
Many online casinos will feature baccarat as part of a suite of downloadable software you can install on your computer. You may use an operating system such as Linux which is incompatible with that software, but in this case, most casinos will also feature a no-download flash version that operates within your web browser.
Baccarat strategy and odds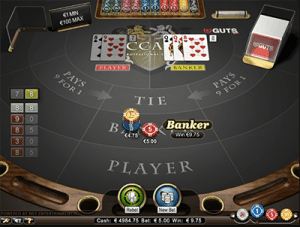 Baccarat is a fairly simple game and since players aren't asked to make many decisions, there isn't much to think about when it comes to strategy. The best baccarat strategy possible is simply to bet on the banker bet every time, as it offers the lowest house edge. The advantage for the casino is just 1.06% on the banker bet, while the player bet has a 1.24% edge.
While both of those bets are quite good compared to most options at the casino, you should really avoid the tie bet. The exact house edge on this bet depends on the payouts and the number of decks being used, but normally it amouts to well over 10%. Even if a casino offers to pay you 9:1 on a tie bet, the house edge is still 4.8%, making it a much worse bet than the player or banker options.
It's important to remember baccarat is a game of luck and there's nothing a player can do to influence the outcome of a hand. Play within your own limits to ensure baccarat is enjoyed responsibly for the fun yet exciting game it's intended to be.
Types of baccarat games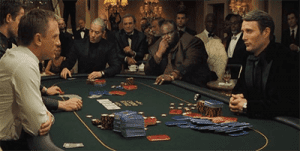 If you've been to a casino – but not to the high stakes area – then you might be a little confused by the talk about the "atmosphere" of baccarat. The games spread in the general casino area are known as "mini" baccarat, and are the tables best known to most players. These games feature a dealer who handles all of the cards, allowing the game to go as fast as possible.
In high-limit areas, you're more likely to find "big table" baccarat. In these games, there may be multiple dealers and room for a dozen players or more. Players will take turns dealing the cards as the banker, and all cards are initially dealt face down (with the player with the biggest bet receiving the "player" hand).
While the players must still follow the standard rules for playing the hands, and the dealers check everything to make sure no cheating goes on, the players still have much more control over the flow of the game. This results in a slower baccarat game – but also one which feels a lot more elegant, and more like the kinds of high-stakes encounters seen on television and in the movies.