Baccarat is a game which dates back well into the 16th century and has been favoured by the royals, rich, famous, and now thanks to the Internet, every day players too. Baccarat (also known as Punto Banco) holds one of the lowest house edges out of the available casino games at roughly 1.17%, and is one of the easiest games to learn.
Best real money baccarat sites
About baccarat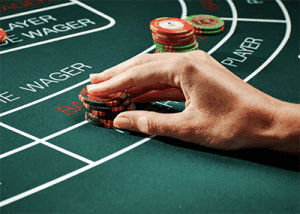 Baccarat was a game played almost exclusively by the rich and was widely unknown by the majority of gamblers until recently. Now, as the popularity of baccarat has significantly increased, casinos around the world have been adding mini-baccarat to their list of casino games. Mini-baccarat is just like regular baccarat but with lower minimum bets to appeal to gamblers of all levels and dealers are more involved – online the software does everything for you.
In addition to making baccarat more available generally, the online version has become available at most online casinos. Online baccarat offers an advantage of immediacy to your gaming needs and no longer do we need to drive far and wide to find a casino which features baccarat or mini-baccarat. Simply open your browser and a casino account and you're in business.
How to play baccarat online
First up you need a funded online casino account in order to play the game with real money. Pick a secure site from the list above, register your details and fund your account via the deposit options available.
You can then head to the table game area of the online casino where there will be an array of Random Number Generator (RNG) baccarat variants to choose from – if you prefer human presence opt for the live dealer baccarat variants available in the live lobby. You can then get playing.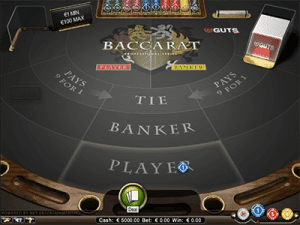 The object of baccarat is to have the hand closest to nine (higher than the other hand). Cards ranked 2-9 will score according to the rank of the card. Aces count as one point, and 10's, Jacks, Queens, and Kings are all worth zero points – said to be where baccarat, meaning zero, gets its name. In online play, the dealer remains the same throughout the game and you play exclusively in one-on-one scenarios.
To score the total of the cards, simply add the digits of a hand together and if the total is more than a one digit number, only take in to account the final digit, which will represent that hand's overall score. For example, if a 2 and a 5 are dealt, the hand's total will be 7. But if a 4 and an 8 were dealt, the score would be 2 (4 + 8 = 12, 2 is the final digit).
The computer (or live online) dealer, deals one card at a time to the player's hand and dealer's hand, until each has two cards. Depending on the version of baccarat offered, a third card can be dealt to either player or dealer according to certain sets of rules. The most common version of baccarat played in online casinos is called Punto Banco. If neither the player's nor banker's cards total to eight or nine, a third card may be dealt to either under certain conditions:
The Player Rules:
The first set of rules apply to the player's hand for the situations when the player has initially drawn less than a total of eight with two cards. If the player's hand total less than five, the player will receive a third card. If the player's hand totals six or higher, however, no card is dealt.
The Banker Rules:
If it is the banker's hand that totals less than eight, and the player has not drawn a third card, then the banker will draw according to the Player's rules, listed above. However, if the player has drawn a third card, then the banker will also be dealt a third card according to these guidelines:
If the player gets a two or a three as the third card, then the banker draws another card if his hand totals four or less, and stands if he holds a score of 5-7. (Obviously, if the dealer's total was greater than seven, the round would have ended before and a third card for the player would not have been necessary).
If the player is dealt a four or five, the banker must draw another card if his own hand totals five or less, and is required to stay if his total is six or seven.
If the player receives a six or a seven, then the banker must take another card if his current score is six or less, and take no more cards if his hand totals seven.
If the player's third card is an eight, then the banker takes another card if his own hand has a score of 0-2, and stays if his own hand total between 3-7.
If the player gets a nine, 10, J, Q, K or Ace, the banker must draw a third card if his hand's total ranges from 0-3, but must stay if his hand totals 4, 5, 6 or 7.
Baccarat bets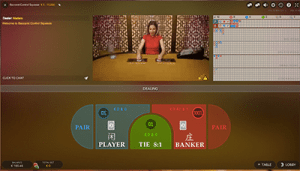 A player may make any one of three bets, and these are either on the player to win, the banker to win, or for a tie to occur. If the player bets on either the player or the banker and wins, the payout is even money (1:1). However, a winning bet on the banker can often be subject to a 5% casino commission because over the course of the game, the banker wins more hands than the player. Not all online casinos will have a 5% commission though; some will have no commission at all (more often the higher limit games), while others may even have a commission greater than 5% (try and steer clear of those that do).
A winning tie bet pays out at the minimum 8:1 odds, while other casinos offer 9:1 payouts. The probability of a tie occurring is around 9.5%, whereas the probability of winning a banker bet is 45.9%, and 44.6% for a player bet. Some online casinos will also offer additional side-bets such as perfect pair wagering, where you can nominate and bet on the dealer's and/or player's first two cards to form a pair (for example 7, 7 or Q, Q).
Online baccarat deposit options
As we mentioned above you need a funded online account in order to win real money on baccarat. To fund your account simply work out a payment method which is best to make a deposit with. Australian's will find credit and debit cards including Visa and MasterCard, web wallets such as Neteller and Skrill and prepaid methods including paysafecard available.
You can learn more about which option will suit you best by reading up on any fees and how to deposit here.
Casino software options for all devices
Many online casinos will feature baccarat as part of a suite of downloadable software you can install on your computer. You may use an operating system such as Linux which is incompatible with that software, but in this case, most casinos will also feature a no-download flash version that operates within your web browser.
The majority of online casinos also offer mobile game-play for smart phones and tablets. Specialised software and no download versions are usually both provided. Remember to check your device's memory capacity before installing new software. One final word of advice when playing baccarat online is to be mindful of the security of your connection and your account. Be wary of accessing an online casino when you are on an unsecured network. We recommend Raging Bull Casino, our top-rated casino site for players from United States, which is protected by stringent security protocols and offers a range of safe payment methods for real money baccarat.