Why Live Dealer Blackjack Party is unique
Why Live Dealer Blackjack Party is unique
It is very rare for a casino game to be run by two dealers, who are chatting away to each other and the players excitedly as they create an incredibly social atmosphere. But this is what Evolution Gaming's Live Dealer Blackjack Party brings to the table. Blackjack party features lippy dealers working in tandem to keep very busy tables flowing. You can play blackjack party at casino sites featuring Evolution Gaming real money games.

Best live dealer blackjack sites
This title is incredibly unique as it offers a unique social ambience for online players along with low stakes to create a fun variant for hundreds of players at a time.
What's unique about Live Dealer Blackjack Party?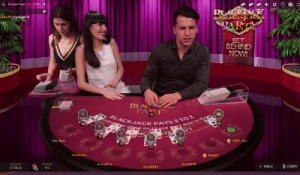 Live dealer blackjack party is a variant from Evolution Gaming which follows the standard format of live dealer blackjack where a game of 21 is streamed live from a studio. Players can log in to the online casino offering the variant and open it in real money mode to play, placing wagers by clicking or tapping the digital interface.
But what makes this title so different from the other versions of online blackjack is it offers low stakes and two dealers which have been trained for TV. There's also music in the background creating a bubbly, chatty, fun game for players who are after real entertainment which they may find at land-based casinos as casual players.
There's only seven seats available, but the number of players eligible to play becomes up to 500 with the ability to bet behind – see below for more information – all the while chatting to the two dealers and other players via the provided chat box.
Live Blackjack Party gameplay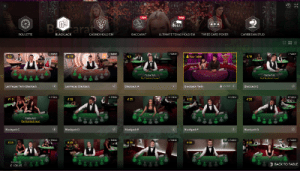 To start playing this unusual title, head to Royal Vegas Casino and register an account if you don't already have one. Don't be put off by the sign up requisite – it just takes a few minutes. Once you're logged in then head to the cashier to make a deposit using Aussie-friendly payment methods.
Now you're ready to party.
You can open the title up direct from Royal Vegas's catalogue or locate the Live Blackjack Party title in Evolution Gaming's live lobby and open the variant this way. The table will indicate if the seats are full before you enter. If all seats are taken, you can still enter and Bet Behind.
If and when you get a seat at the table, the game follows American blackjack rules. This sees eight decks of 52 cards used, the dealer has to Stand on all 17s, Splitting is available once, Double Down is eligible for the first two cards and Blackjack pays 3:2. The minimum bet on the table is $5, while the maximum is $1000.
Bet behind on Live Blackjack Party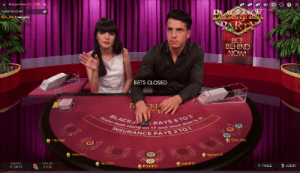 Bet Behind in blackjack party simply means you are wagering on the hand of a player who is seated at the table. You can play a minimum bet of $0.50 and a maximum of $100 and even go into the settings of the game and nominate to double your bet when the player Doubles Down, as well as indicate if you want to Double your Bet for both hands when the player Splits or just bet on the left hand only.
Bet Behind also means you don't have to Hit or Stand or make any decisions – which is perfect for players who are new. You can watch as the seated players play and pick up the game through them. This feature of Blackjack Party is much like when betting behind on the floor of a real casino. We have seen this in other live dealer casino games.
Pre-Decision live dealer blackjack
You can also speed up gameplay by opting to use the title's unique Pre-Decision feature – you can find this on many of Evolution Gaming's live dealer blackjack games – where you can Hit, Stand, Split or Double Down as soon as you receive your first two cards. There's no need to wait for the first, second or even sixth player to make their move. This speeds up game time so you can play more hands per hour.
There's also additional side bets eligible to bet on, but you can only make these if you are seated at the table and have made a blackjack bet.
Perfect Pairs side bet in Live Blackjack Party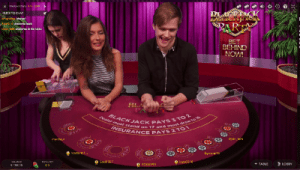 Perfect Pairs is a side bet where you are wagering the first two cards will be a pair. The higher the value of the pair the better the payout. A suited pair, for example, pays 25:1. while an unsuited coloured pair pays 21:1. Non-suited and non-colour matching pairs pay 6:1. The minimum bet of this side bet option, on top of your 21 wager, is $1 and the maximum is $250.
Live Blackjack Party 21+3 side bet
Another eligible side bet is the 21+3 wager, on top of your blackjack bet. It is based on your first two cards and the dealers up card creating a three card poker hand. The better the hand, the better the payouts, with three of a suited kind paying 100:1, a straight flush paying 40:1, three of a kind paying 30:1, a three card straight paying 10:1, and a three card flush paying 5:1. The minimum bet for this title is $1, while there's a maximum of $250.
Two dealers and a chat feature on Blackjack Party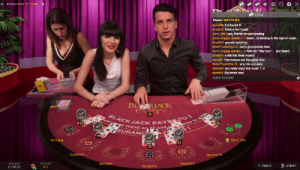 The two dealers regularly change so it's an endless party – if you aren't a fan of the first two dealers, new ones will come along soon.
You can click on the speech button on the top right hand side to view the latest in the chat – with so many players eligible to join the table due to the bet Behind feature you will find there's plenty of chatter happening.
You can join in by clicking the top left hand side where it says 'Click to Chat' and type a message. Sometimes the dealers read it out – there's plenty of chat to read out and they talk to each other too while dealing the game – which creates an incredibly unique social experience.
Find Live Blackjack Party and an array of other unique live dealer games at Leo Vegas Casino.