Bingo
Bingo
Bingo is a much-loved game that can be played for prizes, money or just for the fun of it. While it's most often played in bingo halls, pubs and retirement villages, the resurgence of bingo online is breathing new life into this time-honoured game, attracting a whole new generation of players to this fun number game which is amongst the easiest casino games to learn. We explain more about bingo, how to play and where you can try bingo online for free or real money bets.

Best real money online bingo sites
How to play bingo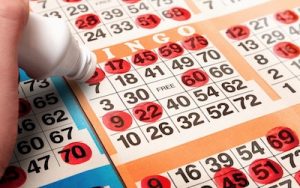 The game of bingo is simple to play, and that's why it's not only popular among children who play it in classrooms as a form of entertainment or as a teaching tool, but also among adults who play it in halls or online for money or other rewards.
To begin, the player purchases one to several cards, depending on the house or online rules, finds a spot to sit (obviously, if you're playing online, you are already in your spot in front of the computer) and awaits the call from the bingo caller.
A bingo card consists of five rows and five columns composing a total of 25 spaces. The columns are labeled according to the letters in the name "bingo," so the first column of numbers is under "b," the second is under "i," the third is under "n," and so on.
Now then, let's say the caller pulls a bingo ball out of the machine or tumbler that mixes all of the balls up, and printed on that ball is "I 43." If the player has a number 43 within the column designated by the "i" in bingo in any one of his or her cards, then the player marks that number. The player is declared a victor if they achieve five consecutive marks, either horizontally, vertically or diagonally, on any one of their cards. Once this occurs, the player calls out bingo and the game is won.
A little bit of bingo terminology
Before you dive into your first bingo game, it'll serve you well to familiarise yourself with some of the bingo terminology commonly used around a bingo game. Some words that might pop up during play include:
Caller – This is the person who calls out the numbers as they are drawn to all of the players. Typically, these numbers are randomly generated by machinated blowers or computer programs.
Calls – This is a brief way of saying "Balls called out," and you will hear this term as it pertains to a jackpot. For instance, if a jackpot requires that a player win within 50 calls, then bingo can be called out any time before or during the fiftieth call. If no one wins by the deadline, the jackpot progresses.
Coverall – This is a bingo pattern requiring that every number on a player's card must be called by the player in order for said player to win.
Dauber – This is a device with a foam tip and ink used to mark the numbers on a bingo card.
Game Board – This is an electronic display board that displays the pattern of the current game being played.
Game Room – A specific reference to games being played online, a game room is a way of organizing players into separate games.
Multiple Winners – When two or more players win on the same call out number, then the prize is divided equally among the winners. It does not matter who calls out bingo first.
On – This is a term referring to when a player has more than one card that is one number away from a win.
Payout – This is a reference to the money used to pay a bingo winner, and it typically makes up 75% of the money brought in.
Progressive Jackpot – This is a term meaning that every time a jackpot isn't won, it grows in size. There are many different types of progressive jackpot.
Quickie – This is a coverall game in which the numbers are called as fast as possible.
Session – This is a program of normal games played all together, and a session may have "special" games or breaks throughout the program with varying game times.
Special – This is a term for a game played outside of the Regular Session, and it typically costs a little extra to play. They usually feature bigger prizes.
History of bingo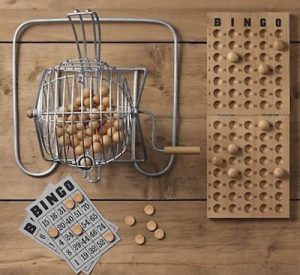 In the United States, the game of bingo originally began as a country fair game, and it was called "beano." For beano, a dealer would pick from a group of numbered discs within a cigar box and call out the numbers on the discs. A player would mark their cards on the appropriate box when applicable, and call out "Beano!" when he or she won the game (more on how the game is played and won a little later).
Truth be told, the origin of the game can be traced back much further than little rural fairs in the United States. Versions of the game are cited as far back as the early sixteenth century. An Italian Lottery called "Lo Giuoco Del Lotto D'Italia" emerged at that time, and it is still played every Saturday in Italy.
From Italy, it found its way to France in the 1770's and was dubbed "Le Lotto." In France, it was a game played primarily by the wealthy. By the early nineteenth century, the game found its way all the way to Germany, but over there it was used as a teaching tool to help children learn math.
By 1929, funnily enough the same year the United States would be plunged into The Great Depression, the game found popularity in the States under the name "Beano," and was first played at a Georgia carnival, near Atlanta.
Shortly thereafter, a toy salesman from New York, Edwin S. Lowe, renamed the game "Bingo" after he overheard a player accidentally call out "bingo" instead of "beano" during a game. After that, he smartly hired Carl Leffler, a Columbia University math professor, to aid him in augmenting the number of possible combinations that could occur on bingo cards. By 1930, they had already reached 6,000 different bingo cards.
In the mid 1930's, bingo became popular in the church circuits after a Pennsylvanian Catholic Priest approached Lowe about incorporating the game in order to raise church funds. After the game started being played in churches, it didn't take long for bingo to become one of the most popular games in the country.
What about online bingo?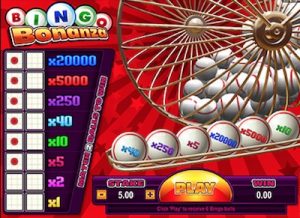 Like most other casino games and gambling games, bingo has made its way to the Internet and can now be found at many popular online casinos, with games available to try for free in practice mode or to play for the chance to win real money. While there are some sites that are dedicated purely to the game of bingo (like Lucky Pants Bingo or Kitty Bingo), popular online casinos now offer a selection of niche and casual games, with bingo often on the menu. To learn more about giving bingo a go online, read our detailed online bingo guide.
For more information about playing bingo online, see also:
For online bingo, keno and other number games, we recommend checking out Raging Bull Casino, our top-rated casino site for players from United States, which has a great range of games available with no downloads required. Titles can be played for free in practice mode or for real money bets, with lots of safe payment method to choose from.