Online bingo
Online bingo
Estimated reading time 6 minutes
The websites below are licensed companies that offer real cash online bingo games to eligible players. The bingo titles these gambling sites offer are run by Random Number Generators (RNGs) which have been approved by eCOGRA (the gaming industry watchdog which tests for fairness), and are computer-simulated.

Best real money online bingo websites
How To Play Internet Bingo
Bingo is not a particularly complex game, although the online variety is more elaborate, given the technology available. While bingo is typically played with a large group of people, online versions do allow for single player mode, too. Players purchase cards/tickets marked with numbers in a grid, and the object of the game is to match your cards' numbers with those that are called/shown. Some games have set payouts for the amount of numbers you match, but all games reward those who fill their cards the fastest, just as regular land-based bingo.
Many online versions and brick-and-mortar casino versions require filling up elaborate card patterns such as all the squares in the corner of the card and a plus sign through the middle, for example.
Tested and regulated computer-simulated software generates random numbers and our cards are auto-filled when the corresponding number appears. Online bingo begins when players purchase bingo cards consisting of numbers printed within a grid. Read on below where we explain the difference between live, community-based bingo, and single player house titles operated by online casinos.
Online Bingo Varieties
Bingo on the Web is offered up in two distinct and unique game-types, but both are usually referred to as "online bingo". To avoid confusion, we take a look at the key differences which distinguish the two – live community bingo (numbers drawn by random number generators) and single player random number generated (RNG) games, similar to RNG blackjack and roulette available at online casinos.
Real Online Community Bingo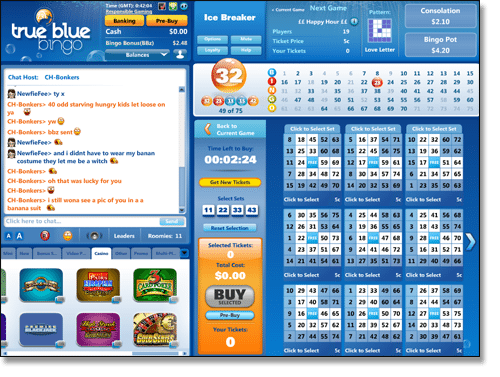 Online bingo played at casino websites such as Aussie Dollar Bingo, Kitty Bingo, Lucky Pants Bingo and True Blue Bingo which are real-time, live competitions of the game of bingo played on the Web with other real players. Numbers drawn fall into B, I, N, G and O columns/rows, depending on the type of bingo version being played (explained below). For example, in 90-ball bingo, the number "B1" is listed under the B column of the bingo card, making it easy to locate. For online play, a button is available to click when you hit bingo.
The total money collected from ticket sales goes in to a jackpot pool, which becomes the prize pool for all players in the match. Whoever is the first player to cover all their numbers (or a certain winning pattern) wins the game – no shouting 'bingo' or 'housie' required. New games take place all the time, so there will always be a room available to play with other people, with exclusive rooms often promoted throughout the day.
Types of Live Housie Games – Four types of bingo exist throughout the world: the North American version, which uses 75 balls; a version played in the UK and parts of Europe, Australia, and South America that uses 90 balls; a third kind played throughout the world called "speed bingo" that uses 30 balls; and a hybrid version between the first two that uses 80 balls.
North American/75-Ball Bingo:
This version uses 5 x 5 card with numbers 1-75 listed on the card. Each number available and the placement of that number will be random, however with some limitations. Numbers 1-15 will occur under the B column, 16-30 under the I column, 31-45 under the N column, 46-60 under the G column, and 61-75 under the O column. Since you will never hear "O 1," this arrangement helps players to limit which columns they look under to find the appropriate number. On the centre of the card is a square marked with a star/free space. This is a free square is automatically marked regardless of what number has been called.
90-Ball Bingo:
This version is popular outside of North America, and is the game of choice in Australia. It uses a 9 x 3 grid, and instead of 15 possible numbers under each column, the 90-ball version allows for 10 possible numbers for each column. The total prize pool is split three ways. The top prize is given to the first player who completed one line; the second prize is given to the player who completed two lines; and the last is given to the player who completed three lines.
Speed Bingo:
Speed Bingo uses a 3 x 3 card with 30 balls in the hopper. The object is to fill out the entire card.
80-Ball Version:
This version uses a 4 x 4 card so that each column can range from 1-20, 21-40, 41-60, and 61-80 respectively.
RNG Single-Player Online Bingo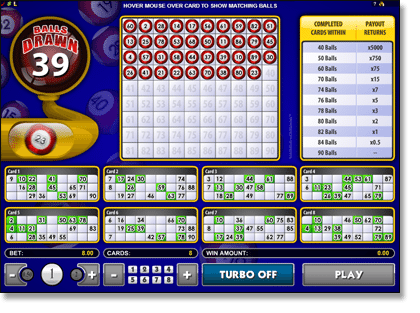 Online bingo played at Internet casino websites such as Royal Vegas, Casino-Mate, and All Slots are computer-simulated, single player games run by RNGs with ambient sounds, intensive graphics and interactive themes – similar to RNG blackjack or roulette.
These titles include Ballistic Bingo, Bingo Bonanza, Electro Bingo, Mayan Bingo, Pharaoh Bingo, Samba Bingo, Super Bonus Bingo, Traditional Bingo, and more. Check our games and bingo types article for more information about the rules and paytables of these games.
The above single player random number generated bingo games are relatively similar in core gameplay, reflecting the game of bingo's simplicity but adding on some ambient sounds, colourful themes and other features to spice the otherwise enjoyable gameplay a little more. Finally, all types are playable via Instant Play (in your Web browser) or in download mode (through your chosen casino's free downloadable software).
Top Real Money Bingo Casinos
Bingo is increasingly recognised as a popular casino game in demand with Internet gamblers as much as pokies, standard table games and other favourites. All of the Web casinos listed in our table cater to AUD deposits and withdrawals, and all of our recommendations on CasinosOnline.com.au are consistently and thoroughly tested so we can always recommend the best sites for our readers from our first-hand experiences.
Our top three recommended websites to play RNG bingo are:
www.RoyalVegasCasino.com – Our number #1 pick and a leading website of the Fortune Lounge Group, RV has been around since 2000 and has consistently proven through its service to be the best place to go for online casino games. Royal Vegas Casino has high-quality standard bingo and super bingo playable through their free downloadable software client and through Instant Play mode for those who prefer to not download anything.
www.Casino-Mate.com – Casino-Mate is a highly reputable online gaming site, offering a $1400 welcome bonus and hosting an impressive variety of bingo games, including the standard game, Super Bingo and themed bingo games such as Mayan Bingo and Samba Bingo.
www.GdayCasino.com – The site hosts bingo games powered by multiple software developers like Microgaming and NetEnt all through its instant play platform – no downloads required. It owns an easy-to-navigate interface we particularly enjoy using, and offers an unlimited matched deposit bonus.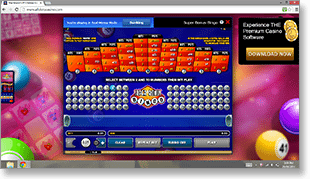 The majority of our endorsed sites utilise Microgaming software – one of the leading casino gaming software developers in the Internet gambling industry. However, sites such as G'day and Emu also host games powered by other providers such as NetEnt, NYXGaming and BetSoft – trusted and secure companies which are competing with Microgaming for the most innovative and entertaining titles.
How To Deposit Cash To Australian Bingo Sites
Funding your casino accounts and playing real money bingo online is easy thanks to the streamlining of deposit and withdrawals through the several useful services supported by casinos. Whether it's direct bank transfers, digital e-Wallets or by card, there's an option for every player – and all transactions are encrypted and secure.
Digital & Other Internet Payment Services

Click2Pay
Citadel Direct
Entropay
Neteller
PayPal
POLi
Skrill (formerly Moneybookers)

Credit, Debit & Pre-Paid Cards

Maestro
MasterCard
Visa
Ukash
For security, 128-bit Secure Sockets Layer encryption technology is implemented to protect our personal financial details when making deposits and withdrawals. Finally, all of our advised casino websites are licensed and regulated by eCOGRA (eCommerce Online Gaming Regulation and Assurance), the recognised gambling industry watchdog – so players always know they are legitimate places to play with real cash.
Playing Multiple Cards Online
Online community bingo gives you the option to play numerous cards at once, all with different randomly generated number. While playing multiple cards at once may seem daunting, it need not be difficult, as all your numbers are automatically checked and marked off for you, so playing 20, 30 or even 70 cards at the same time is as easy as playing one or two. Cards closest to winning are displayed first, so you can keep track of the tickets which are holding the best chance to hit bingo. Of course, if you come to play bingo online in order to chat with others, you may want to play only so many cards at once that will still allow you time to socialise.
Free Bingo Online
In addition to real money bingo, which allows you to pay for a number of cards per round, free play online bingo is also featured at many casinos for those who want to practice or get a feel of the online version before wagering. This is available through both Instant Play (via your Web browser) or the casino's software client (download).
We recommend checking out Raging Bull Casino, our top-rated casino site for players from United States, which offers a selection of bingo, keno and other number games available to play for free or real money directly over your Web browser.