What is multi-wheel roulette?
What is multi-wheel roulette?
Why play one roulette wheel when you can play multiple all at once? This is the premise behind multi-wheel roulette, which is exclusive to online casinos. This unique variant provides a reality for those who want to play more than one table at once – and easier for those online players who open multiple tabs each with a roulette game to play all at once.

Best real money online roulette sites
Want to know where you can find multi-wheel roulette to try yourself? Keep reading.
About multi-wheel roulette
Roulette is one of the world's most common games at land-based casinos, and now online. Internet casino software providers offer a huge range of variants including French, American, European and other titles but some branch out and create unique titles to capture player's interest.
This includes Microgaming and Playtech, two providers behind the unusual gameplay of multi-wheel roulette. The title involves more than one wheel – up to six to eight can be included – in the one game screen all spinning independently of one another, but with just one betting layout.
The way this works is every bet made applies to each wheel. For example, if you place a straight bet on the number 18 you have the chance to win on each wheel which is in play. If there's eight wheels, you have eight chances but it will cost you 8x the amount of one bet. This means you are basically playing eight tables at once, but it is all conveniently compiled into the one game screen.
The rules for this type of roulette is usually based on the European version, but be sure to read the rules on any variant you come across just in case – American rules should be avoided due to the high house edge.
Microgaming's Multi-Wheel Roulette Gold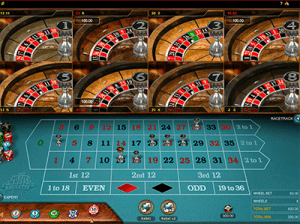 Microgaming's Gold series feature premier graphics which makes this title an ideal choice for smooth gameplay. This title offers eight wheels eligible to be played all at once, or you can opt for just one, two, three, etc. to be enabled for play. The number of wheels in play will be the multiplier applied to your initial bet, so if you have four wheels in play it will cost 4x your bet size.
The minimum bet available per wheel is $1 and a maximum of $5000 per wheel – high rollers will enjoy this variant with up to eight wheels in play.
The Racetrack is also available to make your Call bets and the house edge for this title is 2.7% due to the European rules in play.
You will find this title at Royal Vegas Casino.
Multi-Wheel roulette by Playtech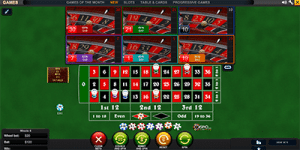 There's just six wheels in Playtech's multi-wheel version and you can deactivate up to five, or have two, three, four, five, or all six in play. There's a minimum bet of $1 and a maximum bet of $100 available – but if you have all six wheels in play you can bet a maximum of $600.
European rules are in play, with just the single zero present and the house edge for this variant is 2.7%.
You can find this title at Casino.com.
Multi-wheel roulette strategy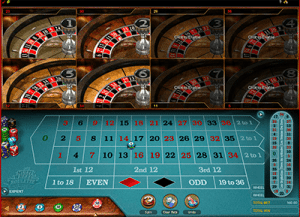 As with standard roulette, there's no basic strategy offering the best bet to make to improve gameplay. The game is based on luck so you can't look up a chart as you would in blackjack to place the best bets.
The usual strategy in roulette is to avoid American roulette at all costs and play French or European if possible as the former option has a house edge of over 5%. Since Multi-Wheel roulette is based on European roulette rules you have successfully mastered the basic strategy.
The best advice when playing this variant is to ensure you know each wheel spins independently, but the bet/s applies to all wheels. There's the chance all activated wheels could produce the same result since it is a game of luck, but it is very unlikely.
If you're new to the variant, start out with just one or two wheels activated and add more when you're ready.
Benefits and drawbacks of multi-wheel roulette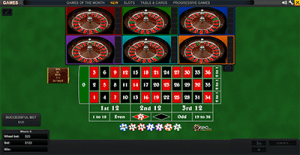 Playing multi-wheel roulette is great if you want to play more than one table at once and you have the bankroll to support it. It's not so great if you don't have the funds since there is basically a multiplier attached. If you are playing six wheels and betting the minimum of $1 per wheel, that's $6 per game for the one bet. This may seem quite costly if you're a low roller, but it is as though you are playing six of the same bet all at once since you have six chances to win. Generally, minimums at land-based casinos are around $5, so for a $1 you're giving yourself six extra chances.
The question you should ask is what are the odds your bet will show up all six times. It is very slim, but by playing all six wheels you are giving yourself the chance to win on one to six wheels.
You do need a good bankroll for this game, and if it starts dwindling away once you've started playing it might be best to switch over to French roulette. If you do have the funds, there's certain tips you can rely on to keep your bankroll steady.