Paysafecard online casino deposits
Paysafecard online casino deposits
Estimated reading time 4 minutes
For those wary of sending their personal financial information online, prepaid cards and e-vouchers offer a safe alternative to make online payments with no link back to your identity. Many prepaid service providers have come and gone over the years, but none is as prevalent as Paysafecard.

Online casinos accepting Paysafecard deposits
Paysafecard recently acquired rival brand Ukash in order to dominate the e-Voucher market, making this a widely accepted and popular choice for players making real money deposits at online casinos.
What is Paysafecard and how does it work?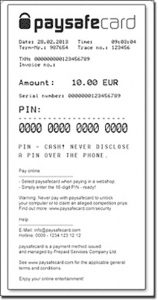 Paysafecard is the closest thing to spending actual cash on the Internet, or as the website describes its service "Paysafecard is as safe and as fast as cash." It comes under the realm of what's known as an e-Voucher, providing a prepaid service where customers can purchase cards in real life in exchange for a unique 16 digit pin number which can then be entered to make safe payments online. Paysafecard's can be purchased in blocks of $10, $20, $50 and $100 and if you want to make a deposit larger than $100 that you can simply purchase multiple vouchers.
Using Paysafecard means there is no paper trail leading back to you, so you can gamble online with complete anonymity. Given that cards are purchased with cash, no application forms are necessary and it doesn't matter if you don't have a bank account or line of credit. NB: You need to sign up at regulated online casinos with your correct identity or you may be unable to withdraw any winnings.
How to make a casino deposit using Paysafecard
Once you've purchased a Paysafecard from your nearest retail outlet, have the voucher nearby as you'll need to enter the pin number written on it. Head to one of our recommended Paysafecard casinos like Mucho Vegas Casino, HouseofJack.com, or G'day Casino and sign in or register for a new account. Once you've signed in:
Head to the casino banking section
Select Paysafecard as your deposit option
Enter your 16 digit pin and the amount of funds you wish to transfer
That's it! You'll be given instant access to your money so you can start playing real money casino games immediately.
Be aware you will require a different payment method when it comes to withdrawing your winnings. As each Paysafecard voucher is only available for single time use, funds cannot be deposited back onto a Paysafecard.
Where can Paysafecard be purchased?
Paysafecard is sold at over 50,000 retail locations across the globe and if you're within a metropolitan or built up suburban area your closest outlet is never far away. Paysafecard vouchers can be purchased at the typical outlets you'd find phone credit, lottery tickets and the like, available over the counter at petrol stations, newsagencies, supermarkets and tobacconists. Use the Paysafecard website to enter your postcode in the 'find sales outlet' search bar to locate your nearest retail location.
The Paysafecard app for smartphones and tablets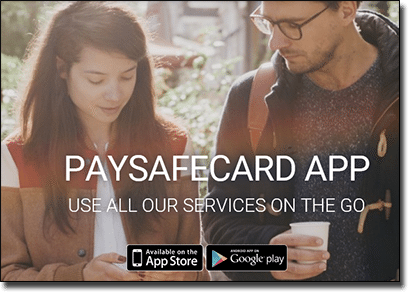 Apple and Android users have the added benefit of access to the native Paysafecard app, which can be downloaded for free within minutes from the App Store or Google Play. The app provides an easy and convenient way to check your remaining Paysafecard balance, have a look at the latest promos on offer and locate your nearest Paysafecard outlet. Using the app, you can either enter your postcode to find the closest outlet, or enable your in-device location settings to let your mobile do the hard work for you. The app is also available for use on smartwatches Google Wear and Apple Watch, allowing owners of these devices to locate their closest Paysafecard retail location within seconds.
Is Paysafecard a good choice for online gambling?
There are many benefits to using Paysafecard to fund your casino accounts, including:
You can transfer cash on the Web in complete anonymity with no link back to your personal information
You don't need a credit card or debit card
With no link back to your identity, it's impossible for your financial information to be illegally intercepted by a hacker at any point
Paysafecard is a free service with no fees as long as you spend your funds within 12 months (after which an $2 per month charge will automatically be deducted)
Purchasing the e-Vouchers with cash means you have greater control over how much you spend and will help you stick to limits when gambling online
You can check your remaining balance online at any time simply by entering your pin number on the Paysafecard website
All benefits aside, the service is not without its downfalls. The major thing to be aware of is that because Paysafecard works just like cash, losing your cards is essentially the same as losing your wallet. Misplace your Paysafecard and there's no link back to you and therefore no way of retrieving any unspent funds. To prevent this happening, we recommend loading your funds to your online casino account as soon as you've purchased your Paysafecard.
Have a Paysafecard? Follow our links in the casino table above to play at one of the Internet's best online casinos and take advantage of some great welcome bonuses for new players when you register. Paysafecard is readily accepted at these secure sites and will give you instant access to your funds.