Ukash deposits to online casinos
Ukash deposits to online casinos
Estimated reading time 5 minutes
Ukash was an innovative online payment service that operated from 2005 to 2015, issuing prepaid vouchers with unique verification codes, thus eliminating the need for credit card numbers or personal banking information in Web-based transactions. In late 2014 Ukash announced that it was being acquired by the Skrill Group to form part of the Paysafecard brand, incorporating the two services to operate under the one name.

Best online casino sites for Paysafecard deposits
Distribution of Ukash vouchers ceased at the end of August 2015 and all existing Ukash vouchers were given an expiry date of October 31st 2015. Players who favoured Ukash can now use Paysafecard in exactly the same way, purchasing e-vouchers from a majority of the same retail outlets that sold Ukash cards. More than 1,100 online gambling sites accept Paysafecard for real money deposits, including each of our recommended Internet casinos.
The beauty of pre-paid services like Ukash and Paysafecard is that it takes the potential for Net fraud out of online purchases. Rather than keeping your money in a virtual account on the Web (as is the case with other e-money services like PayPal), the transaction is made on land when you buy the voucher with its unique 16-digit verification code that can then be entered to transfer funds online. This makes Paysafecard (and formerly Ukash) one of the most secure methods for financing an online casino account.
Ukash casinos
After the recent acquisition, Paysafecard is now accepted anywhere that Ukash deposits were previously available, which is at all of our top-ranked real money casinos. These are among the very finest online gaming operators in the world, and the ones that we here at TopOnlineCasinoSites.com use personally – and we only recommend Web casinos that we trust with our own hard-earned dollars.
Each of our safe gambling sites utilises highly sophisticated SSL (Secure Socket Layer) digital encryptions, so you won't have to worry about hackers or fraudsters getting their grubby mits on your cash or personal data. All offer hundreds of real cash casino games for Windows, Mac, and mobile devices, including online pokies and progressives, blackjack, Internet roulette, virtual video poker, and much more.
How Ukash works
Note: Ukash now operates as Paysafecard. As of October 31st 2015, Ukash vouchers are no longer accepted.
Players who favoured Ukash or are looking for a safe way to deposit money online can look to Paysafecard to gamble securely and anonymously on the Internet. The innovation in Paysafecard verification comes from the unique 16-digit code provided when you buy a voucher from a retail outlet. This e-voucher lets you make purchases on the Net, or at supported land-based vendors. Over 500,000 businesses accept Paysafecard payments, so it's a widespread network of participating retailers. As a real cash deposit method for Web casinos, few prepaid virtual money options come close for availability or security.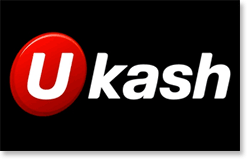 The one catch with Paysafecard is that cards can't be reloaded, so the verification code is only good for transactions until the funds on that voucher have been exhausted. This makes it the same as cash – if you lose your card, unfortunately there's no way to get that money back.
Read more about how Paysafecard deposits work here.
How to buy Paysafecard (Ukash) vouchers
Unlike Web wallets and other digital banking services that require you to open an online account and deposit funds, Paysafecard e-money is purchased from land-based retail outlets. It's much the same as buying pre-paid mobile credit, except you can use it for all kinds of online purchases. You don't even need a bank account or debit card to buy Paysafecard credits, which means you can effectively use hard currency to make Internet transactions and thus maintain your anonymity online.
There are thousands of Paysafecard vendors all over the world, available many of the same places that Ukash vouchers could previously be purchased, including supermarket chains, convenience stores, and newsagencies. Most of these feature ePay terminals, where you can choose from various prepaid products. The following retail chains sell Paysafecard pre-paid vouchers:

Woolworths
News Xpress Newsagents
All Phones
Betta Home Living
BP Service Stations
ePay
EzyMart
Freedom Fuels
TeleChoice
Harvey Norman
IGA Supermarkets
Myer
Newslink Newsagents
Nextra
Nightowl Convenience Stores
The Lucky Charm
Video Ezy
WH Smith
You can use the Paysafecard website and mobile app to locate the nearest retail outlet to you.
Online security measures
The great thing about Paysafecard and Ukash is you only need a slip of paper with the number to be able to pay for items on the Internet or at selected brick-and-mortar venues. People don't have to carry banknotes, cheque books, or credit cards with them everywhere. This makes it an excellent option for gamblers who want to bet online, but don't have Visa or MasterCard. Furthermore, e-vouchers are perfect for those who prefer to keep a low profile on the Web, as there is no need to enter bank details or sensitive personal data that could be defrauded.
That is not to say that prepaid cards aren't 100% safe from human wickedness. Australian news agencies found this out in 2012, when fraudsters posing as ePay employees stole thousands of dollars by demanding to "inspect" recently purchased verification codes. This resulted in ePay temporarily suspending Ukash products from all their machines. Ukash didn't take long to be back in action, but only after a harsh lesson was learned by newsagents and customers alike.
To be safe, you should treat your unique Paysafecard code like it's paper money. If you wouldn't hand over $100 cash to an acquaintance for safekeeping, don't hand over your verification code. If you wouldn't email the verification data for a $1000 debit card to a stranger over email, then you shouldn't send them your Paysafecard code, either.
In fact, it's a safe bet anyone asking you to email the voucher number is a scam artist. Anyone who asks you to provide the same voucher number over the phone is also an identity thief. Good online casinos are modern and tech savvy, so they won't have you give out data like one would have in the 20th century.
Ukash awards and recognition
For a company in the online gambling industry, Ukash received a tremendous amount of mainstream acclaim. The company won the 2012 Queen's Awards for Enterprise in the international category – the highest honour given to businesses in the United Kingdom. The previous year, Ukash ranked #23 on The Sunday Times Tech Track 100, which rates the fastest-growing UK technology companies.
For the best real money casino with plenty of safe real money payment options, we recommend checking out Raging Bull Casino, our top-rated casino site for players from United States, which has some excellent welcome bonuses available for new players when depositing cash for the first time.