Types of online bingo and games
Types of online bingo and games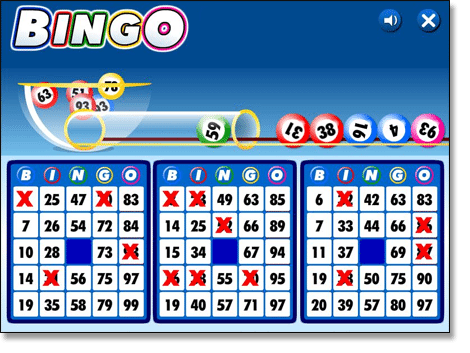 For many, online bingo arouses ideas of large groups of players enjoying bingo over a dedicated bingo website, but the hows and variations don't often play in to consideration.
Bingo over the Internet can be played as a single player game against the computer, using random number generators (RNG), or in a live, team competition-based format against real players from around the world, also utilising RNGs. Live dealer bingo games, where genuine croupiers are filmed and streamed online drawing numbered bingo balls from hoppers, with player watching and betting, is the next step soon to be introduced to the world of online housie. You can also play progressive jackpot bingo games which offer some sweet cash prizes to be won.
RNG Single-Player Online Bingo
These are single player, computer simulated games that run using random number generator software. The gaming interfaces are similar to the attractive and interactive themes we find in the likes of RNG online roulette and blackjack, with great visuals and sounds. RNG online bingo can be played at trusted casino sites such as www.Casino-Mate.com and www.AllSlotsCasino.com, and can be played for free or real money.
Our endorsed Internet gambling sites offer a huge selection of such titles, each of which contain their own individual rules and pay scales. Here are detailed explanations of some of the most popular single player bingo titles:
Ballistic Bingo – players can purchase (or play for free) up to eight cards per game and the goal is to complete each card with as few balls as possible. Ballistic Bingo uses a 90 square grid with balls numbered 1 to 90, with numbers drawn randomly. Winnings are calculated automatically by the computer based on completing your card in 84 balls or less. Cards reflect traditional 90-ball bingo cards. The highest possible win is completing your card/s within 40 balls, in which case your winnings will be 5000 times your total credit bet. Not half bad.

This is an easy game to understand, making it a great introductory game for players new to virtual bingo. To begin a game simply click the 'new game' button then increase or decrease your bet using the Chip Selector button, and select the number of cards you wish to play. Once you click 'play' the game is in action, with balls automatically drawn and matched with any numbers appearing over your active cards. If you want to play the game at a slower pace, select the 'Turbo Off' button, otherwise balls will be drawn at instant speed. The payout scale is clearly presented to the right of the board in an easy to understand manner.

Super Bonus Bingo – presented beautifully on a massive board, Super Bonus Bingo offers some great variations on how to win. The board contains numbers 1-80, with a hidden basket containing the winning numbers. Players draw anywhere from two and 10 numbers by clicking on the ball with their selected number and hitting the play button. The 20 random winning numbers are then revealed, rolling out onto the board one at a time. The aim of the game is to accrue as many matches as possible, with a payout schedule containing the maximum win of 10 hits appointing for x 10,000 win.

At the end of the game, if certain conditions apply, players also have the option of purchasing two additional bonus balls to increase their chances of winning. To qualify for the bonus round you need to have placed enough hits on your card to put you in a "white" position on the payout board. Payout scales are displayed across the top of the board and winnings are calculated automatically.

Pharaoh Bingo – this stunning board contains a fun Egyptian theme with the possibility for some big wins. Players can play up to four cards at a time, each of which contains fifteen numbers, wagering as little as $0.01 for each card. Pharaoh Bingo is a fast paced, sixty ball bingo game full of action and gives players the chance to win up to 100,000 credits.

The outcome of Pharaoh Bingo is determined by the order in which the balls appear, with players required to complete one of the specified payout patterns to win. There is the possibility for multiple winnings per card but only if a completely new pattern is created. If a player manages to cover every single number on their board within the first 30 balls being called, they win 10,000 x their original bet. Pharaoh Bingo is not only fun but one of our favourite online bingo games as far as visuals go; this board uses a flawless design for an awesome overall look.

Electro Bingo – if there's a game that brings bingo to the modern, technological world it's Electro Bingo with its futuristic layout and fast, exciting gameplay. Players can play up to four cards per game, with a minimum wager per card of $0.01 and a maximum of $5.00. If playing the top wager of $5.00 players are eligible for the top win of $100,000.

The aim of Electro Bingo is to match the numbers on your cards to one of the winning combinations, of which there are 14 possibilities. 30 balls are drawn at random, with players having the option of placing an additional wager to add extra numbers to their bingo card after the first 30 balls are announced. Up to ten additional numbers can be added before the game automatically ends. The jackpot of 20,000 x the total bet amount applies if a player managed to mark off every single number on their board within the first 30 balls called. Winner payout patters are displayed across the top of the board.

Samba Bingo – this version of the game follows a Keno-like format, with players given the chance to play up for four cards at once, each of which contains 15 numbers. 30 balls numbered 1-60 are drawn at random, with players offered the chance of purchasing extra balls if further wins are available (up to ten additional balls are offered per game). The sweet jackpot of x 20,000 is awarded if a player completes their entire card within the first 30 balls.

Samba Bingo uses a nice, clean format that's a good platform for online bingo beginners. Games are lightning fast, easy to understand and come with the possibility of some pretty hefty wins.

Bingo Bonanza – Bingo Bonanza is the perfect example of a quick and easy online bingo game. This no-frills version is insanely simple: six balls are drawn and any two matching balls will result in a win. The board layout is nothing special, but it's a nice, effective game for a quick play of luck. Simply click 'play' and watch as the balls roll out, the computer will automatically stamp any winning numbers. It's kind of like playing a scratchy card, but better. It is possible to have more than one win per card, but if that happens you will only receive payment for the highest win.
Rules and pay scales are clearly explained within each game, but each of our online casinos also provide a live chat option, where a friendly staff members will be available to assist should you require any help. Single player online casino bingo provides more options than live community games, such as more chances to win, more winning combinations and bigger payouts, however it lacks the social interaction that makes live bingo so much fun. The type of game you play will really come down to personal preference.
Try out the variety of bingo titles available at trusted sites like Royal Vegas Casino – currently offering a $1200 welcome bonus to new players. See how this timeless classic is making waves in the virtual gaming world.

Live Community Based Online Bingo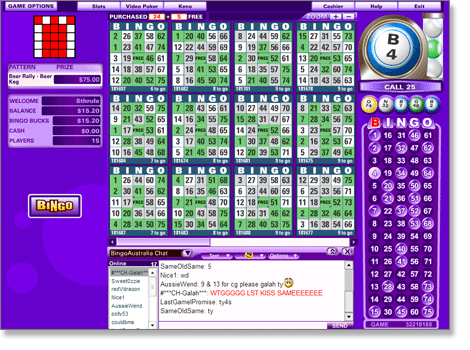 These are games played online for real money against real opponents, sometimes in a team environment. Unlike live dealer games, online bingo isn't hosted by a live dealer who draws number from a barrel – numbers here are still randomly generated, but these games are popular due to the community aspect and the fun live interaction with other players. Games are played in real time and depending on how many players are involved in each game, the total prize pool, generated from ticket sales, increases. Community-based bingo also offers up some pretty sweet jackpots, many which are guaranteed to go off within certain games.
Live online bingo games occur at specific scheduled times within set rooms, allowing players to play their favourite game or against particular components at fixed times. This format has helped to build an online community of bingo enthusiasts, with players enjoying the consistency of being able to sign in to their regular game each day or week. Live online bingo websites will advertise a schedule of all their upcoming games, with the option for players to purchase cards ahead of time to secure their place in the game. These regular scheduled games also usually come with attractive bonus prize money up for grabs.
You can find live online bingo at such trusted site as Aussie Dollar Bingo, Bingo Australia, Kitty Bingo and True Blue Bingo, where a range of social bingo game types can be found, as detailed below.
90 Ball Bingo – this version of Bingo uses a 9 x 3 grid and allows for 10 possible numbers under each column (as opposed to the standard 15). It is the most popular version of Bingo found in Australia, Europe and the UK, and can be played at each of our endorsed community bingo websites.
75 Ball Bingo – USA's favourite take on the game, this version of Bingo uses a 5 x 5 grid containing numbers 1 to 75. Placement of numbers still applies at random, however they are organised in the format of numbers 1-15 appearing under the B column, 16-30 under the I column, 31-45 under the N column, 46-60 under the G column, and 61-75 under the O column. Play this version of housie at each of our recommended online social bingo sites.
80 Ball Bingo and Speed Bingo – 80-ball bingo uses a 4 x 4 card with columns ranging from 1-20, 21-40, 41-60, and 61-80, while the Speed Bingo card is a 3 x 3 grid and there are only 30 balls in the hopper, with the object of the game to fill out your entire card.