Best progressive jackpot online bingo games
Best progressive jackpot online bingo games
Estimated reading time 4 minutes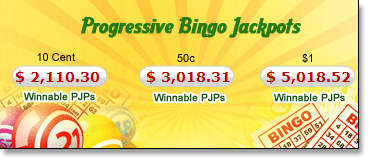 Progressive jackpot bingo games (PJPs) are in high demand, with players enamoured by the possibility of taking out the huge win. Progressive jackpots are where the value of the jackpot increases each time the game is played and not won. With the popularity of online bingo soaring, it means more and more players are hitting up these games, adding to the value of the jackpot every time, resulting in some serious dollars up for grabs.
The benefit of playing online bingo progressive jackpot games is the jackpots have the potential to be much bigger than ones you'll find in a standard land-based bingo hall or casino. Many land-based bingo games have a cap on how high the progressive jackpots can go, while online bingo jackpots can grow infinitely with no limit.
The best progressive jackpot bingo games can be found at the recommended sites below:
Aussie Dollar Bingo
Progressive jackpots are a big thing at Aussie Dollar Bingo and it doesn't mess around when it comes to giving players the chance to pick up some sweet cash prizes. The Mega Jackpot room is open all day long, with bingo cards available for a low ten cents a pop and a progressive jackpot that's set to a minimum win of $2,000. The other progressive jackpot rooms are only open between 4PM and 10PM daily but offer even bigger minimum jackpots with $3K and $5K, with tickets on sale in advance so you can make sure you reserve your place in the game. The home page displays a constantly updated list of winners, so you can see for yourself how much is being won through this site. Aussie Dollar Bingo also has an exclusive VIP loyalty program that rewards its players with special treats like anniversary gifts and birthday bonuses.
Bingo Australia
This Aussie bingo site offers more than just cute koala animations and games made entirely for an Australian audience. Bingo Australia is all about progressive jackpots, whether it be online bingo or online pokies. The home page provides all you need to know about the progressive jackpots on offer, along with a table listing all the winners and the amount of cash they scored. This site offers three progressive jackpot bingo games; a 10 cent game that can be played for a minimum jackpot of $2K, a 50 cent game that can be played for a minimum jackpot of $3K and a $1 game that can be played for a minimum jackpot of $5K. These prize pools are constantly on the rise, so come to Bingo Australia for the true Aussie experience, but stay for the sweet, sweet prize money. Progressive jackpots are only played at certain times throughout the day, so refer to the Bingo Schedule for all upcoming sessions.
True Blue Bingo
This is a great site that allows players to customise their bingo experience, changing the sounds, colours and images to suit your personal preferences. True Blue Bingo is also unique in that it offers players the choice of entering five different bingo rooms, all with different themes. When registering to play, you will gain access to the bingo schedule which lists all five rooms, the current amount of the progressive jackpot for that room, the name of the game currently being played and the amount of active users currently playing within each room. Simply choose which room you wish to enter and click 'play now' to join the current progressive jackpot.
With jackpots ranging from $1,000 to over $10K, there is ample opportunity for some nice cash prizes for those who want to play recreationally, but also throw down a real money bet with the chance to win something back. The highest paid progressive jackpot thus far at True Blue Bingo landed its winner almost $6,000, so the possibilities are huge. No deposit is required to register an account, and new players receive $5 free to get the party started.
Lucky Pants Bingo
Lucky Pants Bingo is a quirky online bingo venue for the young at heart. Proudly leading the pack as UKs' top boutique bingo website, take advantage of the no-deposit free-cash welcome bonus and sink your teeth into the impressive list of PJP's. Lucky Pants has been responsible for some very happy winners, with their current 90-ball bingo progressive sitting up over the $11,000 mark, making this site one of the best trusted venues for potential high wins. The list of current progressive jackpot amounts is in the top right hand of the home page, so players can easily see where each prize pool lies. By registering with Lucky Pants players also get access to other awesome prizes like jewellery, movie tickets, shopping vouchers and bizarrely enough, autographed photos of Sharon Osbourne. Lucky Pants certainly is one of a kind!
Kitty Bingo
This fabulously feline-themed bingo venue has more progressive jackpot bingo games than you can poke a stick at, with PJP's that include Party Games where the pots get bigger and bigger. This site is super fun and a must check out for cat lovers everywhere. There are eight different progressive jackpot bingo games at Kitty Bingo, some of which are available all day and others offered once a week. High Cut Bingo is only played on Thursdays from 8-10PM, Low Cut Bingo only Tuesdays from 8-10PM and Goodie Bag every Sunday from 6-10PM, but check the schedule for the other daily offerings.
These 90-ball and 75-ball bingo games are popular, so the prize pools are constantly on the rise, making Kitty Bingo a favourite among jackpot hopefuls around the world. The winners board displays daily statistics about each game win along with a collaborated total for all wins site-wide, so you can see for yourself what kind of cash prizes are up for grabs.
Play Bingo PJPs Today with Bonus Money
Progressive jackpot bingo makes for fun and exciting gameplay, with these recommended sites offering a wide range of variety when it comes to playing times, game themes and prize pools. Check these online bingo venues out and see whether you can join the list of lucky players to take out a real money jackpot. Each of our endorsed bingo sites offer no-deposit bonus money on registration and significant matched deposit promos, so you can explore the progressive games as soon as you become a member.