Bingo sites with the best chat features
Bingo sites with the best chat features
Estimated reading time 4 minutes
Bingo has always been a social game, offline and online. Any quality dedicated bingo site will have advanced chat features as a part of its games so you can talk to your opponents, make new friends while you play and catch up with and play alongside people you already know. With a little organisation you can arrange to meet in the same room as your friend, and play the same game of bingo together.
Most bingo sites are made up of online "rooms" which will have different game types run at different times. Each room is given a name so you can navigate the site easily and find what you're looking for. This system of bingo rooms also means you can connect with your friends and find each other to play in the same game.
True Blue Bingo
In all True Blue Bingo games there is a live chat feature were you can message other players in your room instantly, and you're free to talk as little or as much as you would like to. You'll find that many players in a bingo game won't be active on the chat feature. If you want to play bingo and have a chat at the same time we recommend joining one of True Blue Bingo's 'Party Nights' games of bingo, which are advertised as a social playing space – it's highly likely the other players involved will be up for some banter.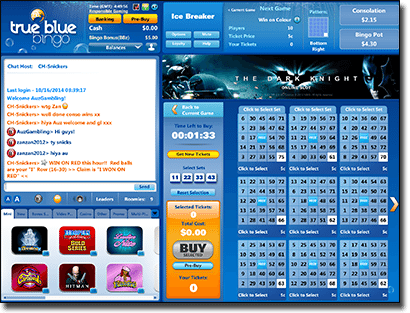 True Blue Bingo also has special chat game promos, where you actually win bonuses and prizes for being active on the chat feed during the game. For example, it runs a game called 'Bag A Bonus', where if you don't win you can grab a bingo bonus reward prize by being the first player to claim it in the live chat feature (and you must have been active on the chat feature prior to as well). Chat games won't be run if there aren't at least two active chat players.
There are chat hosts in every bingo room at True Blue Bingo so there is always someone on hand to answer your questions and provide whatever help is needed.
Aussie Dollar Bingo
Aussie Dollar Bingo prides itself on having one of the best chat host teams around, and its team has won awards for the quality of its services. You'll know who the chat host is in your bingo game because at Aussie Dollar Bingo chat hosts type all in capital letters so you can easily identify them in the chat feature. Aussie Dollar Bingo asks other players not to type in all caps to avoid confusion.
Chat hosts at Aussie Dollar Bingo are dedicated to providing a really personal service where you're encouraged to get to know the team. Each team member runs a different specialised chat game. These specialised chat games generally change monthly so check out the chat promo page to find out which hosts are running which games. This December the chat host games are;
Santa's Hotball: which will progressively give out bigger and bigger prizes in the lead up to Christmas
Karaoke Time!: this is run whilst a bingo game is underway, the chat host will open up the mic and the first player to claim it gets it. The player 'holding the mic' must then correctly recite the lyrics of a song the chat host calls. If they get the words right they can claim their free bonus prize, if they get it wrong the mic is then handed to the next player who calls for it in the live chat.
Breaking The Bank: Whoever wins the coverall in the main bingo games chooses two other players who are active in the chat feature of the game to join them as "robbers" in the bonus game. The previous winner and their two robber accomplices each attempt to guess the "bank combination" which is determined by the next ball drawn. If any of the three guess right they split the extra bonus between them.
Kitty Bingo
Kitty Bingo has a live chat feature in many of its bingo rooms. Head to its chat games if you want to play side games while a main game of bingo is underway. The chat host running the chat game will explain the rules and details the prizes you can win in the side game, its chat games will usually give away things like bonus Kitty Loyalty Rewards points and free playing cards for other bingo games.
Chat games are held round the clock, everyday in the Kitty Cat Room. Other chat games are also run in other rooms although they vary which ones, check Kitty Bingo's homepage for more details.
Lucky Pants Bingo
Lucky Pants Bingo runs various daily chat games everyday (check out its homepage to see what chat games are currently available). It also has regular scheduled chat games so if you're a punter who likes routine then Lucky Pants Bingo has plenty of frequent, regular bingo chat games. All Lucky Pants Bingo's regular weekly chat room games begin at 8pm in the Lucky Stripes room. Its weekly bingo chat games are:
Soaps & Cinema Quiz on Mondays
Zen Hour With Betty Balls on Tuesdays
Double Or Quit on Wednesdays
Friday Trivia on Fridays
What If I Need Help to Chat?
Many bingo games will have a chat host who helps the game run smoothly; should you have any questions or queries you can direct them to your chat host and you'll get an answer almost immediately. Chat hosts will also give you regular updates on how a game is progressing and will provide any other information you may need to know. Of course, the live chat features and the use of chat hosts varies between games and sites. A good chat feature can add a great social element to a game of bingo, so it's worth knowing which bingo sites do it best.
Sign up for an account at TrueBlueBingo.com today and redeem generous welcome package bonuses, play high-quality online housie and enjoy the sophisticated social chat features in every single one of its games.