Live dealer blackjack
Live dealer blackjack
Estimated reading time 4 minutes
Playing real money blackjack over the Internet is easy, fun, and gives us the potential to make big profits without leaving the house. Other immediate game-play advantages, such as bonuses, multiplayer cash tournaments, live chat and attractive female dealers make it the most ideal way to play 21 – even more so than at a brick and mortar casino.

Best live dealer blackjack sites
What is live dealer 21
Even though blackjack is the most widely played online casino game in the world, there are those who view 21 on the Web with indifference or distrust, due to RNG software. While gameplay with RNGs is completely fair and unbiased, players may prefer to have the games dealt by real people.
Live dealer blackjack introduces the human element into virtual blackjack and erases the last advantage of playing blackjack on the physical casino floor. Real life dealers, multiple players per table, and actual playing cards transform the once lonely road of digitised 21 into an interactive experience straight from home. This has been made possible due to high-quality Internet video streaming and the ability to chat live with other gamblers, helpful staff, and the female croupiers themselves.
How Live Dealer 21 Works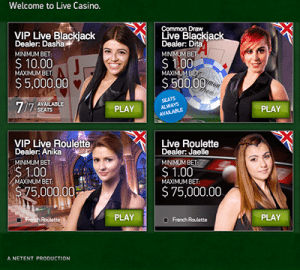 All major online casinos, such as the many in the table above, host a live dealer platform alongside traditional computer simulated games. Players click and select which type of live dealer game they want, and are re-directed to a live dealer portal which displays all available 'room's (games) currently playable, as well as how many players are in the room.
Real human dealers, usually attractive females – but you can get males too – are employed by Internet casinos to run these games using real equipment in a live studio, streamed to players via high-quality video feeds. Cameramen, managers and other technical support staff also remain ready should problems arise or players need live help.
Once a player enters a 'room', the game proceeds as normal, with eight standard 52-card decks used. Real money wagers are placed, though the chips on our end are digitally represented by colourful icons. The only other game-play differences is the inclusion of a text chat function to talk with the croupier and fellow players, and a time limit due to the nature of live games.
If you are playing with other people in the same live dealer blackjack game, you can bet on someone else's hand if you think they are on a hot streak, know as the 'bet behind' wager. They can similarly wager on your hand too – and this adds another level of spice to the average game of 21.
Benefits of Live Dealer Blackjack
Aside from the atmospheric advantages – such as the ability to engage with fellow players – there are plenty of practical and strategic reasons for choosing live blackjack tables over their generic counterparts.
No Random Number Generators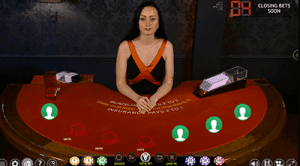 Every standard online casino game is powered by a Random Number Generator (RNG), which uses mathematical computations to simulate chance occurrences – in this case, which cards come up during any given hand. While all RNGs games at our recommended online casinos are thoroughly tested to ensure their trustworthiness and reliability, there are still gamblers wary of such Web games. This remains the case even though all reputable casinos, such as our recommended site, have their programs inspected and certified by independent third-party testers on a regular basis.
There is no cause for such suspicion when it comes to live dealer games, however. We can see the cards being shuffled and dealt, and all tables are overseen by a pit boss who keeps an eye out for errors. The mechanics of the game are all out there in the open for everyone to see, meaning the house would have to possess proverbial nuts of steel (and the collective IQ of a dishcloth) to try anything deceitful or underhanded.
Bet Behind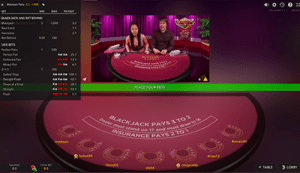 In traditional games of blackjack, such as the ones still seen at land-based venues, you have the option to bet on other players' hands – even when you aren't seated at the table. This is rarely seen in standard web games, however, as the vast majority of these allow for only one player against the dealer.
That has all changed with the advent of the live dealer, and in particular the multi-player games which allow us to bet behind someone else's hand. This means we no longer have to put up with our own rotten cards in the midst of a bad run, and can reap real money rewards from the skill and/or good fortune of other players.
Multiple Tables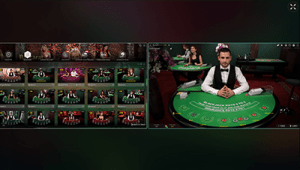 Whether playing blackjack online or at a land-based casino, you are normally prevented from frequenting more than a single table at once. This is just common sense, for the most part. With live blackjack dealers on the Internet however, you can participate in several games concurrently, thus filling in the gaps while you wait for other players to take their turns.
Additionally, with the constant development of live dealer play, more and more of this style of gambling is becoming available, and there will always be tables available for us to choose from. While some more popular tables may put you on a waiting list before you start playing (not long), you will never be stuck in the doldrums for lengthy periods of time waiting to play at your favourite tables.
Why Play Live 21 on the Web?
Live dealer blackjack facilitates the social elements for every player who loves the experience at a live table. With the video feed streaming to player's computers, real equipment, human dealers, and actual interaction all directly from the comfort of home it is a great option over heading to a land-based venue.
If you love the adrenaline and thrill of playing and winning at the live table, you will enjoy the live dealer experience offered at our recommended online casinos. The authenticity, game-play, and social elements are essentially the same, and there's no longer a need to travel to a physical venue to play your favourite game.
Our top rated blackjack site for players from United States is Raging Bull Casino, which offers some exciting welcome bonuses for new players.