Baccarat wagering stakes – Min and max bets
Baccarat wagering stakes – Min and max bets
One of the most prestigious and popular casino games in the world, baccarat can be found in just about every gaming venue around the globe. Originating over 500 years ago in Italy – it is affectionately known as the game of kings, and the game of choice for Ian Fleming's iconic super-spy James Bond.

Best real money baccarat sites
"Punto banco" is the variant played in most casinos around the world, including Australia, the USA, the United Kingdom and Canada. You can also find the game online at secure web casinos, such as the many we've detailed in the table above.
This article will take you through how to play a game of baccarat, the minimum and maximum bet allowances per game, and where and how you can play it safely and reliably online.
How to play baccarat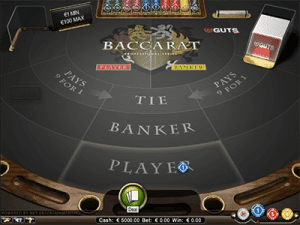 The premise of baccarat is simple – there's a banker and a player and each face off against each other.  However you are not the player, nor is the dealer the banker. These two parties are simply two distinct options you can wager on. You may also be able place a bet the cards will tie on many variants.
Each side is dealt two initial cards, and the hand closest to a total of nine is deemed the winner. Third cards can sometime be dealt if the rules allow.
These rule variants are mostly found online – but you may find them in land-based casinos too.
Casino baccarat betting limits
One thing you will find when you play baccarat at land-based casinos is this game does allow for higher stakes play than most other table games, as it is considered by many as a high-roller title. you can also find lower limit games now it has become so popular, especially online.
If you are considered a "higher value" customer at outlets such as Crown Casino in Melbourne, you'll be able to lay down larger bets, but for normal players casino betting limits usually range from $5-$10 minimums to around $500 maximums.
Minimum and Maximum Punto Banco Bets at Online Casinos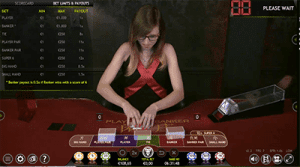 You'll find greater flexibility in baccarat betting limits online, as companies have far less overheads to cover and can allow for greater payouts to their customers. Additionally, they offer much smaller betting limits too.
No-download gaming sites such as Slots Million offer baccarat betting minimums as low as $0.10 and as high as $1000 in the same game. Such low min wagers are not profitable at land based outlets, which is why online casinos are a superior platform for those not willing to spend exorbitant amounts of cash, but prefer to risk smaller amounts of money in exchange for large amounts of fun.
Live dealer baccarat games at sites such as Royal Vegas Casino and 7 Sultans Casino offer three separate minimum and maximum amounts: $20 to $100, $30 to $300 and $50 to $500. Random number generated games at these sites also offer min and max bets of $1 to $500 per hand.
The minimum and maximum amounts do vary from game to game, with several professional higher-stakes baccarat variants available too, but generally speaking, our endorsed sites do offer the player a far greater experience than land based casinos in terms of wagering flexibility.
We recommend checking out Raging Bull Casino, our top-rated casino site for players from United States, which has hundreds of real money casino games to choose from, with no downloads required, with generous betting limits available to suit recreational punters as well as high-rollers.
Real money baccarat rules
Here's a quick run-down of the baccarat rules:
Each card is valued at its face ranking, with 10 and picture cards valued at zero and an Ace being valued at one. If the value of the two cards dealt to either side amounts to more than 10, the value of the hand will be scored by the right-most digit of the total, so if you are dealt an 8 and 4, your two-card total is two (the right-most digit of 12).
A Natural Win
A natural win in baccarat – if the first two cards dealt to either the banker or the player (or both) holds a total of eight or nine. If this occurs, both hands stand, whichever party has the eight or nine wins (tie if both parties hold the same total), the game is over and bets placed on either banker or player are paid out at 1:1.
Player and Banker Standing and Drawing Rules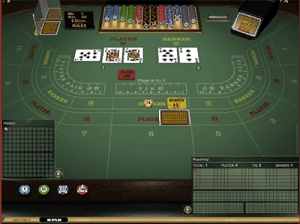 The player hand is always dealt to first. It does not take another card if the initial two-card hand totals six or seven, but does draw another card if the initial hand totals between 0-5.
If the player stands, the banker follows the same rules which apply to the player – it draws with a hand total of 0-5 and stays pat with a hand total of six or seven. However, if the players draws a third card, the banker's move is dependent on what the player's third card is:
Player's third card is a deuce or three: banker draws with total of 0-4 and stays with 5-7.
Player's third card is a four of five: banker draws with total of 0-5 and stays with 6-7.
Player's third card is a six or seven: banker draws with total of 0-6 and stays with seven.
Player's third card is an eight: banker draws with total of 0-2 and stays with 3-7.
Player's third card is a nine, 10 or Ace: banker draws with a total of 0-3 and stays with a total of 4-7.
Try real money baccarat and the range of live dealer options at Raging Bull Casino, our top-rated casino site for players from United States which has a great range of table games available.