Minimum and maximum betting stakes
Minimum and maximum betting stakes
Minimum and maximum betting stakes, sometimes referred to as "table limits" are the highest and lowest wagers a player can place on any game. These limitations fluctuate depending on the game and the operator, and will be specified within the rules of each individual game, whether it be a table of pokie title.

Best online casinos with flexible betting limits
It may seem like a strange concept to some, the fact rules exist around how much a player can and can't bet on their favourite casino game, but minimum and maximum betting limits have been around for a long time and they aren't just there to restrict a players personal freedoms.
What Purpose Do Minimum and Maximum Bets Serve?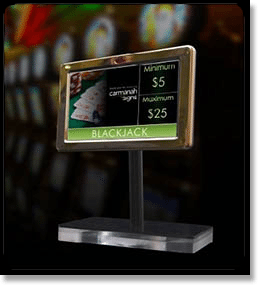 Betting limits exist as a form of yield management for casino vendors. These rules are in place so, quite simply, a player can't wipe a casino clean of every cent they own. It's a necessary hindrance to ensure the continuation of the gambling industry and fair play for all.
Minimum and maximum stakes didn't always exist. Centuries ago, it was the general consensus gambling odds were based on trial and error and basically just the luck of the draw. Then over the 16th and 17th centuries emerged the Probability Theory, a concept that proved the scientific odds of chance which changed the gambling industry forever. Casinos now had to put limitations in place to protect themselves against the players who were finding ways to beat the system and reaping the rewards of their vulnerability.
Ultimately, setting min and max betting limits allows casinos to maximise revenue from a fixed resource, with limits that can be changed to optimise the profits from a gaming table. But it's not as sinister as that sounds; betting limits also act as a form of safety net, ensuring players keep their gambling to a limit realistic to their own financial situation.
How do Min & Max Wagers Work?
A minimum bet is the least amount of money a game will allow in order for a player to participate, while a maximum bet refers to the largest possible wager a game will allow to be placed. There isn't an industry standard followed by all, so these minimums and maximums change between games and casinos, and each game will always clearly state its betting limitations to avoid player confusion.
Betting stakes are calculated by taking into account the house edge, with games with a lower house edge typically requiring a higher minimum bet. All table casino games give the house an advantage, which means the larger a bet is, the larger the casino's potential profit. Table limits are made to optimise the return from the amount of seats at play, so the house needs to manage the minimum bets in order to keep players on the seats. Because of this, betting limits are usually lower earlier in the day when fewer players are at the tables, and gradually increase as the day goes on and more players become involved.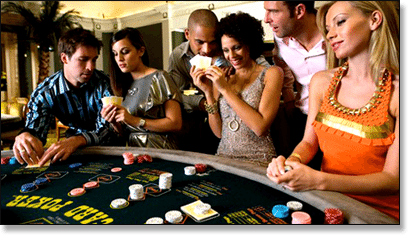 Setting betting limitations allows casino venues to manage who plays at which tables. A table with a higher limit will attract the higher rolling, serious gamblers while a table with a small minimum will be more suitable to recreational players or tourists just wanting to taste the casino experience. Back in the day, casinos purposely set tables with small minimums to entice more players, however the invention of pokies changed everything, with low punters now being able to try their luck on the slots and leave the table games to the bigger gamblers.
Online gambling has changed the casino industry once again, with electronic table games able to offer lower minimum bets to customers than land based casinos, as the online gaming industry deals with far less (if any) overhead costs.
What Are the Minimum and Maximum Bets for Online and Land Based Casinos?
The minimum and maximum betting limits will differ from game to game and venue to venue, so there's no simple way to answer this question. Generally speaking, the bigger the venue or the event, the larger the maximum wagers will be. Online casinos offer different limits to brick and mortar casinos, with virtual gaming allowing for much more lenient betting limits, especially when it comes to minimum stakes.
As a general guide, the following minimum and maximum bets can be expected for online casino games and land based casino games, using Australian casinos as a guide:
Minimum and maximum wagering limits for blackjack differ per table and fluctuate depending on the time of day. The lowest allowable minimum you can expect to find within an Australian casino for blackjack is a $5 table, with a maximum of $500. The highest table will have around a $100 minimum bet with a $4000 maximum. Online you can find tables with $1 minimums and maximums reaching in the thousands per hand.
Expect to find roulette games with a minimum bet of $1 on inside bets, $5 on outside bets and maximum outside bets of $500. Online roulette games allow for min wagers as low as $0.50 and table maximums often in excess of $1000.
This is where you'll find the lowest minimum bets possible within a casino, be it online or land based. Pokies allow play for as little as 1c, however a minimum coin denomination of $1 is required to play any poker machine in Australia. Maximum bets for a poker machine in Australia is $10, which increases tenfold if playing online, with some interactive slot machine games allowing wagers of $500 per spin. There is currently legislation in place attempting to lower the maximum bet for pokies.
Expect to find baccarat games with a minimum bet of $5 to $10, and a maximum bet somewhere around the $500 mark. Online we can play for as little as $0.10 and as high as $1000 per hand.
Poker
With so many variations of poker games differing from casino to casino, poker minimums and maximums differ hugely. Betting minimums for Texas Hold'em against the dealer will generally fall around the $10 mark, while playing cash games against other, blinds can be as small as $1 and $2. Maximums fluctuate. Online we can go as low as $0.01 and $0.02 blinds, with maximums again fluctuating significantly.
Craps
Expect to find craps games with a minimum bet of $5 and a maximum bet of around $200 (2 x odds). Online, we can find games with $1 minimums and $200 maximums.
Play Classic Casino Games Online for Real Money
Online casinos, as already detailed, carry far more options when it comes to minimum and maximum betting limits and provide a great place to start to get your head around how different betting limitations work. Minimums are typically lower than land-based venues and maximums are either equal to, or can be greater than land-based venues, especially if willing to become a VIP. All our favourite online casinos offer play for free and real money, with payments available in multiple currencies. Head to any of these secure, trusted sites and take advantage of some awesome welcome bonuses, with affordable and high-limit bets available:


Betting Limits for High Rollers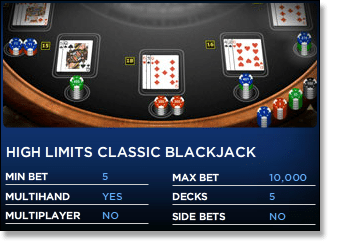 It's a widely understood notion in gambling in order to win big, you need to bet big, so not surprisingly when it comes to betting limitations, the rules are slightly different for high stakes players, VIPs and high rollers. Casinos want their biggest players to be able to place the hefty wagers they so desperately hunger for, although only the largest corporations are financially able to cater for these kind of players. In order to get around this, exclusive clubs and private VIP sections within casinos were created for high rollers only. This applies online, too, where high stakes players can have conventional maximum bets increased.
Some of the most famous clubs for high rollers, like the Paiza Club within the Palazzo Hotel in Las Vegas require players wage a minimum of one million dollars per visit. To be considered a high roller at the Crown Casino in Melbourne, a visitor would need to lay down a minimum of somewhere between $50,000 and $75,000.
[rm_recent_news tags="promo" title="Latest Online Casino Promotions" ajax="true"]