Minimum & maximum betting limits for roulette
Minimum & maximum betting limits for roulette
Betting limits determine how much or how little we can wager on any single spin at the roulette tables. But given the different kinds of wagers we can make on the devil's wheel, what do terms like "minimum bet" and "maximum bet" actually mean?

Best roulette casinos
High and low limit online roulette games
In this article, we will break down all the betting options and restrictions for roulette into plain English. We'll also show you why online casinos offer the most flexible betting rules for Aussie punters, including some of the best high-stakes roulette games going around.
Top Five Roulette Sites:
Table Limits for Real Money Roulette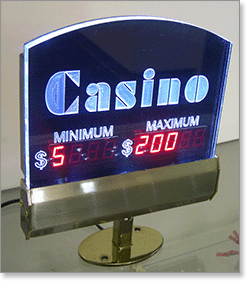 At all land-based casinos – and most Internet gaming sites, too – roulette games come with a placard or icon describing the betting limits for that particular table. Here you will find the minimum and maximum bets, whether they be expressed in written form or in common casino abbreviations such as "$1/$100".
Most of the time, these table limits represent how little and how much we can stake on an outside wager like red or black – so if it's a $1/$100 table, the smallest bet allowed is $1 and the largest possible wager is $100. But how do such limits apply to other kinds of bets, and are there any restrictions on how much we can wager in total across multiple stakes?
Inside & Outside Bets
All roulette bets fall into one of two broad categories:
Outside bets are the more player-friendly wagers where we cover large groups of numbers at once. These include even money bets (red/black, evens/odds, high/low) which pay 1 to 1, as well as columns and thirds which pay 2 to 1.
Inside bets are the more risky wagers where we can select specific numbers by placing chips on the main grid of the layout. Odds here go from 5 to 1 for a six line up to 35 to 1 for a single number
Inside and outside wagers will often share the same minimum and maximum bets, especially at low-limit tables and in online roulette games. This is not always the case, however, so it pays to pay attention to the table limits listed on the placard (or in the rules section when playing on the Web).
For example, let's say we arrive at a roulette table marked as $5/$500. This means the minimum bet is $5 and the maximum is $500. But if we look closer, we might see the betting rules listed like so:
MIN OUTSIDE – $5
MIN INSIDE – $5
MAX OUTSIDE – $500
MAX INSIDE – $100
In most cases (especially online) the minimum inside bet can consist of several individual wagers. For instance, if the minimum inside wager is listed as $5, we could meet that with five straight up bets of $1 each. In this situation the min and max limits apply to the total amount wagered on the inside, rather than the individual bets placed. With outside bets, the minimum equals the smallest individual wager allowed – so if the outside minimum is $5, every single stake on the outside must be at least $5 each.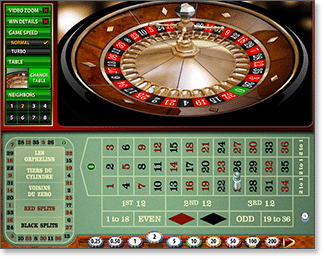 Why are there different limits for inside and outside bets? Because the casino wants your cash. Operators generally want players to stake more money on the outside because the odds of success are much better there – so the more and bigger bets made, the more the house rakes in long-term while only risking a 2 to 1 payout at worst. The inside bets, however, can pay as much as 35 to 1, so casinos tend to cap these much lower and thus eliminate the possibility of having to cough up mega bucks for a single successful wager.
Casinos can also enforce overall table maximums, which restrict the amount a player can wager in total for each spin. Sometimes this is simply the sum of the inside and outside bet limits (e.g. if the outside max is $1000 and the inside max is $500, the total table limit would be $1500), while in other cases the table maximum is higher to allow for more big inside wagers.
Minimum & Maximum Wagers for Online Roulette
Internet roulette games make it easier than ever to understand betting limits for different types of wagers. Some RNG titles, such as HouseofJack.com's English and French roulette games by Play'n Go, have simple limits for the inside and outside bets as well as the table overall, as illustrated above. Others offer separate clearly defined limits for each kind of wager. Take Microgaming's Premier Roulette series for example – just hover your cursor one of the betting sections on the layout, and it will show you the minimum and maximum stakes for that particular bet.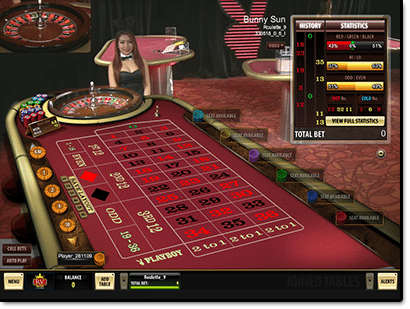 Real cash roulette on the Web caters to players of all levels and financial means, allowing punters with smaller bankrolls to enjoy the same single-zero roulette games as the VIP high-rollers. Compare that to most land-based casinos, where the low limit tables almost always use the double-zero American roulette layout – which comes with a hefty house advantage of 5.26 per cent, as opposed to the 2.70 per cent edge on European roulette tables. And if you really want to bet big, you can't go past the live hi-stakes roulette tables available at our top-ranked live dealer casinos.
See also:
Online Roulette
Live Dealer Roulette
Roulette Strategies & Betting Systems
Try real money roulette including live dealer options at Raging Bull Casino, our top-rated casino site for players from United States which has a great range of table games available for instant play.
[rm_recent_news tags="Roulette" exclude_tags="promo" title="Latest roulette casino news"]
[rm_recent_news tags="promo" title="Latest online casino promos"]