Baccarat strategy
Baccarat strategy
Estimated reading time 4 minutes
A session of baccarat often hinges on pure luck, and sometimes no amount of trickery or clever play can change that fact. But learning some basic strategies will give you a better chance at winning than the 'average Joe' who is just shooting for the stars.

Best online baccarat casino sites
Due to its random nature, baccarat is often played by people who prefer excitement over advantage play. These players enjoy the atmosphere of the game, as well as the dress code and a more private gaming location and are often high-rollers. Baccarat is not a poor man's game.
The perceived elegance of the game is further evidenced by its role in numerous James Bond features. Whenever 007 is hanging out in Monte Carlo or some other luxury gambling destination, baccarat is always one of his games of choice. After all, the world's most famous spy would look silly playing pokies in a tux.
Tips To Increase Your Winning Chances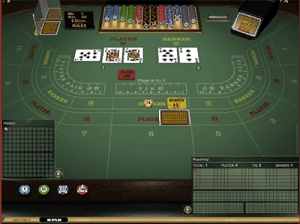 While the game of Baccarat is impossible to beat on a consistent basis, there are some basic tactics which can be applied to better our chances. While some of these suggestions are tailored for land-based casinos, most offer benefits at online gambling platforms too such as 7Sultans Casino and Royal Vegas.
Side with the Banker – In the version of the game known as Punto Banco, the players make their wagers against a dealer who represents the casino. During any one hand, the betting options allow for punters to wager on the banker's hand, the player's hand, or a tie. The house edge for tie bets is over 14%, while the player bet is 1.24%. The best available option is the banker bet, which only gives the casino a 1.06% advantage. The smart money says to wager on the banker to win.
Manage your bankroll  – The art of bankroll management is one of the most important skills any punter can master. Improving your management skills can make the difference between playing for a lengthy and enjoyable amount of time, or getting wiped out in a matter of minutes. Calculate the amount of money which you've allotted yourself for gambling, as well as the table minimums for your game of choice.
While playing with table limits above your budget can be exciting, it's also likely to lead to a much shorter gaming session (unless, of course, you get lucky with the cards). The best option is to locate a table with minimums which fit your budget.
The best tip is to never wager money you can't afford to lose. Visiting or playing at an online casino is supposed to be for our enjoyment. If you wind up losing money set aside for your next electricity bill, chances are you won't be too thrilled. There are no shortage of stories of regular gamblers and high rollers driving themselves in to debt for another shot at high-limit baccarat and roulette tables. You can do this online with a web wallet such as Neteller or Skrill.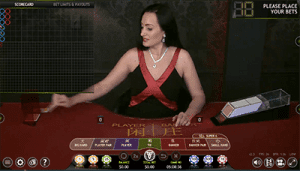 Enjoy the atmosphere – Many gamblers drive themselves crazy looking for even the smallest advantage, but the baccarat enthusiast should also concern him or herself with other matters. After all, we are talking about a game which frequently comes with a dress code and is situated away from the clamour of the main casinos gaming area.
Take a moment to appreciate the atmosphere at the table. You're surrounded by people in expensive suits and dresses, and every coup is likely to see a large sum of money change hands. This is a luxury plenty of gamblers would kill for, so savour the ambiance, order another cocktail, straighten your tie and soak in the moment as much as possible.
If you're online, you can head to the live dealer lobby to capture that land-based ambience and play real money baccarat.
Don't concern yourself with patterns – Look around the baccarat table and you're likely to see players writing down numbers with pencils and pads provided by the casino. Their goal is to find a pattern which they can exploit, and while some patterns based on previous results can pay dividends, it is certainly more about luck than anything else.
Casinos are a flourishing industry and we can rest assured if players found a way to gain a superior advantage, it wouldn't take long for the casino hierarchy to catch on.
Card counting at blackjack is a good example. It's certainly not illegal, but those with minds working faster than ours; quality counters who can really turn a significant profit, after a certain amount of time can find themselves being asked to leave because their abilities put the house at a disadvantage.
Additionally, land-based casinos deal baccarat hands from a multi-card deck shoe in order to reduce the scope for patters and keep things as random as possible. Live dealer game-play at online casinos also use multi-card decks while non-live dealer games use random number generators.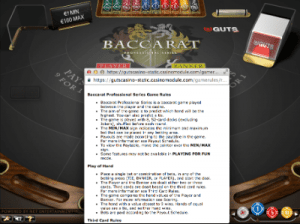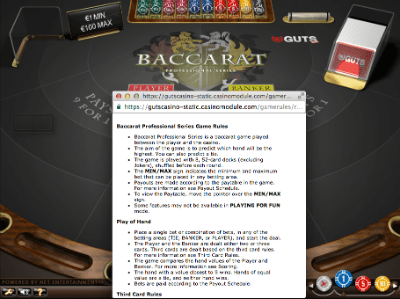 Understand the rules – There are several different types of baccarat available and individual casinos may also offer their own variations on classic rules. If you're planning on getting the most out of your casino experience, online or in-house, make sure you know exactly how the game is played before you start wagering.
There is not a whole lot else we can do to increase our chances of winning at the baccarat table, because ultimately it is a game which largely revolves around chance. But that's what makes it so enjoyable. Keep this is mind and take note of the above recommendations and you'll be sure to enjoy your time spent gambling.
Put your Baccarat strategy to the test at Raging Bull Casino, our top-rated casino site for players from United States, which offers the option of free play and real money bets.