Credit card and debit card online casinos
Credit card and debit card online casinos
Globally recognised brands such as MasterCard and Visa are some of the most used casino banking methods on the Web. All online casinos we endorse here at TopOnlineCasinoSites.com accept credit cards and debit cards as deposit and withdrawal options – if you have either, you already have one of the safest methods at your disposal.

Best online casinos for credit and debit card deposits
Using MasterCard or Visa-branded credit, debit, gift-card and pre-paid cards is easy. Below is a list of the many different credit and debit cards used by punters to fund their online casino accounts, and our recommended casinos which support them as banking options.
Can USA players deposit with credit and debit cards?
The USA has strict laws regarding online gambling, with online gambling providers forbidden from accepting payments from American customers and US banks blocking payments made to online gambling operators. This means most online casino steer clear of the US market, although there are a few offshore casino sites that continue to service Americans. For US players who choose to play online, the USD deposit options are limited compared to the options that are available to players from other countries, however Visa and MasterCard are often accepted.
An online casino site may accept deposits using credit or debit card, but keep in mind these payments may be blocked by your banking provider. A way around this is to use a Visa or MasterCard pre-paid gift card, but you must make sure it authorised for international transactions upon purchase.
The deposit methods vary between each casino site, so your payment options will differ depending where you're playing. For more information, check out our guide to USA casino sites.
Best MasterCard and Visa online casinos
All of the above Internet casinos listed in our table support credit and debit cards as banking options to fund your casino accounts, but two of our favourites offer extra incentive and hold a few advantages which make them the best sites to deposit and withdraw using MasterCard and Visa cards.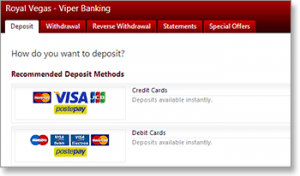 Royal Vegas Casino is our #1 Web casino for its diverse range of games and equally versatile list of banking options in its cashier section. MasterCard and Visa deposits and withdrawals at RV have a minimum deposit limit of just $10 and $20 per transaction, respectively. While their maximum limit is $1000 at most other casinos, they both hold no maximum limit for any deposit processed at Royal Vegas. For high-stakes players or those who play heavily on both computer and mobile, it's hard to ignore such a great incentive.
House of Jack is a newcomer on the casino scene with a unique games catalogue pulled from the libraries of over five renowned casino software developers. House of Jack is fast becoming a player favourite destination and its support for credit and debit cards is up-to-scratch accordingly – which is why it's our number #2 recommended credit and debit card casino. As you can see the layout is easy on the eye, with fees, processing times and minimum and maximum deposit limits using each method clearly listed.
When depositing funds between your personal bank accounts and your casino accounts using MasterCard or Visa debit and credit cards at Royal Vegas or House of Jack Casino, your transfers are processed instantly*. Players essentially have their money ready and waiting in their account upon processing rather than lengthy waiting times associated with other deposit options. Withdrawals, while not instantaneous, are similarly quick to process funds.
*Note: MasterCard and Visa-branded credit or debit cards are usually accepted for real money deposits and withdrawals, but sometimes transactions can be unsuccessful depending on the bank. Both brands lend their name to a range of cards issued to member banks, and its global policies don't apply to every one of them – ultimately, the member bank will decide on approval or not.
How to deposit with Visa credit and debit
Visa is one of two premier credit and debit card brands in the world. It wasn't the first credit card (Diners Club was), but it was the first to be issued to the mass public – and the first to take off as a leading card option.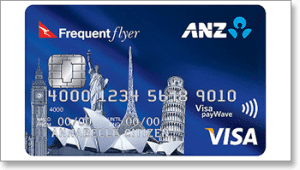 Visa credit and debit cards work as deposit options at all of our recommended casino sites listed above, and is processed like any other online payment by visiting your preferred casino's 'Banking' or 'Cashier' and selecting Visa as your deposit option. Most players are able to deposit using credit card, but be aware that some banks may block transactions used for online gambling, depending on the online gambling laws in your country.
Funding our casino accounts with our Visa credit and debit cards is also safe and easy – especially considering it is widely accepted and instant to process deposits. Visa uses state-of-art 128-bit Secure Socket Layer Digital Encryption technology to protect our financial transactions on the Web, a system used at all major banks. Considering deposits using Visa require players to have their physical card on-hand to input the mandatory 3-digit security code needed, this usually means only the actual owner of the card has free access to process deposits.
Visa credit and debit cards carry no additional hidden fees, which is always welcome. They're also a good way to fund your account, because of the rewards points you receive with each purchase. Visa Debit cards won't be much help when you want to make a withdrawal, but it's an excellent option for deposits.
List of eligible Visa credit cards
Visa Credit: Citi Forward, Chase Sapphire Preferred, Marriot Rewards Premier Credit Card, Capital One Quicksilver Cash Rewards, City ThankYou Preferred, PartnersFirst Reward, Chase British Airways Visa Signature, Capital One VentureOne Rewards, First National Bank Maximum Rewards Platinum Edition, Capital One Venture Rewards, Journey Student Rewards from Capital One, Slate form Chase, United MilagePlus Explorer Card, and Chase Sapphire.
Visa Debit, Pre-Paid and Gift Cards: Delta, Electron, Visa Pre-Paid, Solo, Switch.
How to fund casino accounts Using MasterCard
MasterCard got started a few years after Visa in the 1960's, but the brand name rapidly came to represent a global network of credit banks. While MasterCard has long been the #1 rival in mass consumer credit, MasterCard has always been a close second to Visa – but still an immensely recommended credit and debit option.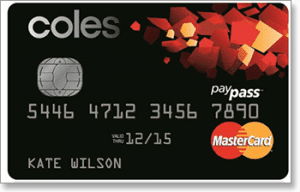 MasterCard is a popular deposit option for real money sites because handling your casino banking is simple – like Visa or any other deposit and withdrawal method, head over to your preferred casino's banking or cashier section and select MasterCard credit or debit as your option.
Similar to Visa, MasterCard implements at least 128-bit SSL (Secure Socket Layer) Digital Encryption technology for its security, so your financial and personal information is always private. As expected, your physical card is needed (along with your casino account number) to process a transaction as you need the 3-digit security code, adding further peace of mind. Finally, there's no hidden fees to worry about after funding your casino accounts.
Debit MasterCard is a commonly used form of debit card. The Debit MasterCard uses the same systems of verification as the credit line, but it draws on money from the person's bank account. In the online casino niche, the Maestro card is often a player option. Maestro users can link their card to their bank account, or they can be prepaid cards. The user either signs the sales receipt or, in an online casino, signs in with the 4-digit or 6-sigit PIN number.
Other credit and debit card casino banking options
American Express
American Express isn't found in nearly as many casinos as the two options above. That doesn't mean you won't find Amex as a possible pay option occasionally. You'll never find it used as a cashout possibility. American Express has been an elite credit card for decades, so it's less likely to be associated with Internet gambling. Also, Visa and MasterCard also have used exclusionary contracts to have their rival barred from vendors before, which caused several high profile lawsuits in the United States back in the 1980's and 1990's.
Postepay credit and prepaid
Postepay is an Italian rechargeable pre-paid card. It is issues by the Italian Post. Some casino sites also allow for Postepay credit using multiple currencies. This card can be used for deposits and withdrawals. It can be linked to Neteller accounts, making for an easier transaction in some cases.
JCB Credit
JCB Credit Bureau is a Tokyo-based company which offers a credit card. This is one of four credit cards you can use to fund accounts at the Digimedia Limited casino websites. JCB has been in business since 1961. It has a number of cards for the Asia-Pacific countries. Its credit cards can be used in the Middle East and the United States. Examples of JCB cards in English speaking countries include Marukai Premium JCB, Marukai JCB, and Mitsuwa JCB. As you might have guessed from the word "Marukai", these cards are issued in America. Cards issued in Singapore, Indonesia, China, and the Philippines are also available.
These are the main options you'll be able to use for online casino money transactions. All of these aren't available everywhere, but they should be available in most of licensed, legitimate website you would want to house your bankroll in. Before depositing in offshore casino accounts, be sure to research the site where you plan to play.
For safe real money deposits using credit card, we recommend Raging Bull Casino as our top-rated casino site for players from United States, which has some excellent welcome bonuses available for new players when depositing real money for the first time.