How to play live dealer Caribbean Stud online
How to play live dealer Caribbean Stud online
Caribbean Stud is an ideal poker variant if you prefer to play against the dealer instead of other players. The game is simple to pick up – the variant follows the basics of five card poker – and you can play it online for real money with a human dealer.

Best online casinos sites with live dealer Caribbean Stud
The above online casinos each accept real money and offer the Caribbean Stud variant by the reputable software provider, Evolution Gaming.
Caribbean Stud streamed in real time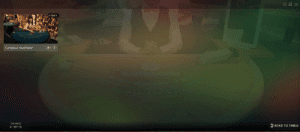 Live dealer casino games are popular as you get the benefits of a croupier guiding the game from anywhere you have a solid Internet connection. These dealers are set up in either a studio with blue or green screen technology to create a life-like land-based casino atmosphere, or are recorded direct from a brick and mortar casino.
Web cam technology streams the dealer in real time and she, or he, guides the game – there's no random number generator software used.
There are many live dealer specialists available at our favourite online casinos, but the only reputable provider to offer a Caribbean Stud variant is Evolution Gaming. This provider is one of the best in the business and has made the live poker variant in partnership with Games Marketing – a provider of over 40 table games.
Along with the human croupier, there's a chat box available where you can type in and talk to other players as well as the dealer. The players will chat back via the box, while the dealer will chat to you verbally which adds a new element to online gaming.
You can find the game at many of the secure online casinos listed above, but we recommend All Slots web casino for accessibility of the title on both mobile and desktop devices. Additionally, Evolution Gaming's Direct Game Launch function allows you to instantly load the game up from the site to get straight into gameplay – provided you have a real money account and are logged in. If you want to see how many other players are at the table simply click the 'Lobby' button at the bottom right of the screen and the number will be displayed on the icon of the table.
Live dealer Caribbean Stud rules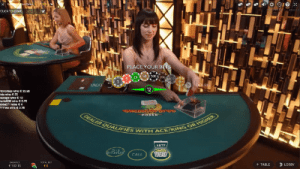 Live Caribbean Stud offers the same premise as the RNG version which is a variant of Texas Hold'em – but you play against the dealer instead of other players.
The overall aim is beat the dealer's hand with a five-card poker hand and players take a seat at the table after launching the game from the online casino to get started. This live title by Evolution Gaming has unlimited players so there is always a seat available.
The game is played with one deck of 52 cards with jokers removed, and the minimum wager for the table is $1, while the maximum is $1000. To commence gameplay click your chip size and then place it by clicking the Ante spot on the table. Then five cards facing upward will be dealt to you and one card facing upwards, plus four cards facing downwards, will be dealt to the dealer.
Here you can choose to Call or Fold. The first option will mean you are continuing gameplay and you will double your Ante bet. If you choose to Fold you will end the round and forfeit your Ante bet.
Following your decision, the dealer's four card facing downwards will be revealed and any winning payouts will be credited to your account accordingly.
There's also optional side bets on this live dealer variant.
Side bets for Live Caribbean Stud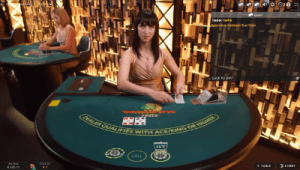 Players can opt to take the additional side bet of 5+1 BONUS. This side bet wins when five of your cards plus the dealer's upcard creates a five card poker hand of Three of a Kind or better.
You can place the bet at the start of a new round after placing an Ante bet. The spot will appear on the table following your initial wager and you simply click it to make the additional side bet.
Live Dealer Caribbean Stud strategy
There's quite a few strategies considered to be used for Caribbean Stud, but the most basic version advises players to always Call with a pair or better and always Fold with anything less than the dealer's qualifying hand.
Additionally, if you want to play the Ace to King strategy for profitability you are advised to Call with AKQ or AKJ if the dealer has an Ace or King as it's less likely the dealer will have a pair.
Payouts and house edge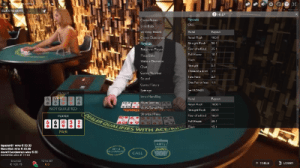 There's a number of payouts depending on your hand on Live Caribbean Stud.
A Royal Flush pays 100:1, a Straight Flush pays 50:1, Four of a Kind pays 25:1, Full House pays 10:1, a Flush pays 7:1, a Straight pays 5:1, Three of a Kind pays 3:1, Two Pairs pays 2:1 and one Pair or Ante bet pays 1:1. The house edge for these bets is 3.7%.
The side bet offers a higher payout but it also has a huge house edge of 8.66%. Payouts for the 5+1 BONUS side bet include a payout of 1000:1, a Straight Flush pays 200:1, Four of a Kind pays 100:1, Full House pays 20:1, a Flush pays 15:1, a Straight pays 10:1, and Three of a Kind pays 7:1.