Best online pokies
Best online pokies
Estimated reading time 4 minutes
Not every gambler is going to share the same opinion on what the best online pokies are. Gaming tastes differ from player to player, depending on their need for action and their risk aversion. Players who appeal to the aesthetics choose titles based on the graphics, sound quality, and theme while those after good features look for Free Spins and Second Screen Bonus rounds.

Best casino sites for online slot games
Some traits of good online pokies are universal. If a virtual poker machine has compatibility issues, then no one can enjoy it. If certain software development companies license their tech to bad operators who don't pay out when you make a withdrawal, then no one would consider their pokies as the best. With the providers and operators we detail, neither of these issues will exist.
There are a number of different pokies categories too, which will see players divided.
Classic 3-Reel pokies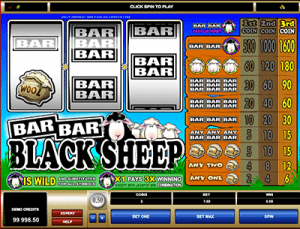 Players who are after fruit machines can find them online. However, they may find they aren't as old school as the ones at your local watering hole. But this isn't necessarily a bad thing as many often include 21st century features.
For instance, Bar Bar Black Sheep by Microgaming is a 3 reel (there is also a 5 reel option), one payline game which mirrors the games you would have played back in the 1970's, offering the Nudge, Hold and Shift features. The game also comes with a Bonus mode, so you get a lot of nifty features for what looks like a basic game. The artwork and theme are a lot more imaginative than you would expect from a 3-reel game too.
Online video poker machines
There's a huge range of video poker machines available at all of our recommended online casinos. They range in themes from original creations, to loosely based on stories we are fond of, and even licensed pokies, such as Guns N' Roses.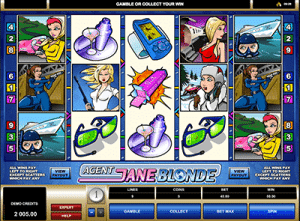 One title found at all Microgaming casinos is the Agent Jane Blonde pokie. The theme is a send-up of the Agent James Bond 007 character from movies and novels. In this case, Agent Jane Blonde is an FBI agent from the USA. Despite the fact FBI agents never leave American soil and are outfitted like secret agents (that's the CIA), the game puts Jane Blonde in exotic locations around the globe, whether it's on ski slopes, in SCUBA gear, and on private airplanes.
She also has the best spy gadgets Uncle Sam can buy, including lipstick weapons, C4 explosives, and wristwatch gadgets. The 5-reel, 9-payline game also offers free spins, a wild symbol, a scatter symbol, and a gamble feature. The game is popular enough that it's been converted for mobile gaming devices, also.
Cashville Pokies is an original themed pokie by Microgaming and though it's a flat-top poker machine, the fixed jackpot is worth 50,000 coins, so that provides a huge payout if you win the big jackpot. The 5-reel, 20-line game has a wild symbol, gamble feature, and bonus mode.
The theme features a group of greedy characters which remind us of the classic board game, Cluedo. Instead of offering Colonel Mustard, Professor Plum, and Mrs. Peacock, Cashville offers characters such as Bill Bullion, Dame Von Deeds, Betty Boodle, and Sir Sterling. Though Bill Bullion looks friendly enough, these characters do not make the wealthy look glamorous, or even attractive.
Thunderstruck I and II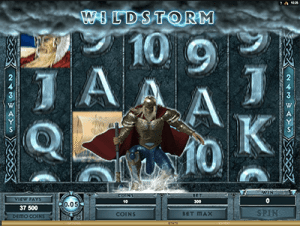 Thunderstruck and Thunderstruck II are also top choices. I'm not the only one who thinks this. Players ask for these games and Microgaming sites advertise them often. Thunderstruck is a 5 reel, 9 line fixed jackpot game for 10,000 coins. It has a bonus round, free spins, wild symbol, scatter symbol, and gamble feature. It's also available for mobile gaming and it's a staple at Microgaming sites across the Internet. Thunderstruck 2 is an innovative game. While it has 5 reels like the original game, it has an incredible 243 different ways to win. Like the original, it is based on Norse mythology, and offers a bonus round, free spins, scatters, and wilds.
If you like artfully rendered games, then I would suggest the Sneaky-a-Peak Series. These video slots feature lots of attractive characters, whether it's attractive females (Sneak a Peak Doctor Doctor), male models (Hunky Heroes), or exotic aliens (Planet Exotica). Actually, only the lady aliens are attractive, but the theme is an extra-terrestrial casino, so that should be fun. Doctor Doctor and Hunky Heroes each offer 5 reels and 9 paylines, while Planet Exotic is a 5 reel, 15 line game.
Licensed Pokies
Those who prefer games about nostalgia and pop culture should play games like Bill & Ted's Excellent Adventure, Hellboy Pokies, and Battlestar Galactica Pokies. Each of these games offers all the online video poker machine features you would expect. Battlestar Galactica also has the innovative 243 paylines.
Progressive Jackpot Slots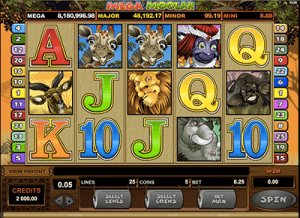 3-Reel Cash Splash is a novel concept from Microgaming. It offers the look and feel of a three-reel classic with the massive payouts of a progressive jackpot. This was popular enough to spawn a 5-reel sequel. 5-Reel Cash Splash offers five reels, 20 players, and an accumulated jackpot prize, too. You can find either of these games at Platinum Play, Vegas Palms, and Seven Sultans Casino.
Gamblers who want the top progressive jackpots that only 5-reel pokies can provide might take a look at the Mega Moolah series. Mega Moolah 5-Reel Drive and Summertime are two titles with large accumulated jackpots. The original 5 reel, 25 line game also has a progressive pot attached to it. Mega Moolah Isis doesn't have an increasing jackpot, but it has one of the nicest multiplier features I've seen in a while.
Megaspin Poker Machines
The latest trend in online gaming is the need to play multiple hands, spins, or rolls at one time. Fantastic 7's Megaspin lets you play six spins at once. If you want to see what all the buzz is about, give a few spins on the Fantastic 7's Megaspin poker machine. I don't normally recommend these games, because they expose you to the house edge six times per spin, but if you limit your bets accordingly, this provides less volatility in your pokies gambling. Another game in this category is Megaspin Break Da Bank, which provides four spins at a time.
For instant-play access to a huge range of online slot games, check out Raging Bull Casino, our top-rated casino site for players from United States, which has hundreds of games to choose from. Sign up to play for real money and new players can take advantage of some excellent welcome bonuses.