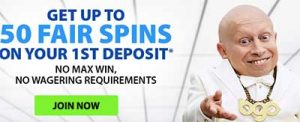 While the UK online casino industry is undergoing a huge change, BGO is ahead of the game with the announcement it is scrapping wagering requirements.
While the online casino made the announcement last month, the company has officially scrapped all wagering requirements attached to its bonuses. It now offers free spins without wagering requirements, known as Fair Spins.
Wagering requirements are terms attached to an online casino bonus. They usually require players to wager the bonus, and sometimes the deposit too, a certain number of times before withdrawing any winnings.
While players regularly fail to read these conditions and void the bonus, several online gambling sites have incredibly difficult terms making bonuses difficult to claim.
But a recent investigation by the UK Advertising Standards Authority (ASA) has prompted online casinos in the country to be more transparent when it comes to bonus terms.
While some online casinos have coined transparent terms, such as fair spins and extra spins for slots, others are changing the way they offer bonuses, which will likely prompt other operators to follow in their footsteps.
BGO is one of the first casinos to change its bonuses, making the announcement via a 1 minute and 50-second ad titled 'Our Commitment to Fair Play", which you can watch below.
The video features BGO ambassador, Verne Troyer, who you may remember from Austin Powers (Mini-Me).
"As of now, there are no more wagering, maximum bets, or maximum win requirements on any bonus issued at BGO.com," Mr Troyer, as he is seated at a table with the company logo behind him, says.
"Not now, not ever."
The site confirms Mr Troyer's announcement with a new welcome bonus featuring Fair Spins, which have no wagering requirements and no maximum win attached. BGO has even changed its VIP loyalty program, where players are awarded diamonds for every £/€10 wager, and then exchanged for Fair Spins.
Mr Troyer goes on to say that the online casino allows players to withdraw what players win "no questions asked", adding that online casinos are known to have lengthy terms and conditions which prevent players from enjoying bonuses.
Mr Troyer explained that they were inundated with players who would contact support staff to find out more information regarding wagering requirements. He added that it gives employees more time to respond to other issues players may be having.
"We've also made big changes to our UK based customer service department and are committed to a 100 percent player smile guarantee," Mr Troyer, who plays the boss in the site's ads, says.
"Which means if you're not happy, we're not happy."
Any bonuses offered at the online casino will now be in the form of real cash or 'wagerless' free spins.
This is an exciting time to be an online casino player in the UK, as the changing regulatory environment is making terms and conditions a lot clearer and easier to understand. We still recommend reading the terms and conditions, however.
The changes are likely a result of an investigation by the Competition and Markets Authority (CMA), which reviewed online gambling operators' sign up bonuses.
BGO was also fined £300,000 by the UK Gambling Commission earlier this year after it failed to clearly state what players needed to do to claim 'free bets' or 'bonuses' offered, as required by the Licence Conditions and Codes of Practice.
If Fair Spins sound like your type of bonus, head to BGO online casino and claim your wagerless free spins now.