What is Spingo?
What is Spingo?
Estimated reading time 4 minutes
The software developers at Microgaming have created a high quality roulette variant with premium graphics and a clean and classic setting. Spingo is a standard favourite with a twist, and thoroughly enjoyable for anyone looking for a premium online casino game.

Best real money roulette sites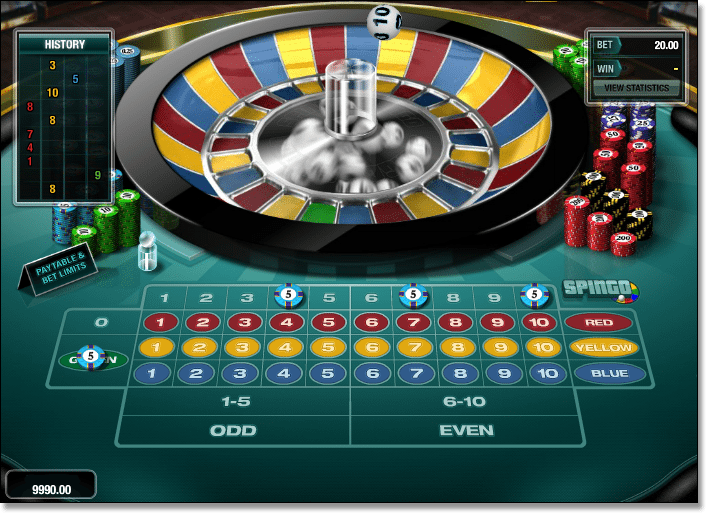 Spingo can be considered a hybrid version of roulette and bingo, with obvious similarities to original roulette, but incorporating alternative wagering options to the traditional 0-38 roulette betting.
The main objective of the game is the same as roulette: predict the outcome of the spin, whether that be the colour, number or range of numbers of the ball, or whether the number is odd or even. However, unlike roulette, there are no numbers on the Spingo spinning wheel, and instead, the numbers are written on the balls themselves (like bingo). The numbered balls range from 0-10, and there is a total pool of 21 balls which can be randomly drawn (two of each number from 1-10, and a single zero-numbered ball).
Like in roulette, the Spingo spinning wheel is dissected into colours; eight red slots, eight blue slots, eight yellow slots and a single green slot. The number on the ball and the colour it lands on determines the winning result (a dauber/marker is placed on the betting table after the spin, just like roulette).
Play Spingo at 7 Sultans Casino and make the most of the $500 tailor-made welcome bonus for all new players
How to Play
Below is a step-by-step guide of how to play Spingo; one of the more entertaining online casino games (available for practice and real cash).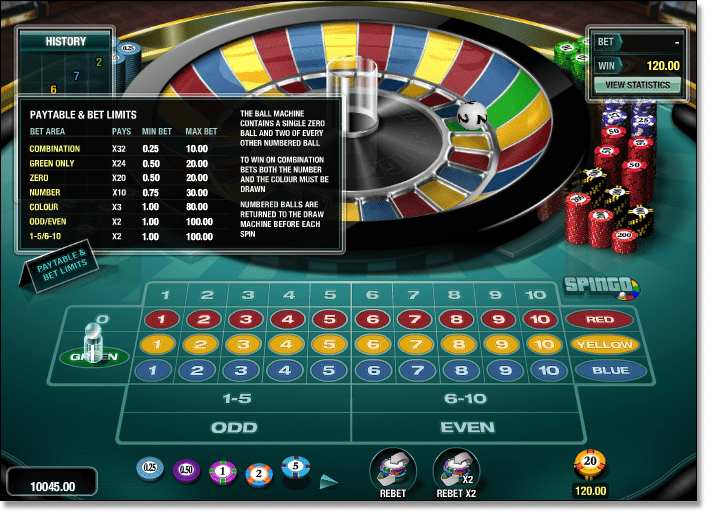 Select the chip size you want (ranging from $0.25 – $10.00) and place it on a predictive option on the table. You can place as many chips down as you want across as many – there is a maximum to adhere to for each bet type, but you can bet a total of as much as you desire across the table. Each betting option comes with differing payout levels (more on this below).
Click 'spin' to get the ball rolling and begin your round. The numbered ball will be drawn and will land on a colour on the roulette-like wheel.
If you have placed a winning bet, the game will display the amount you earned. However, if you did not win any bet, the round is over and you are free to play again. There is also an autoplay option; this will keep your initial chip placements in tact and automatically spin the wheel and collect your winnings for the selected number of rounds you've chosen (or until a set lose/win limit is reached).
Spingo Betting Options and Payouts
Below are all the Spingo wagering options and their respective payouts. We have numerous options to choose from.
'Colour and number combination bet' – this is when you place a bet on a specific colour and number, for example, yellow four. Payout for this bet is 32:1.
'Green colour bet' – this is when you place your chip on the colour green. There is only one green section on the spinning wheel so the payout for this bet is particularly generous. Predict green correctly and you'll get a payout of 24:1.
'Zero number bet' – like the colour green, a zero is less likely to be drawn as there is only one zero ball, meaning this bet has a high payout of 20:1.
'1-10 number wager' – here you are simply guessing the number which pops out of the hopper, and don't need to worry about the colour it lands on. This pays out at 10:1.
'Colour bet' – this is when you place a chip on a certain colour, either; red, yellow or blue. This means you are betting the ball will land on a certain colour, and the specific number on the ball does not matter. The payout for a colour bet is 3:1.
'Odd bet' – here you are betting that the number drawn will be odd, with a payout of 2:1.
'Even bet' – you are predicting that the number shown will be even and like the odd bet, it holds a payout of 2:1.
'Low and high numbers bet' – you're predicting whether the number will be in the range of 1-5 or 6-10. This bet has a payout of 2:1.
Spingo House Edge, Strategy and Verdict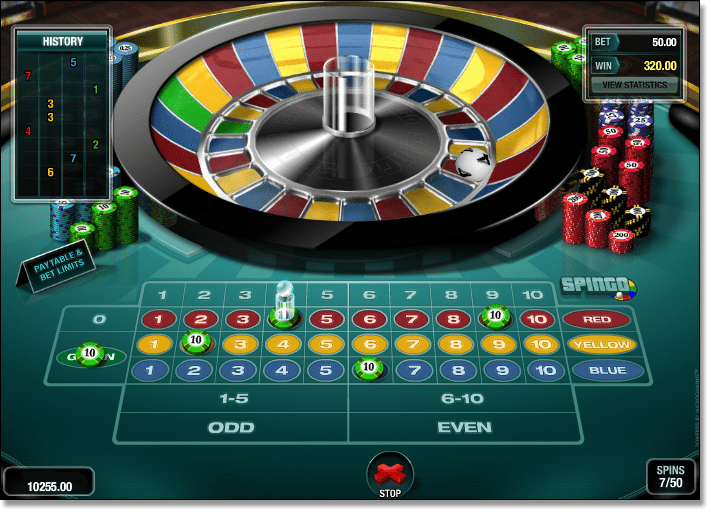 The house edge for Spingo differs across different bets. For all 'even-money' wagers (i.e. odd, even, 1 to 5 and 6 to 10), the casino's edge is 4.76 per cent. For red, blue, and yellow bets, the house edge is lower, at four per cent. The 'green wager' also holds a house edge of four per cent. For the 'zero wager' and the '1-10 number wager' the casino's edge is back at 4.76 per cent. But by far the best wager is the 'colour and number combination bet' with a house edge as low as 2.48 per cent.
This game is highly recommended for roulette lovers who are looking for a fresh take on the game. Any punter who appreciates betting flexibility will also be sure to love Spingo. It has quality graphics, a great range of betting options and solid payouts. Overall it makes for great virtual casino fun.