TVP Poker by Mantle Games
TVP Poker by Mantle Games
Estimated reading time 5 minutes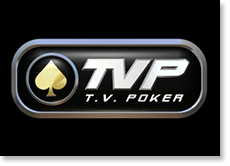 TVP – or TV Poker – is an exciting new way to play real money Texas hold'em online. Designed by Mantle Games, this 3D video poker game features simulated players and allows us to bet on who will have the best hand and/or what the winning combination will be. We can wager on various outcomes throughout each round, including who will have the best hole cards, who will have the best combo after the flop, and who will ultimately have the best hand overall. Let us show you the general rules, how and when you can place different kinds of bets, and where you can play TVP Poker online.
3D Video Poker at GdayCasino.com
G'Day is one of our top-ranked real cash casinos for online video poker. Besides TVP (which is labelled as "3D Video Poker"), this very Aussie-friendly site carries a whopping 60+ Internet poker games, including numerous versions of old favourites like Jacks or Better, All American, Deuces Wild, Joker Wild, and Bonus Poker. This extensive catalogue includes dozens of releases from Net Entertainment, whose multi-hand poker games allow us to play as many as 100 hands at a time. All titles are set up for instant play direct through your Web browser, which means no compatibility issues and no downloads required. Sign up at G'Day Casino today and get an unlimited 100% match bonus on your first real money deposit.
How to Play TV Poker
This is not your standard video poker machine, where you discard and draw in the hope of matching your hand to one of those listed on the game's payout chart. Instead, we are shown four computerised players in a simulated hold'em poker tournament, and we can bet which competitor will have the strongest hand at various stages of the round. This is somewhat like back betting in blackjack, where we can put a stake on someone else's hand without needing to take a seat ourselves.
To start a hand, click the 'Play Again' button in the centre of the table. We can then place any early bets we wish to make before the round begins. Then click 'Deal Hole' and the players will receive their down cards, and we can then wager on who will have the strongest hand after we click 'Deal Flop'. Same goes for the the turn and the river, up until the final community card is revealed and all bets are settled.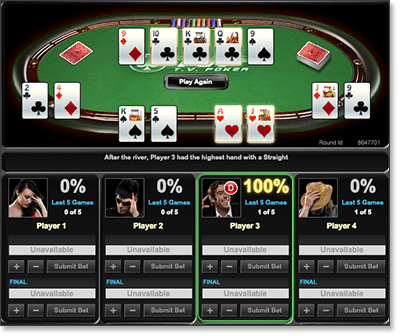 To make things easier for us to follow, the players never fold and we can always see their hole cards. Also, they don't get involved in any betting action themselves. As for our wagers, each option comes with a tailored set of odds, which can change for each betting round depending on what cards come up in the hole and on the board.
For example: at the start, all players pay $3.70 for 1 to win the hand. If Player 1 is dealt an offsuit 7-2, her odds would blow way out; and if Player 2 is dealt a pair of Aces, his price would shorten dramatically.
As the round goes on, you may find that some or all betting options become unavailable. This means certain outcomes are either a sure thing or absolutely impossible. For example: the flop shows three Kings. We would not then be able to bet on two pair, pair, or high card winning the round, as everyone already has at least a three of a kind. And should Player 3 have a King in the hole, all bets would be off as nobody could possibly beat his four of a kind.
How to Place Bets
All wagers in TVP video poker come at fixed odds – that is, they pay whatever the price was when we laid the bet, regardless of how the odds may change in later betting rounds. We can go in for multiple stakes per hand, with a minimum wager of $0.25 and a maximum bet of $200.
There are five kinds of bet we can make:
Who will win the hand?
Who will have the best hole cards?
Who will have the best hand after the flop?
Who will have the best hand after the turn?
What will the winning hand be?
Under each player's avatar there are two sections where we can configure our bets. The top section is where we gamble on who will lead after the initial deal, the flop, or the turn. The label above this section changes depending on where we are in proceedings – so it will say 'HOLE' at the start, 'FLOP' after the down cards are dealt, and 'TURN' after the flop is played. The lower betting section is always marked 'FINAL', as this is where we make bets on who will ultimately win the hand. Click the +/- symbols to adjust your stake size, then hit 'Submit Bet' to confirm.

On the bottom right side of the screen, you will see all the possible winning poker hands and their respective payout odds. To bet that one of those combinations will come up trumps, first click on whichever type of hand you think will win. Customise your stake using the +/- buttons, then hit 'Submit Bet'.
Once you confirm a wager, it will appear in the 'MY BETS' section in the top right corner of the screen. Successful bets will be highlighted in green, losses will become red, and dead heats – where two or more players have the exact same strongest hand – will turn blue.
TVP Tips & Hold'em Strategy
Traditional video poker strategy is of no use here, as Mantle Games TV Poker bears little resemblance to Jacks or Better and its many popular offshoots. An understanding of basic Texas holdem strategy, on the other hand, will prove much more beneficial.
Indeed, simply watching the play unfold and observing how each market's payout fluctuates accordingly could be very useful in developing one's knowledge of hand odds. And if you already have a strong grasp of how hand odds work, using such skills can help determine whether or not any given bet in TVP is good value compared to the true mathematical odds of that wager saluting.
One thing to look out for: when a player has the best hand at any betting stage up to the river, it does not always mean they have the strongest poker combo. Leading at the hole card round, or on the flop, or on the turn does not always leave you with the best chance of winning the hand outright.
For example: let's say Player 1 is dealt a pair of Threes, while the next best is Player 4 with an Ace and a King. Although Player 1 has the winning hole card combination, Player 4's consecutive high cards put him in a much better position to draw a strong hand on the board. One look at the subsequent odds for the best final hand would confirm this – Player 4's would shorten from $3.70, while Player 1's would actually go out.
Click here to play real money TVP Poker online at G'Day Casino
See also: