Luckiest keno numbers
Luckiest keno numbers
Estimated reading time 4 minutes
While keno is a game of complete luck, winning on numbers which are special to you makes the entire experience even better. These numbers can range from personal dates such as birthdays or anniversaries, to formulated patterns relying on superstition. We look at the luckiest recorded keno numbers used online.

Where to play lucky keno numbers online
What are lucky keno numbers?
There are 80 numbers in a standard game of keno with one up to to 20 picked by players in any one game. While some players simply pick the numbers randomly, there are many which pick the digits based on meaningful dates, events or superstitions.
Lucky numbers aren't defined by any one universal number. Instead they are specific to the individual and what they deem is lucky. So while you may see someone using lucky numbers and swearing by them, they aren't going to improve their chances – they're just numbers which are special to them and what they believe will score them a payout.
You can create your own set of lucky numbers through a range of categories, or pick them from the most commonly drawn keno numbers. You can then test these lucky numbers playing online keno for free in practice mode at Raging Bull Casino, our top-rated casino site for players from United States, or try any of the leading casinos in our recommended table above.
Chinese lucky numbers and superstitions for keno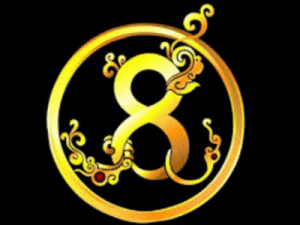 This category of lucky keno numbers is the most prevalent due to the history involved of the game of keno. Keno is said to have roots in Chinese culture which dates back thousands of years and legends suggest it was created to raise funds for the Dynasty War. The game similarities, and whether this was true, isn't well documented, but regardless the game has expanded to the Western World and it has also seen the reliance on Chinese culture for lucky numbers.
With 80 numbers available in a game of standard keno, there can be a lot to choose from – but the Chinese culture relies on the first nine numbers – and any combination containing these numbers are deemed unlucky, neutral or lucky.
The numbers 4 and 7 are considered to be the unluckiest numbers in Chinese culture and therefore any numbers with these two digits in them will not score you a keno payout. The number 4 is said to sound similar to the meaning of death in the Chinese language and is therefore deemed the unluckiest number available, while the number 7 sounds similar to the word for 'gone' following the same premise as 4.
Neutral numbers include 1, 3, and 5 with any numbers containing these digits deemed neither lucky or unlucky. This is due to the superstition these numbers are associated with natural elements.
Lucky numbers include 2, 6, and 9. The number 2 is considered lucky due to the belief of good things coming in pairs, 6 is considered to be lucky as it sounds like the word 'liu' in the Chinese language meaning 'frictionless', and 9 is deemed lucky due the pronunciation similar to the word meaning 'long-lasting' and is deemed a number of supreme sovereignty.
The luckiest number, however, is the number 8 due to the word similar to the phrase meaning making a fortune' and due to the superstition of its unique symmetry.
Therefore, you will always find the number 8 in a set of lucky Chinese numbers.
Birthday and anniversary keno numbers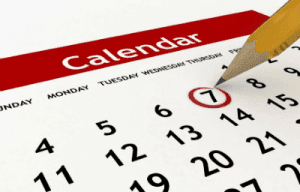 These numbers are more specific to the individual with players picking from the numbers based on their birthday or special day an event occurred.
Players pick from either the day or month – and sometimes the year – and can include just one number or multiple numbers involving friend's or family's birthdays or anniversary dates too.
These numbers make winning feel even more special since the numbers signify a special time in your life – and while they won't improve your chances it is a fun things to do in a game of keno.
Sequential keno numbers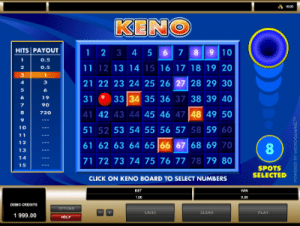 While not necessarily considered a set of lucky numbers specifically, this method of playing keno is deemed as a lucky way to play.
Players pick numbers which are next to each other, whether it is just two or a whole row, as many players believe this sees a luckier chance at winning. For example, players can pick 8 and 9, 52, 53, 54, and 55. Players may just play one sequential set of numbers or multiple depending on personal preferences.
Keno number generators
If you don't like the sound of any of these keno categories to choose your numbers, but don't want to pick them yourself, you can opt for a random number generator. You can find these online – do a quick Google search to locate one and simply enter how many numbers you want and they will be randomly generated for you to use when playing keno at a land-based venue or online.
Top online keno variants
If you want to try out your own lucky numbers, we recommend playing online. The following variants are a great option for traditional keno play without the hassle of locating a pencil for your keno form at a land-based venue.
Keno by Playtech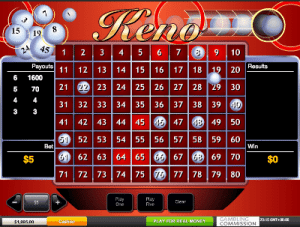 Casino.com has a keno variant available by the top software provider Playtech. It features 80 numbers with 20 numbers drawn. The paytable is visible and you can play one or five games automatically. There's a minimum bet of $0.02 per game and a maximum of $10.
Keno by Microgaming
Microgaming also have a keno variant which you can find at many of our secure online casinos. The game features 80 numbers with a maximum of 15 balls drawn and a minimum bet of $1 and a maximum bet $20.
For a Flash site featuring an array of other software providers, opt to play at House of Jack Casino or Emu Casino, both which offer a large selection of online keno games from several of the top gaming brands.
For more of the top-rated casino sites accepting players from United States, refer to our list of recommended online keno sites at the top of this page, which offer some excellent welcome bonuses. Raging Bull Casino is our top-rated casino site for players from United States, which offers a selection of instant-play number games for free play and real money bets.