Casino games for Oculus Rift
Casino games for Oculus Rift
Estimated reading time 3 minutes
If you've been paying attention to the world of technology recently, you will know Oculus Rift is the hottest new product on the block. What started as an ambitious independent project has now been acquired and funded by Facebook, the largest social media network in the world and one of the steadily rising major platforms of social real money gambling. With serious funding and strides towards virtual reality experiences, we're eager to discuss what this device means for real money casino players.
What is Oculus Rift?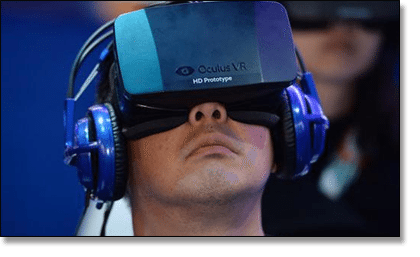 The Oculus Rift is a virtual reality head-mounted display designed as an inexpensive option for VR gaming. The consumer version packs a 7-inch (18 cm) LCD screen with stereoscopic 3D and zero overlapping – when wearing the device, your left and right eye sees extra area like real human peripheral vision. Along with a field of view of 90 degrees horizontal and 110 degrees diagonal, the Rift covers the wearer's entire field of view to block out the real world and create an overwhelming sense of immersion in another.
Essentially, Oculus Rift uses precise sensor and motion tracking technology combined with high-resolution displays and modern display technology to create a virtual reality experience capable of immersing players into another world, whether it's crafted by video game designers or film makers. It enables feelings like a sense of falling, height and scale possible, adding more dimensions to what we can experience.
While plenty of further refinements and polishing is needed, it's not hard to imagine virtual reality devices like the Oculus Rift will deliver a major paradigm shift in the way people play games and experience entertainment.
Why Should We Care?
On March 25, 2014, Facebook announced its acquisition of Oculus VR, the company behind the device, for $400 million in cash, $1.6 billion in Facebook stock, and an additional $300 million – a whopping amount for any piece of technology. By July 21st, 2014, the acquisition is officially complete.
This buy-out is significant for real money gamblers because of the presence of several social and real money pokies and table games already hosted on the Facebook platform. In the United Kingdom, there is already several game developers such as 888 and PaddyPower who have released real money casino online games on Facebook. The potential for interactive virtual reality online gambling experiences is, then, very much a possibility given the recent acquisition.
Since Facebook works closely with the game developers who host their titles on their social media platform, it's not too far-fetched to assume these same developers will have access to the Oculus Rift tech — and create more interactive casino games in the process.
Virtual Casinos and Games With Oculus Rift
With the use of the Oculus Rift wearable device, players can visit the virtual reality casino floors at Slots Million, the first ever online casino to host a full VR casino. Players get to walk the floors of a virtual high-rise casino floor, socialising with other players and then sitting at the virtual slot machines to play games in full 3D mode.
With the continuous advancement in ultra-realistic computer game graphics and increasing presence of 3D Slots and other games, it's easy to envision a future where more online casino vendors follow Slots Million's lead and add the option of virtual reality Oculus Rift games to their sites. Virtual reality casino games are so far limited to the slot machines, but VR table games and skill-based games are looming in the near future.
Many game developers have already toyed with the idea, and many of these casino environments have been re-created in such computer games like Second Life, and many up-and-coming modders have even created casino environments for games such as The Sims 3 and Skyrim.
Oculus Rift will make re-creating these environments in full-scale form a reality. Imagine walking around in an ultra-realistic casino and being able to physically site at a fully re-created roulette table, placing down chips. This sort of amazing experience is closer to reality than you may think.
To experience virtual reality slot games, head to Slots Million and download the VR software to start playing for real money in a whole new way.