Guts online and mobile casino titles
Guts online and mobile casino titles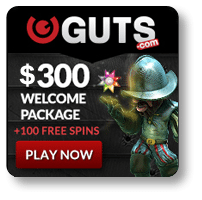 Guts Casino stands out from other online casinos, in that it sources its casino games from a range of different gaming software developers like Microgaming, NetEnt and BetSoft Gaming, and smaller boutique developers such as OMI Gaming and Leander Games. Here are some favourites from the diverse array of innovative games you can play for free or real money, with multiple payment options available.
At The Copa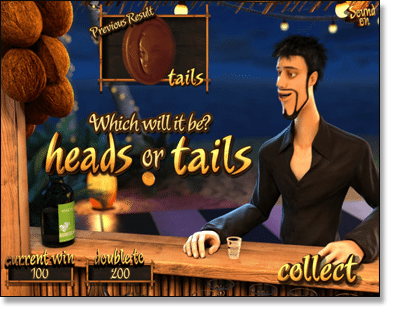 At The Copa is a vivacious salsa dancing themed slots game with 3D rendered images and a grooving backing track. The salsa music and the Copa dancing queen all contribute to the passionate and lively mood of the game. It's a 5-reel, 3-row game with 30 paylines. You can choose how many paylines you want to play and alter the bet per line from 1 – 5. The Dance Shoe symbol unlocks free spins and any winnings you make during free spins are multiplied by two – ten (depending on how many Dance Shoe symbols appear on the reels). Any winning combinations allow you to play the bonus game called Double Up where you call heads or tails on a tossed coin. Get it right and your winnings for the round that unlocked the bonus game are doubled.
Battlestar Galactica
Based on the American military science fiction hit TV series of 1978 which was ultimately re-booted in 2004, the Battlestar Galactica slot game follows the heroic group of characters on the Battleship Galactica, fighting for survival against the cybernetic civilization of the Cylons. A 243 ways pokie, it has three distinct modes of play (Normal, Run and Fight) which take us through exciting and violent adventures. Normal mode is the game in its five-reel basic format, run mode creates winning ways from left to right and right to left, doubling our winning opportunities, and fight mode allows for random symbols to turn wild, and for those wilds to split to increase our winning potential. Enjoy amazing graphics and sounds.
Red Dog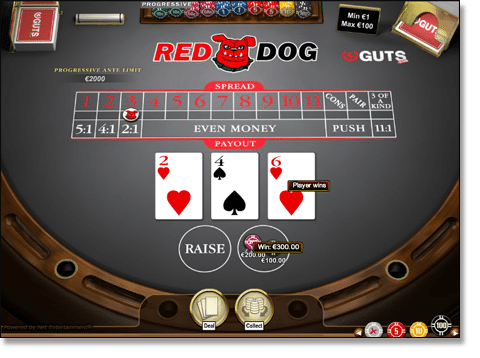 This is a unique and very entertaining table game. Place a between $1 to $100 as your ante, and get dealt two cards. Depending on the value of the two cards, you can either call or raise based on whether you think the third card dealt will be in between the first two cards. A call will keep you bet in place, while a raise will double your initial bet. Payouts depend on the 'spread' of the two cards – ie, a 2 and a 6 has a spread of three, while a 5 and an Ace has a spread of eight. Same valued cards are dealt a third card, and if the third card is the same again, the payout is 11:1 of your bet, otherwise a push. If cards are consecutive in number (Jack and Queen), the hand is a push. You can either collect winnings at the end of the hand, or keep your previous bet's winning on the table as your bet for your next game. Play Red Dog at Guts Casino.
Golden Tickets Slots
This is a 5-reel, 5-row 3D animated video slot in the style of an old school 1920s circus. Leading your game is a ring-leader, complete with a top hat, whip and impressive moustache in the right hand side of the screen. The graphics and animations in this game are cinema-quality. Other icons in the game include; the weights lifter, the clown, the top hat, pair of batons and 500kg weight. Bets per spin range from $0.20 – $40.00. Rather than spinning icons, in Golden Tickets the symbols drop away and are replaced by new ones. The Golden Ticket icon will substitute for other icons so you have a second chance at a winning combination. The Bonus icon triggers a round of free spins, and the more Bonus icons there are, the more rounds of free spins you receive.
Sushi Bar 3D Slot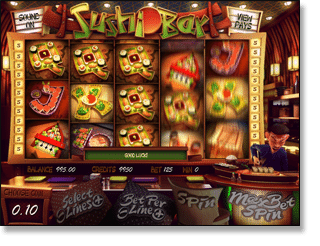 A 3D BetSoft Gaming pokie with beautiful 3D animated graphics, Sushi Bar is set in a lovely Japanese restaurant and all the icons are elaborate sushi dishes. It's a 5-reel, 3-row pokies game with 25 paylines. You can change the number of paylines you're playing and alter the bet per line from 1 – 5. Three fan symbols award eight free spins, four award 12 free spins and five fans award 20 free spins – and more free spins can be triggered during the free spin mode. The soy sauce wild symbol replaces other symbols to create more winning combinations. This is a fun pokie game that gives you plenty of chances to win, but its main pull is the brilliant graphics – one of the more aesthetically pleasing pokies games we've seen.
Top Card Trumps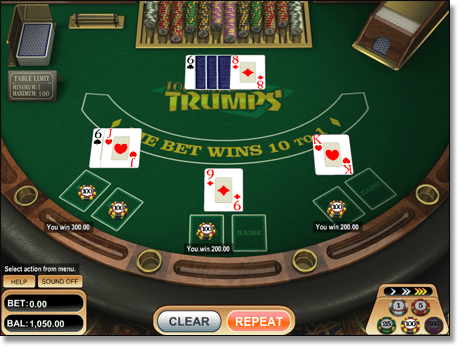 This is a fast-paced table game that's exciting, quick and will keep you guessing round after round. The aim of the game is simple – you and the dealer are dealt a card and whoever has the highest card wins. You can place bets valuing from $1 – $100, using any combination of the chips; $1, $5, $25 and $100. Play up to three hands at once in a game which uses six decks of cards. If you and the dealer are dealt cards of the same rank, you can either fold or go to war; if you fold you get half of your ante bet back, but go to war and you double your bet, and you and the dealer are dealt another card each. If your card is higher, get paid out on your raised bet (three cards are burned before the second card for player and dealer are revealed). Successful wagers on a tie between dealer and player pay out 10:1.
Marbles
A magical gambling game that is entirely luck-based so you can enjoy the game without worrying about strategy. There are eight mysterious marbles to start the game, which are hiding three golden marbles. You select six marbles to uncover. If you uncover all three golden marbles you win. If you don't want to select marbles to uncover with a wand yourself then you can select Auto Pick – this mode of playing will automatically pick six marbles to uncover for you. Auto Pick mode quickens the pace of the game.
Sign up for a Guts Casino account via mobile, tablet or desktop and gain access to all the above games. Receive up to $300 in matched deposit bonus, and 100 free spins on the Starburst slot game.