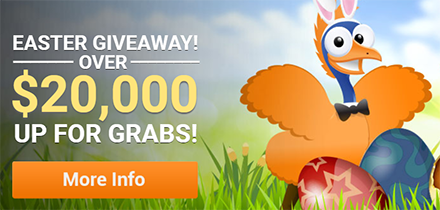 Emu Casino is giving away $20,000 in cash, bonuses and other prizes over the Easter holidays.
All you have to do is log in to your account any time between now and Monday, April 22, head to the Easter Day promotional page, deposit $50 or more and start playing your favourite online pokies games.
Every $50 you deposit and wager gets you one ticket that gives you the chance to pick an egg and reveal a special reward.
Prizes include EmuPoints, no-deposit free spins, deposit spins, match bonuses and real cash.
The following terms and conditions apply:
1. THE PROMOTION RUNS FROM 12 APRIL 2019 UTC 00:00:00 UNTIL 22 APRIL 2019 UTC 23:59:59 ON WWW.EMUCASINO.COM. EMUCASINO RESERVES THE RIGHT TO CHANGE THE PROMOTION PERIOD AS DEEMED FIT.
2. PLAYERS RECEIVE A TICKET FOR EVERY $50 DEPOSITED AND WAGERED.
3. ONLY REAL MONEY WAGERED IN ANY POKIE GAMES (EXCLUDING JACKPOTS) WILL CONTRIBUTE TOWARDS EARNING THE TICKET.
4. EACH TICKET CAN ONLY OPEN ONE (1) EGG. ONCE A TICKET HAS BEEN USED, PLAYER CAN WAGER ANOTHER $50 TO OBTAIN AN ADDITIONAL TICKET. EACH PLAYER CAN RECEIVE A MAXIMUM OF 7 TICKETS PER DAY.
5. ONCE PLAYERS HAVE A MAXIMUM OF 7 TICKETS IN THEIR ACCOUNT, ANY AMOUNT WAGERED AFTER THAT WILL NOT CONTRIBUTE TO ANY ADDITIONAL TICKET.
6. ALL TICKETS ARE ONLY VALID UNTIL THE END OF THE PROMOTION PERIOD.
7. IT MAY TAKE UP TO 15 MINUTES TO UPDATE A PLAYER'S AVAILABLE TICKETS.
8. ALL CLAIMED BONUSES WILL EXPIRE WITHIN THE SAME DAY IF IT HAS NOT BEEN ACTIVATED.
9. ALL ACTIVATED BONUSES WILL EXPIRE WITHIN 3 DAYS FROM THE ACTIVATION DATE.
10. EACH OF THE EGGS CONSISTS OF EITHER EMUPOINTS, NO-DEPOSIT FREE SPINS, DEPOSIT FREE SPINS, CASH BONUS OR MATCH DEPOSIT BONUS. EACH OF THE GOLDEN EGGS CONTAINS REAL CASH.
11. BONUSES ARE SUBJECT TO THEIR RESPECTIVE TERMS AND CONDITIONS, WHICH ARE REVEALED WHEN ACTIVATING THE BONUS IN THE BONUS SECTION OF THE PLAYER'S PROFILE.
12. THERE IS NO WAGERING REQUIREMENT FOR REAL CASH IN THE GOLDEN EGGS.
13. REAL CASH WILL BE CREDITED TO YOUR ACCOUNT WITHIN 48 HOURS.
14. PLAYERS HAVE THE CHOICE TO CLAIM OR FORFEIT THE BONUS/CASH RECEIVED. TICKET(S) WILL NOT BE CREDITED BACK TO PLAYERS AFTER THE BONUS/CASH IS FORFEITED.
15. ALL UNCLAIMED BONUSES/CASH WILL BE FORFEITED ONCE THE PLAYER HAS EXITED THE PAGE.
16. THIS PROMOTION IS OPEN TO ALL PLAYERS WHO HAVE RECEIVED THE INVITATION FROM THE CASINO.
17. EMUCASINO RESERVES THE RIGHT TO PENALISE ANY PLAYER FROM PARTICIPATING IN THE PROMOTION IF FOUND TO BE ABUSING THE BONUSES.
18. EMUCASINO RESERVES THE RIGHT TO EXCLUDE ANY ENTRY INTO THE PROMOTION, ALTER THE TERMS OF PROMOTION, OR CANCEL THE PROMOTION IF IT IS UNABLE TO RUN THE CAMPAIGN DUE TO TECHNICAL DIFFICULTIES.
19. FOR FURTHER ENQUIRIES REGARDING THIS PROMOTION, CONTACT THE CUSTOMER SUPPORT TEAM.
20. ALL STANDARD BONUS TERMS AND CONDITIONS APPLY.
The hunt is already underway, so head on over to EmuCasino.com now and get started.