I had too many beers at the casino
I had too many beers at the casino
Estimated reading time 5 minutes
The sight of a 'roided-up' tough guy being escorted out of the Crown Casino by three security men should have been enough to tell me to ease up on the alcohol, but after months of work and the arrival of Easter Friday the following day, tonight was the night I was prepared to knock a few back, have a few tokes and depending on how the night unfolded, rock someone's world.

Best real money online casino websites
Too many cocktails at Crown casino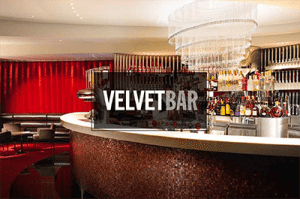 Melbourne's Southbank is a pleasant area – the bars, restaurants and views along the Yarra River are arguably some of the best waterfront drinking, dining and lookout venues in Australia.
But of course, Southbank classy cocktails, tender eye-fillets and gorgeous waitresses wouldn't be complete without the obligatory visit to Crown – a smart move, Lloyd Williams, to agree to move the entertainment complex to one of the most elegant and eye-catching locations in Melbourne.
So after an Espresso Martini, a Bellerose Beire Blonde Extra (a fermented French beer made with three hops from three different continents) and a shot of tequila, we thought it best to try our luck at the tables.
But, shit – our hands were empty when we entered the gaming floor, so it made sense to head directly to the Lumia Bar and order a round for the guys.
"It's funny don't you think, how the 'drinking on a night out' mindset is so culturally ingrained in Australia, but then as soon as you light up a joint, you're accused of criminal activity for consuming drugs," my mate informs me.
"Drugs are bad, mkay – now, go get daddy another beer," he says facetiously.
He'll tend to get all high (no pun intended) and mighty when he's had a few Tequila Sunrises, but nevertheless, he's got a good point, especially when Australia's drinking culture pride is "costing lives, harming unborn children, causing child neglect and fuelling domestic violence," according to the president of the Australian Medical Association, Professor Brian Owler.
We collect our three drinks and satirically judge other patrons to humour ourselves as we make our way to the $5 minimum wager European roulette table. I've explicitly told the guys never again to play at a double zero (American) roulette table, because the odds are far worse for the player, and you'll tend to unwillingly meet uniformed players who plummet $25 bets on straight up numbers on American tables; thus almost doubling their odds of failure.
I can only help so many punters.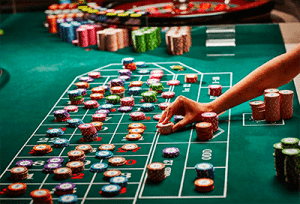 I'm colour blind, so I hand the croupier $70 and ask for the yellow coloured chips – they're the most distinguishable colour from the other chip colours, for me. The table has three other players, so we comfortably sit and stand around the betting layout, and impetuously place our bets – the best way to play roulette. We're hitting, we're missing, we're drinking – we're having a great time, until this lad wearing a Carlton scarf comes and joins our table.
Drowning his sorrows following the Blues' opening round loss to Richmond that night, we can tell he's had a few frothies, and that he's about to blow all the money he's been saving to take his wife on that trip to Italy during Carlton's bye week – the getaway they'd been planing for three months.
He shuffles his way over and throws the dealer three crisp one hundred dollar bills.
"I'll have a colour, mate," he requests in an unwelcoming and truly Aussie tone.
The croupier slips the cash down the slot in the table (I could make a dirty joke, but it'd be too easy), and counts three hundred dollars worth of blue chips.
"Ah yea, that'd be right – more blue colours to go with the shit luck Carlton had tonight. I'll lose three hundred as quickly as we lost the game tonight."
Without wanting to make small talk with the obviously unhappy supporter, we continue to play among ourselves, while the young couple that had previously been enjoying a few spins leaves to find another, most likely more accommodating, table.
Not much can get us down right now – we've got the long weekend ahead of us, the night is young and for Josh, it's a night away from his girlfriend (nothing untoward, but he's just happy to have a night off).
While we're enjoying the game, we can't help but notice that it takes – no joke – three spins for the Carlton fan to lose everything he started with.
"Ah, fuck off," he yells, swinging his arms and inadvertently knocking over my mate's half full Corona (that's right, I'm a half full kind of guy), which spills across the lower half of the roulette betting layout.
Obnoxiously but not unexpectedly, he barks "sorry mate, but I just blew $300 – I'm not buying you another drink."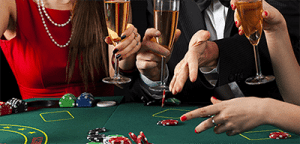 It's not our scene to start something where we know the situation has no chance of improving, so instead of returning fire, we motion to the croupier to ask security to deal with him. He's bumping shoulders with other patrons, hitting pokies machines and mouthing off at females, and security are swiftly on his tail to throw him out of the casino.
With the table half soaked in delicious Mexican beer, we know game time is up, but we're not leaving without fighting for some justice.
We inform the security who escorted the obtrusive male out of the casino that he'd knocked over two full beers at our table – we figure we should make the most of the current circumstances.
The wet betting layout, the croupier's frustration and the dry cleaning process is evidence enough to support our claim, and the security men point us in the direction of the floor manager, who apologises for the man's behaviour and grants us three 'on the house' drinks of our choice (within reason).
Profit and loss
One rum and coke each later, plus subsequent 'non-free' rum and cokes, things start to become a tad hazy, and the next morning I realise I somehow raked in a profit of $330, without counting the cost of drinks. My two other mates also finished the night ahead.
After one (or three) too many drinks, it's the hangover that was the only downfall of what was otherwise a top notch night.
Let that be a lesson to all you keen punters – too many drinks at the casino can have both good and bad consequences, gambling can be a hell of a lot of fun if you keep limits in check, and Carlton supporters with bad drinking habits should prepare for some hard times over the next few years.
Like many other gentlemen's nights out on the town, I do recall how our journey ended – a few tokes, unfortunately no hitting any home runs, and a greasy but orgasmic kebab at about 03:30 in the morning.
A night out at the casino not really your thing? Check out Raging Bull Casino, our top-rated casino site for players from United States, where you can play hundreds of casino games for real money from the comfort of your own home.