Estimated reading time 2 minutes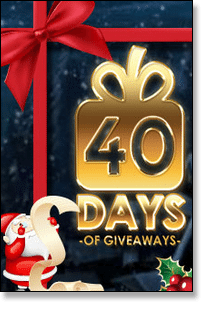 The top online casinos are getting right into the festive spirit as we move into mid-December. You should be on the lookout for any special Christmas promotions and freebies as it's not uncommon for Web casinos to become even more generous as we approach the end of the year. One of the best Yuletide promos we have seen so far this year is "Santa's Gift Grab – 40 Days of Giveaways", which is currently running at 7 Sultans Casino and Royal Vegas Casino. There are some excellent prizes up for grabs so make sure you're in it to win it.
How To Make The Most Of "Santa's Gift Grab – 40 Days of Giveaways"
This is a promotion active from the 1st of December to the 9th of January, and the promoters are expecting to give away $140,000 worth of prizes over that period. Surely a prize pool like that is big enough to pique anyone's interest, simply for holding a registered playing account!?
To be eligible to claim prizes in the giveaway, sign up for an account with either 7 Sultans or Royal Vegas. For each day of the giveaway, you will be presented with two options for prizes, and you can choose to redeem either one, but you will only be able to unlock one, so choose carefully. You will be presented with the option when you sign into your casino account at the start of each day.
Once you have selected and activated your prize for the day, make sure you start making the most of it immediately as each prize will only be valid and available for 24 hours. For example, you may choose 100 free spins on the slots game Thunderstruck II, however if you don't play Thunderstruck II on that same day, you'll lose the free spins. Start taking advantage of your prizes as soon as you get them – at the start of the next day you'll be presented with two new prizes to choose between and yesterday's giveaway will no longer be valid.
40 Days Of Giveaway Prizes
Daily gifts you can win in this Xmas promotion include:
Free Spins: Usually applicable to a featured game, where you can unlock the spins. Occasionally there will be free spins you can use on any slots game you desire.
Guaranteed Rewards Points: You gain extra 7 Sultans Casino Loyalty Rewards Points, so you can redeem rewards sooner.
Bonus playing credits: you are awarded free credits which can be used to play casino games such as pokies, blackjack and roulette for real money.
5x Loyalty Rewards You can earn up to five times the loyalty points you usually would receive on any game of your choice.
Cashback: Win cash prizes which you can redeem and withdraw through your real money casino playing account.
There are even more prize types to unlock.
How You Can Score in Santa's Gift Grab
The Santa's Gift Grab promotion is on offer at two major Web casinos. These online casinos are reputable, have solid measures in place to repay their regular punters and have an impeccable selection of high quality casino games. You have to have a real money account with one of these online casinos in order to be eligible for Santa's Gift Grab, and they each have generous welcome bonuses. The 40 Days Of Giveaway Promo is available at:
1/ www.7SultansCasino.com – 7 Sultans has a $500 welcome bonus you can redeem over one, two three, four or five deposits.
2/ www.RoyalVegasCasino.com – Royal Vegas Casino has a $1200 welcome bonus that can be redeemed over the first three deposits.
With both casinos, you get a bonus 10% the first time you use a Web wallet to make an AUD deposit.