Estimated reading time 2 minutes
The 2015 Aussie Millions Poker Championships kicked off with a bang on Wednesday at Melbourne's Crown Casinos, with many of the biggest names in the game turning up for the annual pilgrimage down under.
The tournament, which is the richest live poker competition in the Southern Hemisphere, will run over 20 days and features a star-studded field across 21 championship events.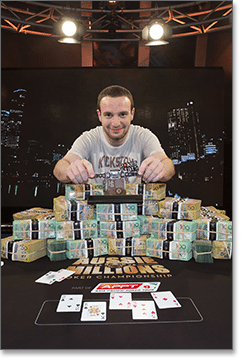 Day One kicked off with the hugely popular $1,150 Opening Event. The big draw for this No Limit Hold'em tournament is its unique repechage system, which allows players who bust out on the first day to re-enter the event in later flights.
In addition to a huge prize pool, this year's champ will also take home a Rolex watch valued at $13,500 — courtesy of official Aussie Millions sponsor LK Boutique.
Some 184 players took to the tables for Flight One of the 2015 Aussie Millions Opening Event, including more than a few household names. Most notable among these was Canadian star Ami Barer, who took out the Aussie Millions Main Event in 2014.
Also in attendance was WSOP APAC Main Event champion Scott Davies, as was runner-up Jack Salter. Bracelet winners Rory Young and Sam Higgs returned to the Crown Poker Room as well, along with the likes of David Lim, Dean Blatt, Kahle Burns and fan favourite Toothpick Tony.
Few of those big names remained by the close of play on Day One, which saw Australian duo Michael O'Grady and Liam O'Rourke overtake Germany's Ismael Bojang late in proceedings.
A phenomenal full house draw (A K in the hole with A A 5 K 6 on the board) saw O'Grady finish up with a very healthy 189,900 chips, but it was O'Rourke who ended the opening day as chip leader with 198,900.
Several eliminated players took advantage of the repechage format on Thursday, with Barer, Salter and Davies returning alongside Jason Gray, Jake Balsiger, Tim English, Sam Khouiss and Fabian Craib.
A number of big names took their first strides in the 2015 Aussie Millions tournament on Day Two, including the legendary Gary Benson and 2004 Australian Poker Championship winner Tony Bloom. Philipp Gruissem and Joseph Chong also kicked off their Aussie Millions campaigns, along with Joe Cabret, Jason Pritchard, Oliver Gill and Van Marcus.
Day Two of the Opening Event saw local lad Jacob Rodgerson (122,000 chips) and Suraj Dutt (127,500) give it a good old nudge in pursuit of overnight chip leader O'Rourke. Both finished top five in the chip count for Flight Two.
Defending Main Event champ Barer (144,000) also put in a strong shift, but the fractious pair of Khylon Hanagraaf (159,300) and John Apostolidis (178,000) — who engaged in a few heated exchanges throughout — would end up topping the pops on a day which saw just 21 of 171 entrants escape the axe.