How do Crown Casino's Blackpot side bet work?
How do Crown Casino's Blackpot side bet work?
A firm favourite with recreational punters, the Blackpot side bet is one of Crown Casino's most successful innovations. This unique progressive wager, which is now available on dozens of tables at the Southbank precinct in Melbourne, is played over two hands and boasts some of the biggest payouts of any blackjack side game.

Best online casinos for blackjack
How to play Blackpot blackjack
The Blackpot wager is played like any other side bet in blackjack. Each betting box on the table will feature two sections: one for the standard stake and one for the Blackpot bet. (Some may three sections, with one for the Perfect Pairs bet as well.) The side game can only be played if there is already a wager in the regular betting box. That doesn't mean you can't play if you don't have a seat at the table, however, as each Blackpot box can house up to five wagers.
Part 1: the initial deal
There are four phases to the Blackpot side bet. The first of these takes place on the initial deal, when the players receive their first two cards.
There are three winning combinations at this stage:
Six and Seven
Seven and Eight
Six and Eight
If you draw one of those hands, in any suits and any order, you win a 10 to 1 payout. So if you have $10 in the Blackpot betting box, you will collect $100. All other hands lose.
Part 2: the third card
If you win the first phase, the side stake remains active as long as the controlling player (i.e. you or the person whose hand you are betting on) decides to take a third card. If you elect to stand, the dealer – having already paid out your 10 to 1 bonus – will remove the initial Blackpot wager.
There is only one winning hand here: Six, Seven and Eight. Thus, if you had a Six and a Seven on the deal, you would need an Eight to complete the combination – and so on and so forth. Again, suits and order don't matter.
Whereas the first step paid 10 to 1, a win here pays 100 to 1. So, for example: if you placed $10 in the Blackpot box at the start of the hand, you would win $1000.
Part 3: the next hand
This is where things get interesting. Having won the first two steps, you can then opt to leave your stake in the Blackpot box and carry your side bet over to the following hand. You (or whomever you are betting behind) will have to put up another standard wager, of course, as the side game can only be played when there is an active bet on the regular blackjack hand.
As with the first hand, the three winning combos on the initial deal are Six-Seven, Six-Eight and Seven-Eight. Following the trend set in previous steps, the odds multiply tenfold for a 1000 to 1 bonus. Thus, if we had wagered $10 on the side bet, we would be $10,000 up at this point.
Part 4: the final bonus
As with the third card on the first hand (part two), the aim here is to complete a Six-Seven-Eight combo. If you have Six and Seven, you need an Eight; if you have Six and Eight, you need a Seven; and if you have Seven and Eight, you need a Six.
Snag the right card for a hand of Six, Seven and Eight, in any suits and any order, and you win the Blackpot jackpot: a stunning 20,000 to 1 on your initial side bet stake. So if we had started with a $10 Blackpot bet, we would pocket some $200,000 – assuming that sum doesn't exceed the table limits, that is.
Maximum payouts and splitting rules
A $1 side bet will pay the advertised odds at every step (10 to 1, 100 to 1, 1000 to 1 and 20,000 to 1). However, larger wagers may be subject to maximum payouts at all four stages.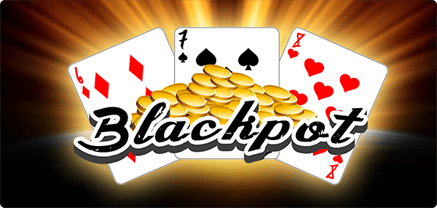 For example, a low-limit Crown Blackjack table might cap the Blackpot jackpot payout at a maximum of $100,000. That would mean a $10 side stake – as per our examples above – would pay only $100,000 for a Six-Seven-Eight on the fourth tier, rather than the full 20,000 to 1 return of $200,000.
Players should also note that it is not possible to make a valid Blackpot hand after splitting. This is primarily because the side bet is lost and the stake forfeited as soon as you fail to draw a Six-Seven, Six-Eight, or Seven-Eight on the initial deal.
For example, let's say we draw two Eights on the initial deal. Because the hand doesn't qualify for the 10 to 1 (or the 1000 to 1) payout, the dealer takes the side bet. Should we then split the Eights and pick up a Six or Seven on either hand, we won't win a side payout as we've already lost the Blackpot bet.
* As mentioned earlier, be aware that all Blackpot odds may be subject to a maximum payout. Please check the table rules before you play.
Our other top-rated blackjack sites are listed in the casino table at the top of this page. We recommend Raging Bull Casino as our top-rated casino site for players from United States, which has some excellent welcome bonuses available for new players along with a great range of blackjack variants, online slots and other table games.