Craps strategy
Craps strategy
Estimated reading time 4 minutes
Craps strategy is useful at land-based casinos, although online players can still employ various methods to improve their rate of success at this classic table game. That's fortunate for the punter, as most wagers on the craps table carry a high house edge. This article deals with some of the best ways to emerge victorious from a craps session. We've also included methods in which people attempt to cheat playing craps.

Best online casino sites to play real money craps
How to win at craps
This section details some of the best forms of craps strategy which involve playing the game as well as strategy designed to make your overall experience safer and more enjoyable.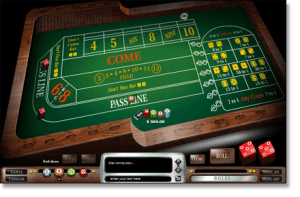 Select a Reputable Online Casino – If you decide to play craps online, you'll want to make sure that your casino of choice is a reputable site that doesn't try to cheat their customers. Rogue casinos use a number of underhanded methods, including stealing credit card numbers, spamming, using unfair software, and not paying winning punters.

Play real money online craps and other dice and table games at any of the casinos listed in our table above.

Stick with Low House Edge Bets – The best bets on the craps table are the Pass/Don't Pass and Come/Don't Come options.
Bankroll Management – The most important skill a punter can learn is the art of bankroll management. By properly managing your money, you'll be able to play longer and get the maximum amount of pleasure out of your gaming session. This skill won't guarantee a profit, but it will ensure that you only lose what you can afford. That might not sound exciting, but I know a number of people who lost their home or couldn't afford to buy their kids Christmas gifts because they didn't pay attention to their bankroll.
Scout the Other Players – Some people are just lucky, while others seem to have a knack for rolling the dice consistently. By carefully observing the other players at a table, you'll be able to tell who to bet for and who to bet against. By paying attention, you'll also be able to recognize a player on a hot streak and capitalize on their run of good fortune.
Don't Succumb to Peer Pressure – A lot of punters consistently bet on the side of the shooter because they don't want to upset the other players at the table. Your best bet is to forget about peer pressure and place a wager that gives you the best chance of winning. If the current shooter is an unlucky bloke with awful dice skills, don't be afraid to go against the majority and wager that he'll fail.
Illegal Strategies for Craps
Do not attempt these craps strategies, as each one is universally recognised as being illegal. I have only included them for entertainment purposes to show how far some players are willing to go to make a profit at the tables. Again, do not attempt these craps tricks unless you want to end up in jail and banned from your favourite casino.
Controlling the Dice – This strategy falls into a grey area, as it displeases casinos without actually being illegal. Proponents of this system believe that by gripping the dice in the correct spot and throwing them with the proper velocity, an advantage player can control the results of the roll.

The biggest key is to lightly tap them against the back wall of the craps table during the initial throw. Otherwise, the collision creates a randomising effect that's beyond anyone's control.

There's still a great deal of debate on whether or not dice control works, but experts on the subject claim that it allows them to toss dozens of times without crapping out. And while the casinos haven't outright banned the practice, anyone who gains an obvious advantage may still be asked to leave the premises.

Outright Theft – When all else fails, grab yourself a handful of chips and run for it. This may sound like a ridiculous tactic, but plenty of desperate punters have tried it over the years. The actual theft process is usually more subtle, with the thief relying on sleight of hand or a distraction to palm someone else's money. Once the chips are in hand, the culprit has to try and cash in their ill-gotten gains before anyone is the wiser.
Rigged Dice – The most common term for this method of cheating at craps is known as "loaded dice," and the name comes from a small weight inserted into the centre of the die. When it's rolled, the weight ensures that a certain number turns up. Of course, the hardest part for the cheater is introducing the loaded dice into the game, as the craps table has numerous employees keeping an eye on things. In addition, modern casinos using transparent dice so that any weights or loads can be easily spotted. This might work in a back-alley game, although the penalties for getting may be even more severe than incarceration.
While the art of rolling the bones is a subtle one, employing various forms of craps strategy can make your trip to the table more profitable. While most players disregard the poor odds in favour of a heightened social experience at the casino, that doesn't mean that craps is always a losing proposition. By utilising the proper betting system, playing streaks, and managing your bankroll, you can leave the craps table with a smile on your face and money in your pocket.
Play craps and other table games at Raging Bull Casino, our top-rated casino site for players from United States, directly over your Web browser with no downloads required. Play games for free in practice mode or sign up for real money play and be rewarded with some exciting new player welcome bonuses.