Microgaming's Crown and Anchor
Microgaming's Crown and Anchor
Crown and Anchor is a simple yet surprisingly entertaining nautical-themed dice game, powered by Microgaming. The gamed originated in the 18th century and was played by Royal Navy sailors, and is still popular in the Channel Islands and Bermuda today. This title has now been refreshingly translated to the world of online gaming, retaining its humble layout to reflect a time period when gambling was minimalistic. Software designer Microgaming, as usual, has created a high quality Web casino game, incorporating innovative technology, a relaxing seaside ambience, soothing ocean sounds and pirate-themed graphics.

Best Microgaming casino sites
How to play Crown and Anchor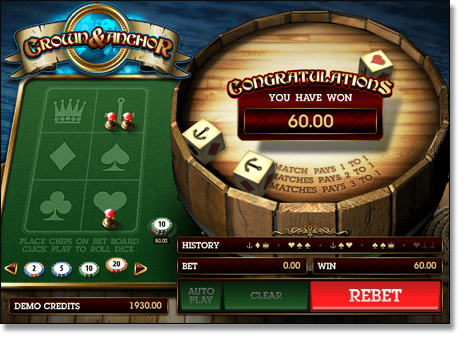 This calming dice game is easily learnt, and so here is an overview of the rules:
Place your chips on the table. Bets must be in the range of $0.50 – $1,000.00 for each round. Chips worth $0.50, $1, $2, $5, $10, $20, $50, $100, $200 and $500 are available, and any combination of chips may be placed on the table.
Place your bets on the symbols you think the rolled dice will match, much like sic bo. In Crown and Anchor, there are six symbols to choose from; the Heart, Club, Diamond, Spade, Crown and Anchor. Place your chips on as many symbols as you wish, and you can always click clear to take your chips off the table and start over, so long as you do so before rolling the dice.
Once you're happy with where your chips lie, hit the play button. This will roll three dice.
The dice are rolled and three daubers/markers are placed on the matching symbols on the table. It is possible to have more than one dauber on any one symbol, for example: if two Clubs and one Anchor are rolled, then two daubers will be placed on the Clubs symbol and one on the Anchor.
If you have a winning match, the win is highlighted in the play area and you are paid out your earnings, dependent on how much you wagered. If you don't have any matches, you lose all bets placed. There is also an autoplay function which will automatically play the number of rounds you select and roll the dice for you, collecting any winnings along the way. You must place your initial bets on the table before selecting autoplay, and the autoplay function will keep these chip placements where they are for all the rounds you select.
Crown & Anchor Payouts
The payout odds for this game are simple and reflect the payouts first established when the game was born:
If one die matches any of your bets, you are paid out 1:1.
If two dice match any of your bets, you are paid out 2:1.
If three dice match any of your bets, you are paid out 3:1.
House Edge and Verdict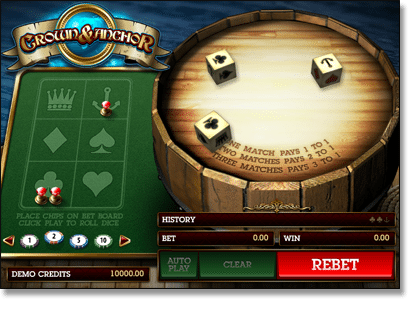 The house edge for Crown and Anchor is 7.87 per cent, which is fairly high in comparison to other dice games such as sic bo, which holds a casino edge of 3.70 per cent.
However, Microgaming chose not to tamper with the original 18th century title and so the game retains that vintage and classic feel.
If you would prefer to play real money online sic bo, you can do so at sites like Royal Vegas Casino and 7 Sultans Casino.
The developers at Microgaming have fittingly adapted this traditional gambling dice game with some additional touches which establish the seaside and sailor setting such as the wooden barrel the dice are rolled on and the occasional seagull gawking in the background. Crown and Anchor is a quality authentic dice game.
We're not overwhelmed with too many chip placement options and getting the game underway is straightforward. The results of the game are instantaneous and we can efficiently play round after round without any delay.