888 Poker review
888 Poker review
Estimated reading time 8 minutes
Website: www.888Poker.com
Bonus: Instant $10 free cash on registration + 100% matched up to $888 on first deposit
Games: Texas Hold'em, Omaha, Seven Card Stud, and more
888 Poker is among the fastest-growing operators in the online gambling scene, to the point where it now ranks right up there with very biggest poker sites in the world.
There is something for every kind of poker player at 888.com. Besides the wealth of game styles on offer, there are thousands upon thousands of live poker tournaments and cash games in action all week long. And if you fancy playing for a chance at the mega bucks, 888 is always running satellites for major poker events such as the Aussie Millions and the World Series of Poker (WSOP). Most importantly, 888 Poker supports multiple currencies and is dedicated to giving poker fans a safe and secure environment for interactive online poker.
888 Poker Software for PC & Mac
The 888 gameplay platform is renowned for its eye-catching and easy-to-use player interface. As with most top-ranked online casinos, there are two options for accessing 888's Web poker rooms: either download the free desktop client, or play directly through the Web browser. Both methods offer top-shelf performance and graphic quality, but with a few subtle differences that cater for taste, preference, and circumstance.
Desktop Suite for Windows PC
This is the full package, which can be downloaded at no cost from the 888 website. With this program, we can customise just about every aspect of our virtual poker experience – from the visual layout and colour theme, to deck patterns and avatar displays, to gameplay settings and keyboard controls. We can also configure the hand history function to our liking, and indulge in special features such as PokerCam and 3D Poker.
Instant Play for Mac OS
The quickest way to play at 888 is to go straight through the Web browser, with no downloads required. The major benefit here is compatibility; for while the desktop poker client is tailored for PC, the instant play software will work on any operating system where plugins such as Flash or Java are installed. The visual layout is a bit simpler than in the full download, and we can't access PokerCam or 3D Poker games. However, we can still customise the look and layout, and there is no compromise when it comes to the quality of the tournament lobby or the poker gameplay.
Software Download or Browser Play: Which is Better?
Compatibility aside, this is purely a matter of preference. If you want the slickest-looking poker lobby and the ability tweak every setting to suit your personal tastes, then the complete software suite is probably the way to go. But if you want swift, easy access from any computer, at any time, and don't want to use up space on your hard disk, we suggest you try instant play poker. It's up to you.
PokerCam Rooms
The PokerCam is exclusive to 888.com, and is only available through the desktop download suite. It allows us to play face-to-face with our opponents via live video feeds, thus bringing a whole new level of interactivity, gamesmanship, and gambling nous to the Internet poker experience.
You can only join a PokerCam table if you have an active webcam on your computer, so every player in the room can see one another. This creates a couple of key advantages over standard online poker games: an increased sense of reality and live atmosphere, such as you would get at a traditional land-based poker table; and the ability to study your fellow players' behaviour and look for tells and bluffs, all while being mindful of your own expressions and reactions. Thus, you get both the convenience of regular digital poker and the human element of real-life gambling.
As with just about anything on the World Wide Web, there will always be those seek to abuse the system – whether to gain an unfair advantage, or just to be anti-social. The 888 team keeps a close eye on all PokerCam games to ensure nobody misuses the format, but sometimes a rogue or two will slip through the net. If you come across anyone abusing the PokerCam technology, you can report them to support@888poker.com.
888 Mobile Poker
Want to play real Hold'em poker on your smartphone or tablet device? The official 888 Poker app allows you to access cash games, scheduled tournaments, and SNG Holdem events from the home screen of your Android, BlackBerry, or Windows Mobile device, for the most convenient interactive poker experience around.
Tap here to get the 888 Poker App
Unfortunately, there is no market app for Apple iOS machines. Hence, iPhone, iPad, and iTouch users will instead be shown to the instant play version of 888Poker's mobile platform. You can also create a quick and easy Web app, which acts exactly like a native app but instead launches via your phone or tablet's Internet browser. This actually saves space on your device's hard disk, as everything is based online and there are no permanent downloads.
Tap here to pull up the 888 iOS site
Online Tournaments & Events
This is why so many Australians choose to play real cash poker online at 888. With hundreds of tourneys and special events running every day of the week, there is always something to sink your teeth into – whether you are a beginner looking to take your first steps into tournament play, or an experienced hand desperate to win through to the big boy tables.
Satellites: The most convenient, cost-effective way to give yourself a chance at winning a big kitty. Satellites are essentially qualifiers for bigger events, where you can buy in small and try to qualify for richer tourneys. 888 runs loads of satellites for major live tournaments, including the WSOP Main Event in Las Vegas and the Aussie Millions at Melbourne's Crown Casino.
Multi Table Tournaments (MTT): This is your traditional live tournament setup, as seen in the World Series of Poker and most big-time No Limit Holdem events around the world. All players start with the same amount of chips, and the aim is to win more chips than your opponents and so progress to the next round. Eventually there will be one final table where the tournament winner is decided.
Sit & Go Events (SNG): A hugely popular format that caters for players of all abilities and bankrolls. Rather than starting at a scheduled time, a sit-n-go poker event begins as soon as all the positions at a table (or multiple tables) has been filled – so when everyone sits, the tourney goes. SNG poker is fast-paced and can see players knocked out at a rapid rate, as stacks often start small while blinds go up quicker than normal.
Heads Up Poker: Here, players go one-on-one in an intense knockout setup that encourages aggressive strategy and clever risk-reward play. This is very much like the last two battling it out at the final table of a big MTT. So while being an entertaining format in and of itself, head-to-head events are also great practice for people looking to hone their skills and harden their nerve for those pressure situations.
Freerolls: This is an ideal place for beginners and casual players to get their first taste of online tournament play. Freeroll events cost nothing to enter – hence the name – and give less experienced players the chance to work on their game against opponents of similar ability, all while competing for real money rewards and buy-ins to bigger tournaments.
Poker Games at 888 Australia
Whether you're playing ring games, real money tournaments, or in a private social group, you can choose from any of the most popular poker rules out there. No limit, pot limit, and fixed limit betting are all available, while stakes start as low as $0.01/$0.02.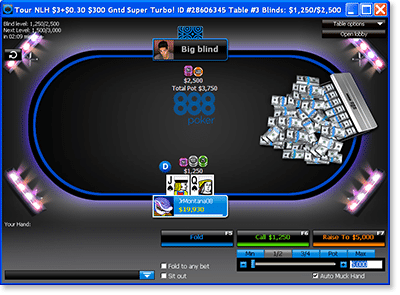 Texas Hold'em: Far and away the most played online poker style, where players must create the best possible five-card hand using any combo of two hole cards and five community cards. No Limit Hold'em (NLH) is the format used in the WSOP Main Event.
Omaha Hi: Similar to Holdem, but players receive four hole cards and must use any two of those in conjunction with three of the five community cards. Pot Limit Omaha (PLO) is second only to NLH in popularity for tournament play these days.
Omaha Hi/Lo: Here, players compete for a split pot with the aim of compiling a winning high hand and/or a winning low hand. The rules are otherwise much the same as standard Omaha.
Seven Card Stud Hi: Players are dealt up to seven cards each – three face down, four face up – across five rounds of play. Whomever pulls the best five-card poker hand (or is the last one standing) wins the pot.
Stud Hi/Lo: Just like Stud Hi, except the pot is split for high hands and low hands.
Secure Banking Options
888 Poker is devoted to making sure online gamblers feel safe playing with real money on the Net. That's why all cash deposits and withdrawals are guarded by 128-bit SSL (Secure Socket Layer) technology – the international standard for online banking security.
Real money players can choose from a wide range of trusted transaction methods, including credit cards, debit cards, e-wallets, pre-paid money vouchers, and direct bank transfers. Here are just a few of the most popular options available:
Visa
MasterCard
Neteller
Skrill (Moneybookers)
POLi
Ukash
Citadel Direct
Paysafecard
Most deposits appear instantly, so you can hit the tables straight away. Withdrawals often take a few days to process, due to the strict security measures in place to make sure all cashouts end up in the right hands. For more info on banking, visit the 888 Poker website.
$888 Welcome Bonus & Status Points
$88 No Deposit Bonus: When you sign up at 888 online, you get $10 absolutely free with no deposit required. You can extend that bonus to $88 by raking in Status Points. For every $1 you put into a rake, you get points; and you also get two points for every dollar you pay in entry fees for 888 tournaments. Every 250 Status Points you earn adds another $8 to your no-deposit bonus ($2 in cash credits, $6 in tourney tickets).
$888 Welcome Package: When you make your first cash deposit, you can claim a 100% matched bonus up to $888. This means that whatever amount you put in with your own money, the house will double it. So if you start with a $100 deposit, you will get another $100 free for a total of $200 credits. A minimum transaction of $10 also gets you entry into several exclusive freeroll tournaments.
Status Points: These loyalty points determine where you rank in the 888 rewards program each month. The more points you earn through playing ring games and tourneys, the higher your status will be. There are 10 ranks: Blue, Iron, Chrome, Copper, Bronze, Silver, Gold, Platinum, Diamond, and VIP Diamond.
Reward Points: Your rank also determines how many Rewards Points you earn for every Status Point accrued. The lowest status (Blue) gets you one for one, while the highest (VIP Diamond) awards 18 Rewards Points per single Status Point. Rewards Points can be used to gain entry into tournaments, to purchase merchandise and other goodies at the 888 Online Shop, and for cashback deals.
Customer Support
The 'Online Help' section on the 888 homepage provides users with a stack of easy-to-read FAQ articles on poker rules and payouts, deposit and withdrawal policies, technical assistance, and heaps more valuable information. You can also contact the 888 support staff via the toll-free Australian hotline (1800 153 466), email (support@888poker.com), or live Web chat.