Online 3D poker at 888.com
Online 3D poker at 888.com
Estimated reading time 3 minutes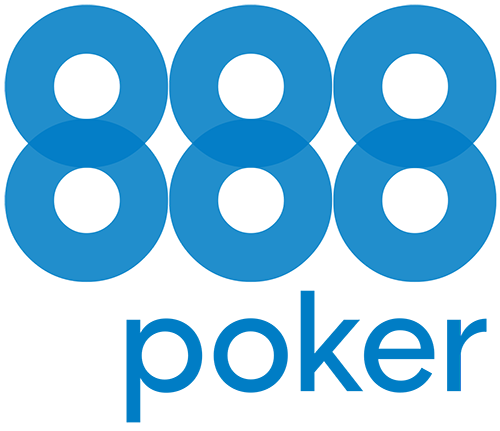 888's 3D platform revolutionises the way we play online hold'em poker, combining stereoscopic graphics with the convenience of digital gameplay to create an interactive gambling experience like no other. Read on to find out why you should give 3D Poker a whirl at www.888.com – our top-ranked poker site for online players.
How 3D Online Poker Works
3D Poker is available for free and real money play through the 888 lobby, just like any normal ring game, hold'em tournament, or sit-and-go game. There are only two major requirements:
Stereoscopic 3D Glasses – These are the same red and blue specs we use when watching a 3D movie at the cinema. If you don't already have some, they are cheap and easy to find – you can buy them online for less $1 per pair.

888 Software for PC – The 3D Poker platform is currently only available via 888's desktop poker suite, which is not compatible with Mac OS X. If you are an Apple user and don't want to muck around with cracks and patches, you might have to install Microsoft Windows for Mac if you really want to play 3D online holdem poker.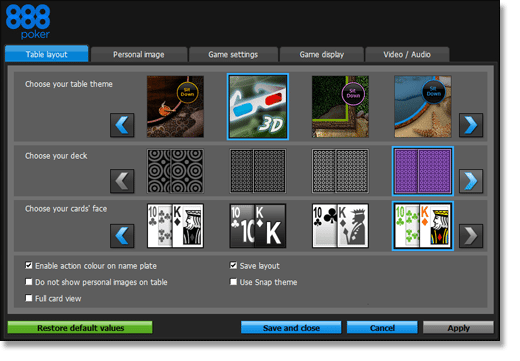 As long you've got those key criteria covered, you should be all set. Just install the free 888 Poker software client on your PC and create a personal account, then log in and open up the 'Settings' section. Under the 'Table Layout' tab you will see the 3D icon among the other visual display options in the top row. Click on that, put on your 3D glasses, et voila – you are up and running. Click here to download the free 888 software pack now.
What Games Are Available?
The 3D Poker catalogue at 888 is just as impressive as the selection of normal two-dimensional games on offer. There's thousands of Texas Hold'em rooms, as well as Omaha Hi, Seven Card Stud, Omaha Hi/Lo, and Stud Hi/Lo – all available in free mode and for real cash play. Betting options cover big bettors and small spenders alike, with micro-stakes starting as low as $0.01/$0.02, while we can also choose between fixed limit, pot limit, and no limit games.
There's a number of different gameplay formats for real money 3D Poker at 888:
Cash Games – Also called "ring games", where we can buy in and cash out at any time. This is real cash poker in its purest form.
Sit & Go Poker – A hugely popular online tournament format where the game starts as soon as the table is filled.
Tournament Play – The multi-table tournament (MTT) is the classic competitive poker setup, where the aim is to survive several rounds until you reach the final table.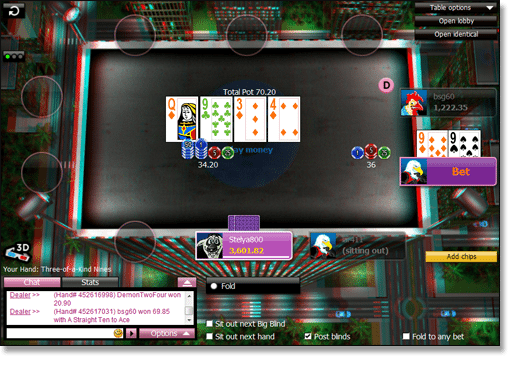 For information more on ring games, SNG poker, and the different kinds of online tournaments – including freerolls, satellites, and heads up holdem – visit www.888Poker.com.
3D Mobile Poker
The rise of 3D online hold'em poker has led to much speculation about whether the format may be adapted for the 888 Mobile Poker platform. This is the next logical step, as real money mobile gambling is enjoying a huge boom – for poker, online pokies, and casino games alike. It may be a little while yet before we can experience 3D mobile poker on our smartphone or tablet devices, but rest assured that 888 will be right at the forefront when this landmark technology eventually lands. In the meantime, punters can play regular mobile hold'em games for real money via the 888 Mobile site for iOS or the downloadable free app for Android.
Why Players Should Try 3D Hold'em at 888.com
The clear benefit of playing 3D Internet poker at 888 is the superb visual quality. Genuine stereoscopic displays and an intuitive gameplay interface combine to create a tactile feel that you just can't get with 2D poker software. And with the different visual settings available, the 3D Poker rooms can be as outrageous or as authentic as you want them to be.
This is as close to the real thing as you can get without actually setting foot in a poker pub or land-based casino – and with cheaper rakes, more gaming options, and less cash wasted on booze, petrol, or public transport. But don't take our word for it – go and see for yourself at 888Poker.
See also: