Casino Mate available games online
Casino Mate available games online

Casino-Mate boasts a long list of 650+ online casino games, including blackjack, roulette, video poker, baccarat, craps and a massive collection of online pokies. This authentic virtual casino is a great place to play a range of favourite interactive casino titles for free play or real money wagers. We explore some of Casino-Mate's most popular games.
Does Casino-Mate accept USA players?
Unfortunately, Casino-Mate does not cater to the American market. If you're looking for a safe, reputable casino site that accepts US players, read our USA casino guide.

Recommended games at Casino-Mate
Atlantic City Blackjack Gold – this blackjack variation is named after the city from which it originated and has become hugely popular among online blackjack players. The second addition to Microgaming's original and much loved Atlantic City Blackjack game, the Gold version is pretty much the same as the original when it comes to the rules, but with far more style and visual flair. Think of it as a refreshing revamp on an already solid classic, with improved sound effects, better player view points and smoother gameplay. A great starting point for anyone new to online blackjack, or a fun variant for experienced blackjack players, Atlantic City Blackjack Gold is one of over 40 fantastic online blackjack games available at Casino-Mate.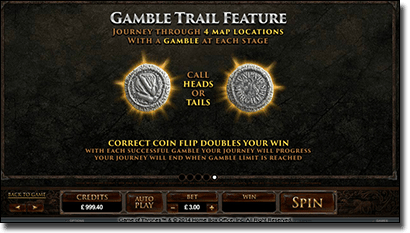 Game of Thrones Slot – Based on the HBO series which has captured the imaginations of fans worldwide, which is originally based on George R.R. Martin's best-selling "A Song of Ice and Fire" book series, Game of Thrones has now been remastered as a stunning online pokie game. A five-reel slot available in both 243 ways to win and 15 paylines format, the game revolves around the four Houses: Lannister, Stark, Baratheon and Targaryen. Choose one of the Houses within the free spins mode (activated by spinning three scatter Iron Throne icons) with diverse bonuses up for grabs, and embark on an epic gamble feature where you predict the toss of a Braavosi coin in order to advance along the map of Westeros and Essos. Thronies – enjoy a superb interactive GoT experience.
Pai Gow Poker – this video poker game is somewhat new on the poker scene, with online gambling leading to its recent rise in popularity. Similar to Caribbean Stud Poker in that hands are played directly against the dealer rather than against other players, the aim is for the player to create two hands from the seven cards they are dealt, one two card hand and one five card hand, which are stronger than the dealer's hand. Based on an ancient Chinese game which is played using tiles, Pai Gow Poker requires equal parts skill and luck. For poker players looking to branch out from Texas hold'em, Pai Gow is a great poker variation. Casino-Mate allows users to play for free in practice mode, so you can try out this poker variant to see if it's right for you before laying down AUD bets.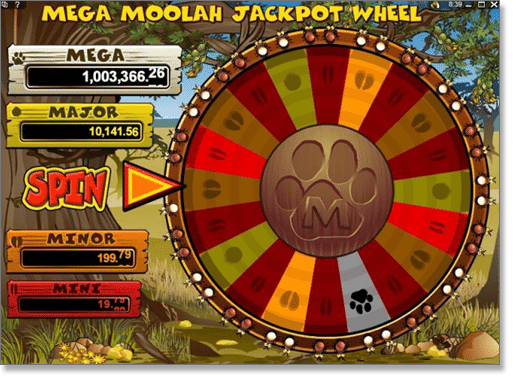 Mega Moolah Pokies – one of the biggest progressive jackpot pokies available online, this popular pokie has been around for years and remains a dominant player favourite due to the fact it's pumped out some millionaire winners. Mega Moolah is powered by Microgaming's Progressive Jackpot Network, the largest group of its kind on the Internet, allowing for some huge wins, including the 2009 record jackpot of $6,374,434.
While Mega Moolah uses decent graphics and a calming design set against the African desert, it's the jackpot possibility that is the real draw card.
Ballistic Bingo – the popularity of online bingo is dramatically on the rise, with a game once considered only for the elderly now making waves with younger players all over the world. Ballistic Bingo is an action packed casino game that offers some innovative gameplay along with the chance for some big cash prizes. It works in a similar fashion to 90-ball bingo, but players can choose to purchase from one to eight bingo cards for as little as 10 cents each, and can play all cards at once, which is where the name "ballistic" comes from. It's a highly charged bingo game where all 90 balls are dropped in a frenzy of crossed fingers and high hopes, with a jackpot prize of 5000x the original bet if cards are completed within 40 balls. Ballistic Bingo at Casino-Mate is a great introduction to online bingo for those who still think bingo only serves a place within retirement villages.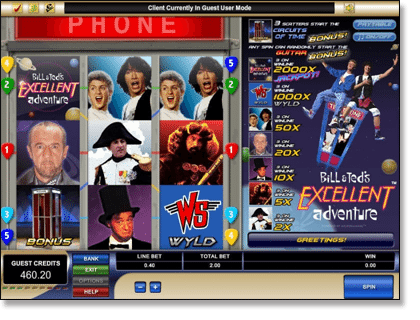 Bill and Ted's Excellent Adventure Pokie – a throwback to the classic 1989 film starring Keanu Reeves and Alex Winter, this pokie is a couple of years old now but is a fun example of the different style of pokies Microgaming is capable of creating. It's only played over three reels with five paylines, so while not seemingly lucrative, this game has been responsible for some very happy winners. Bill & Ted's Excellent Adventure slot provides an interesting blend of the classic pokies format with new design technology, using real stills from the hit movie to provide a bright and hilarious interface. Any fans of this classic film or those who want a good dose of 80s nostalgia will love Bill & Ted's pokie.
With over 650 titles on offer, this is a micro-insight into the world of entertainment and excitement that lies within the figurative walls of Casino-Mate. Take advantage of the $1,400 matched deposit welcome bonus and try these games and hundreds more for free or real money bets.
[rm_recent_news tags="Casino Mate" title="Latest Casino-Mate News & Promotions" ajax="true"]