Judge Dredd review
Judge Dredd review
Estimated reading time 4 minutes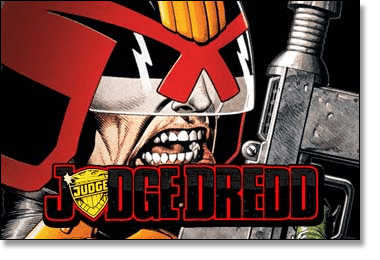 Some things in life are just meant to go together, like NextGen Gaming and Judge Dredd.
The recent partnership between the Sydney based affiliate of the NYX Gaming Group with 2000 AD Comics has resulted in a pokies game that reigns true to its original comic style, retaining that great retro feel with all the remarkable features we've come to know and love from the impeccable NextGen portfolio. The result is an impressive online pokies game, playable for free or real money that will be loved by comic book enthusiasts and virtual gamers everywhere.
Where to Play Judge Dredd and Game Basics
More slots reviews
The exciting new Judge Dredd pokies game can be played in practice mode or for real money at www.GdayCasino.com, which includes a range of bonus welcome offers to new users. Find this game under the 'pokies' category.
True to the NextGen Gaming compelling, uncomplicated style, the online slots version of Judge Dredd is nice and simple, with some great bonus opportunities. Played over five reels with 25 fixed paylines, with no less than nine coin denominations, players are encouraged to take advantage of the bonus Superbet option, where they can place an additional wager to activate more wild symbols, increasing their chances of free spins and potential wins.
Slot Bonuses
There are two game bonuses up for grabs in Judge Dredd, and they are:
I Am The Law – While not necessarily increasing your wins to an epic proportion, the I Am The Law Bonus is a great treat to boost you along. This bonus sees Judge Dredd show up randomly to present us with a cash prize of varying value, typically between five and ten times the amount of the original bet.
Free Spins – Now we're talking! The Free Spins bonus is what really takes Judge Dredd to a new level of playing potential and once you sink your teeth into this you'll be sticking around for more. The Free Spins feature is activated when three or more badge scatter symbols appear anywhere across the reels and results in 10 free spins. It's not just the free spins that makes this bonus so delicious, it's the fact that all of your winnings during these spins are doubled, with wilds appearing more frequently and the possibility of free spins being re-activated during this time. Trust us, this is a bonus worth playing for.
Wilds
Wild symbols appear in Judge Dredd most frequently when utilizing the Superbet feature and during free spins. The wilds offer the chance for some big bucks, so it's definitely worth throwing an extra wager towards the Superbet option.
Superbet Feature of the Judge Dredd Online Pokie Game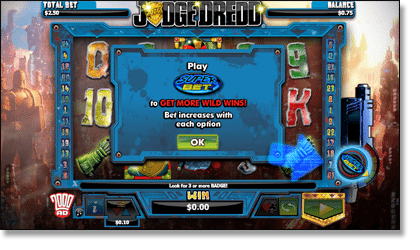 Exclusive to NextGen and NYX Gaming, the Superbet feature takes playing Judge Dredd to a whole new level of excitement. The aim of the Superbet is to unlock new features and enhancements within the game for a small extra bet. Within Judge Dredd, Superbet allows players to place an additional wager in order to activate more wilds.
Players can activate this feature by clicking the Superbet option on the bottom right hand side of the reels. There are three options to choose from when enabling Superbet:
Superbet Yellow: this will activate more wilds but they will appear on the third reel only.
Superbet Orange: this will activate an increase in the minimum and maximum bet and wilds will now appear on reels two, three and four.
Superbet Red: this will activate an increase in the minimum and maximum bet and wilds will now appear over all five reels.
Background on Judge Dredd
One of the world's most beloved comic book figures, Judge Dredd is a fictional character from a comic strip of the same name. Judge Dredd first appeared in 1977 in the popular British science fiction anthology 2000 AD and continues to be its longest running comic strip to date, testament to fans devotion to this character.
Set in the futuristic dystopian metropolis of Mega City One, the city is run by uniformed judges who work as law enforcement officers, with the power to arrest, sentence and kill criminals. Our man Judge Joseph Dredd leads the pack of Street Judges, acting as police, judge, jury, and executioner to a bunch of villains that terrorise the city.
For over 37 years, Dredd has been the subject of comic books, graphic novels, TV shows, video games and feature films, with loyal fans following him every step of the way. Two blockbuster movies, the 1995 version starring Sylvester Stallone and more recently the 2012 hit starring Karl Urban have helped increase Judge Dredd's popularity to those outside of the comic book world. The popularity of this series doesn't appear to be dying down anytime soon, with Empire magazine recently naming Judge Dredd as the 7th greatest comic character ever.
Our Verdict
The gurus at NextGen Gaming certainly know what they're doing. They pulled off the classic 2000 AD comic style flawlessly without any compromise to the impressive, high-tech features.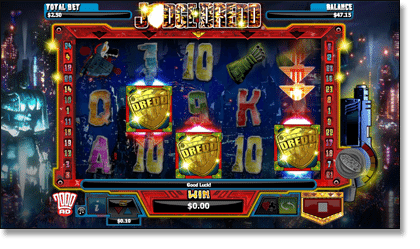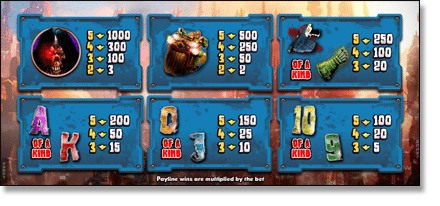 Judge Dredd has a certain style users will either love or hate, as is the nature of the comic book following. Comic books fans will be over the moon, while players who have no interest in comics or no proclivity to the Judge Dredd character may be deterred. We certainly recommend you give it a go, regardless of personal taste, as the bonus features (especially that kick ass free spin bonus) and the awesome Superbet option will keep gamers entertained.
Overall, this is a great example of the work coming out of NextGen and other iGaming software providers and makes us more excited to see what the company will come up with next. This is a great partnership that has resulted in an awesome game sure to become a fast favourite with players.