How to play Mega Moolah – Microgaming's biggest progressive pokie
How to play Mega Moolah – Microgaming's biggest progressive pokie
Mega Moolah is one of the Internet's most popular online slot games, but why? What's so good about this one pokie among the seemingly endless sea of online pokies? What sets Mega Moolah apart? The chance to win some Mega Moolah: that's the difference. It's all in the name. On more than one occasion players have landed jackpots in excess of $10 million and it shows no sign of slowing down. The following Microgaming casinos all have Mega Moolah available to eligible players.

Best online casinos to play Mega Moolah
Mega Moolah, yet another cracking Microgaming brainchild, boasts one of the largest online, four-tier progressive jackpots. Not only that though, but Mega Moolah is available to play on your desktop, laptop, tablet and smart phone, which means it is easily accessible whenever and wherever you feel the bite of the gambling bug.
The four tier progressive jackpot system is displayed in many different currencies, depending on your location, which is great, because there's nothing worse than winning one million yen and eventually realising that converts to $10,500. Sure, you have just won ten and a half grand, but it's a far cry from a bonafide million Aussie bucks. So in that regard, there are no tricks, smoke or mirrors.
Each jackpot has a base amount: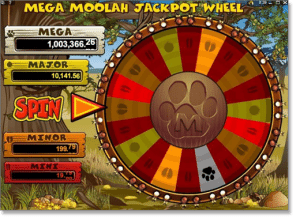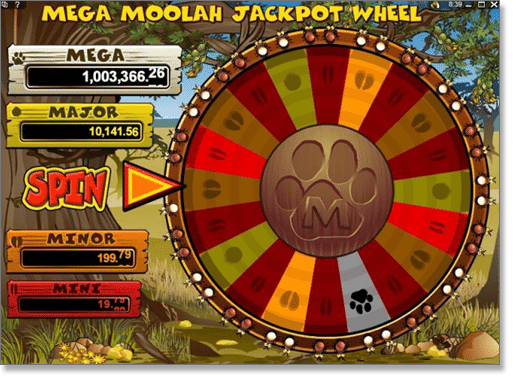 Mini: $10.00
Minor: $100.00
Major: $10,000.00
Mega: $1,000,000.00
All of the current jackpot totals are displayed above the playing screen. Recent Mega jackpots which have been won included payouts of the following amounts: €2,384,388 was won in June, 2014, $1,665,528 was won in December 2013 and £1,649,686 went off in October 2013.
The online slot shot at a jackpot win is triggered randomly throughout the games. Your chances of striking this random feature are increased the larger your bet is. The random trigger takes us to a Wheel of Fortune style screen where your spin gives you the shot at winning the Mini, Minor, Major or Mega jackpots. The wheel has 20 wedges painted around it: one of which triggers the Mega jackpot.
Due to the progressive jackpot, Mega Moolah does not offer a free play mode.
Mega Moolah Features and Symbols
The real money slot itself is a traditional five reel, 25 pay-line pokie with a minimum 25c bet and maximum $6.25 bet, which caters for your modest punter through to your high roller.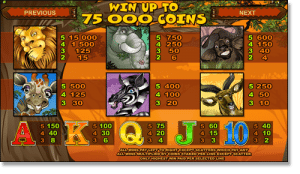 The symbols, in descending order of value are a lion, elephant, buffalo, giraffe, zebra and deer, followed by the traditional Ace, King, Queen, Jack and 10. The lion icon is also the game's wild symbol. Free games can be triggered by three, four or five scattered monkey symbols. You must keep a sharp eye for the monkey symbol because it looks less like a simian and more like a dread-locked Amazonian tribe member.
More: slots reviews
The Mega Moolah feature is up there with the best slots games, allowing for feature re-triggers during your 15 free spins. All wins during the free games are tripled which is always good news and opens the door for some potentially big wins.
I'm a simple man – some say too simple: pretty colours and bright lights attract and hold my attention like nothing else. Mega Moolah is a fun, light-hearted, engaging game that is easy to follow and even easier to get completely wrapped in. It is chock full of possibilities and gives you one hell of a chance to roll in some Mega Moolah.