Historic New South Wales pokies venues
Historic New South Wales pokies venues
Estimated reading time 3 minutes
If you want to make your pokies experience more valuable, we recommend visiting historic venues to spin the reels. In New South Wales, there are quite a number of historic venues so we have narrowed down some of the best for you to visit.

Best online pokies casinos for Australians
All Australian online casino sites
Historic venues are in abundance in NSW, however not every significant site offers pokies. We take a look at where you can find the best pokies venues featuring rich history.
---
Appin Hotel
84 Appin Road, Appin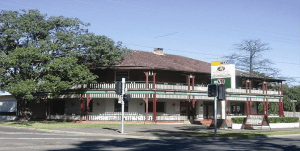 Appin is located about 16km from Campbelltown, Sydney and is a small town found in the Macarthur Region.
Appin hotel was first built in 1826, then known as The Union. It was renamed a few times until it shut in 1929, then known as the Royal Hotel. In 1933 it burnt to the ground, but a new building was built in its place and titled the Appin Hotel.
Shortly after, a new building was erected and it was named, the "Appin Hotel". Then in 1987, footy legend Brian Hambly purchased the pub and renovated in 2000.
Today there is a main bar, bistro, beer garden and a pokies machine area. Their website even boats the array of pokies stating the popular 5 Dragons, India Dreaming, and The Pharaoh are all available.
---
The Billinudgel Hotel
1 Wilfred St, Billinudgel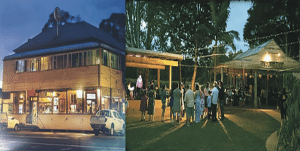 The Billinudgel Hotel, affectionately known as the Billi pub, is located in Brunswick NSW. While there's rich history associated with it being built in 1898, the former owner is much more interesting.
Mar Ring was the oldest publican in Australia, working in the Billi Pub until she was 101. She even showed former Australian Prime Minister, Bob Hawke, how to pour a beer.
The building did burn down in 1906 and was rebuilt later that year at a new site – but it still stands to this day.
The Billi is considered to be a country pub with multiple pokies, vocal locals who tell great stories, and a friendly atmosphere where you can make a new friend or two.
---
The Hero of Waterloo
81 Lower Fort Street, Millers Point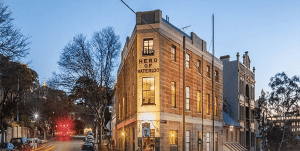 This pub has 170 years of history and is located in The Rocks, Sydney. It is incredibly unique since it offers ghost tours and a secret tunnel which runs from the cellar to the harbour.
The legend surrounding the tunnel is it was used to smuggle rum and controversially recruiting sailors. It is said recruiters would wait for drunks to pass out and drag them through the tunnel to the ships. You can hear more of these stories when you visit the pub.
There's also said to be a ghost haunting the pub. The rumour former publican Thomas Kirkman, pushed his wife, Anne, down the pubs stairs which killed her. Many say they see the ghost of Anne haunting the upstairs function rooms, which you can explore on their unique ghost tours.
The pub has barely changed since it first hit the scene more than a century ago and still has the shackles on the walls in the downstairs cellars. Today you can find a bustling bar and restaurant, as well as a gaming room offering a small range of pokies.
---
Rockdale RSL
45 Bay Street, Rockdale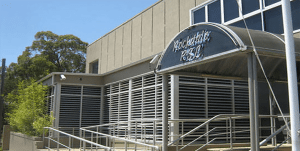 All RSLs are home to a huge array of pokies, but if you want to play in one of the oldest RSLs in Australia then head to Rockdale RSL.
The RSL applied for its charter in 1919 and this was approved in 1920. The first meeting was held in the town hall in 1921, and remained here until 1927 where land was obtained in Bay Street. The RSL has remained here since.
It was formed after the end of World War I, similarly to other sub-branches of the R.S.S. and A.I.L.A. to help returning soldiers and to allow for friendships which had been formed on the battlefield to be maintained.
The RSL houses not only pokies but Keno and Bingo facilities, but features state of the art TAB facilities allowing you to game in a venue which housed some of Australia's biggest heroes.
---
Create your own historic pokies atmosphere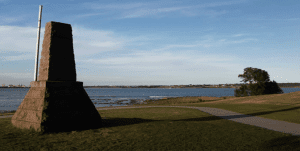 Thanks to mobile gaming, you can visit any of the online casinos in the table above and play the pokies on your smartphone or tablet.
Simply tap on the links to be taken to the mobile version and register an account. You can make a quick deposit too, using the Aussie-friendly methods, so you can get playing real money pokies.
This means you can go to historical sites which don't have video poker machines, for example Captain Cook's Landing Point in Sydney South, and sit and play the pokies on your portable device – lapping up the rich history while you play.
Check out other historical pokies venues, including in Newcastle, NSW, and Adelaide, Vic.
---
Check out the best Online Slots for Real Money.

Online Real Money Slots
---