How to play hard hands in blackjack
How to play hard hands in blackjack
Blackjack is one of the most popular casino based card games on the planet, but the emphasis placed on strategy is lost on the random punter and the fly-by-nighter. Knowing when to stand, hit, double down and split is very important, but knowing the difference between soft and hard hand strategy is what separates the pretenders from the guys who truly know the game.

Best online blackjack sites
This article looks at hard hand strategy and what to do in each and every hard-hand situation. These hands do not have the flexibility of a soft hand, so the importance of knowing what to do and how to do it is exponentially greater. If you're not quite at this level yet, read our guide to basic blackjack strategy.
What is a Hard Hand in 21?
As addressed in the our How to Play Soft Hands in Blackjack article, a soft hand is one with an Ace which can be valued at 11. A hard hard is therefore a hand either with an Ace that must be valued at one, or simply a hand without an Ace. Unlike a soft hand where there is only a certain amount of cards that can be dealt to achieve it (given an Ace is required), there are copious amounts of variations in the hard hand realm.
Blackjack Strategy for Hard Hands
There is nothing more important in blackjack than sound hard hand strategy. A hard hand can be compiled via numerous card combinations, not just one. Remember, the dealer's up card is paramount in your strategy, and the emphasis on getting your move right is heightened with the lack of options a hard hand provides. The following strategy is sound for pretty much any version of blackjack you come across, but if you wish to learn all moves for all the different variants of 21 (some of which are slightly altered depending on the version), we recommend viewing our blackjack strategy cards.
Hard 8 or Lower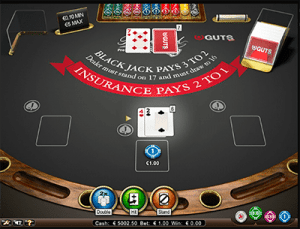 Being dealt a hard total of eight or lower gives you the ability to hit instantaneously without fear of a bust. Regardless of the dealer's up card and no matter the situation, hit every time.
Your strategy will change on your very next card once you hit, but the principle which applies here reflects that of when you are dealt two (or more) cards adding up to eight or less. For example – if you are dealt a 5 and a 3, take a hit. If you receive a 6, your strategy now mirrors that of what you would do having been dealt a hard 14.
Hard 9
In the event you are dealt a hard 9, again, the strategy is to hit, as there is no chance of busting with this combination. However, on this hand, the up-card of the dealer comes into play. If the dealer has a 3, 4, 5 or a 6, the player is advised to double down, as there is a reasonable chance the dealer will bust.
Hard 10 and Hard 11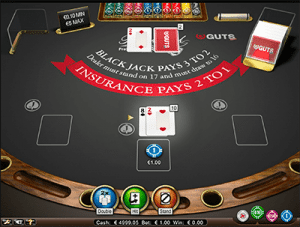 Much like a hard 8 and 9, you always hit on a hard 10. You will be looking to double down if the dealer's up-card ranges from a 2 all the way up to 9.
A hard 11 is the last of the opening automatic hit hands. There is no card that will put you into a bust, so you hit without thinking twice.
However, unlike the other hands discussed so far, this one has a greater double range. Players are advised that any dealer up-card from a 2 all the way to either a 9 or 10 (depending on the format of the game – hole card or no hole card) should invoke a double down. A card from 7 upwards will put you in a strong position, considering dealer must stand on 17.
With these early hard hands, you have the ability to hit without fear of busting, but hereafter it gets tricky, so strategy becomes even more vital.
Hard 12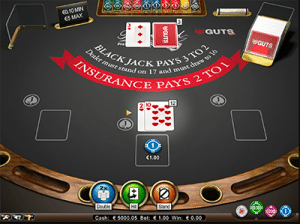 This is the hand blackjack player hate most – one of the trickier hands you will receive, and one even the most seasoned professionals will be apprehensive about seeing.
This hand has two options:
1/ Stand if the dealer shows a 4, 5 or 6. This may seem like a decision that leaves your fate in the hands of luck, which is somewhat true, but percentages suggest that when the dealer's up card is 5 or 6, the bust rate is 42%, whilst a 4 holds a 40% chance.
2/ If the dealer shows any other face up card, hit and hope for the best.
Hard 13-16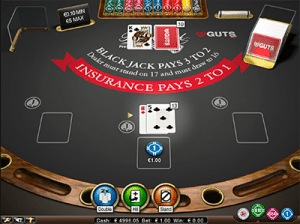 As the card total increases, so does the likelihood of busting, so implementing a sound technique and strategy is imperative. The strategy here is universal for the four different combinations you can receive here.
It is advised to stand if the dealer is showing an up card of a 2 through to a 6, otherwise you are taking a hit.
In games where a surrender is permitted (half your money back by forfeiting your hand), it is suggested to do so when you are dealt a hard 16 and dealer shows a 9, 10 or A (if not allowed, take the hit).
Hard 17-21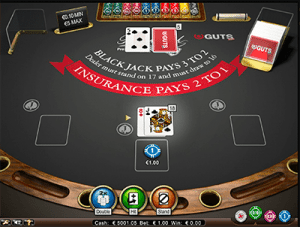 In terms of hard hands, these five possibilities all provide a strong chance to beat the dealer, obviously the 17 has the least highest chance, and with a hard 21 a 'can't-lose' hand.
Hence, it is recommended you always stand if you get any of these hard totals, regardless of what the dealer has. The likelihood of improving your position is minimal at best, and the chance of busting with another card very high, so standing is always your best bet.
While it can be very tempting to hit on 17 against a dealer up-card of 8, 9, 10 or Ace, mathematical strategy suggests otherwise.
Dealer Bust Percentages
Given how important it is with a hard hand to get it right, here is a map of how likely the dealer will bust when a certain up-card is displayed (dealer stands on all 17s).
Dealer Card:
Bust Percentages:

35%
37%
40%
42%
42%
26%
24%
23%
23%
17%
For more helpful hints and guides to optimise your chances of winning in blackjack, read up on the following:
Where to Test Your Hard Hand Strategies
Now you have read the different scenarios, it is time to put your hard hand strategy to the test – we recommend these sites for the optimal experience:
Casino-Mate.com offers 40+ blackjack options, including single deck, multi-hand and Atlantic City Blackjack. Casino-Mate also offers up to a $1,400 matched three-tier deposit bonus and a 10% recurring bonus thereafter.
The uniquely Australian-themed G'day Casino offers an unlimited amount in matched deposits, with unique titles including player's choice blackjack and Pontoon.
RoyalVegasCasino.com gives players a plethora of options when it comes to the famous game, including live dealer blackjack and the seldom seen triple 7s progressive game.
Our other top-rated blackjack sites are listed in the casino table at the top of this page. We recommend Raging Bull Casino as our top-rated casino site for players from United States, which has some excellent welcome bonuses available for new players along with a great range of blackjack variants, online slots and other table games.