How to play soft hands in blackjack
How to play soft hands in blackjack
Estimated reading time 6 minutes
Blackjack is one of the few casino games where skill should be considered more important than luck. Astute gamblers are acutely aware of the fact certain moves in distinct situations have been proven to offer far greater chances of success over other moves.

Best real money blackjack sites
What does a Soft hand in blackjack mean?
The term hard and soft hands is something you will hear quite often at the blackjack table, with certain strategies and go-to moves with each hand you will come across. This article will be focusing on soft hands, which is a hand containing an Ace valued at 11. A 'soft hand' is blackjack terminology for the flexibility you have when it comes to making your next move – the fact you cannot bust by drawing another card, as you can simply turn the Ace to a value of one if required. We also address "How to Play Hard Hands".
*Note: the following strategies apply to European multi-deck and Atlantic City multi-deck games of blackjack. If you wish to see all exact moves for the different variants of 21, check our basic strategy charts here.
Soft 13 and 14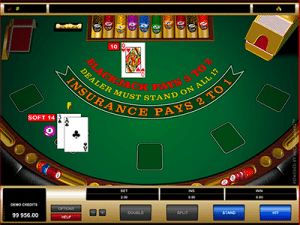 Soft 13 is statistically one of the worst soft-hands you can be dealt in blackjack, but it is still better than a hard 13, as you have the flexibility of taking a card without fear of exceeding 21. A soft 13 can only be made up of an Ace and a Two/Deuce.
Strategy suggests a player with a soft 13 should look to double down if the dealer has a Five or a Six showing, otherwise hitting is advisable as a card from Five through to Eight putting you in a strong position.
Much like a soft 13, the soft 14 is one of the least desirable soft hands you want to be dealt. This hand can be made up of either an Ace and a Three, or two Aces and a Two/Deuce.
The strategy for a soft 14 is near identical to the 13, with a double down the go-to move if the dealer has a Five or a Six, otherwise, take a card and see where it takes you. You may get the luck of the Irish and pull out a Seven, handing you 21.
Soft 15 and Soft 16
Observe what card the dealer has, and if it is either a Four, Five or Six, the player should double down. If the dealer shows any other face up card, it is advisable to just hit. Given the strong position this hand puts you in, doubling down on a weak dealer face-up card gives you the opportunity to double your potential win.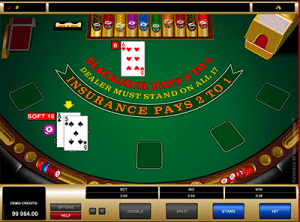 It is impossible to bust on a soft 15, so standing is never recommended, given the weak position it will put you in, regardless of what the dealer has.
A lot like a soft 13 and 14, the differences between 15 and 16 are negligible. The tactics used on a soft 16 remain the same at those used on a soft 15 – double on a dealer Four, Five or Six, and hit on any other dealer up-card. Hands of Soft 15 and soft 16 can be made up via a few different combinations.
Soft 17
Now we are starting to get to the business end. A soft 17, despite what some may think, is a strong hand, and depending on what the dealer's up-card is, there is a high chance you will come out of this situation on top.
If the dealer is displaying any card ranging from Three to Six, you are advised to double down. There is a good chance the dealer will bust, therefore doubling down is strongly advised. If the dealer shows any other up-card, hitting is the correct move. Soft 17 hands can be made up of several unique combinations.
Soft 18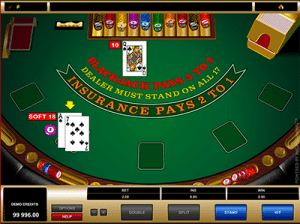 This is one of the tougher soft hands to play, and with good reason. While 18 is a strong hand, strategy suggests a few different options, depending on the dealer's up-card.
You may hear conflicting opinions on this one, but there are only three options you should be considering if you are dealt this hand.
DOUBLE IF: The dealer has either a 3, 4, 5 or a 6 as their up card. This may seem like strange advice, but standing on this particular scenario, your winning percentage is calculated at 58%, as opposed to a 55% winning margin if doubling down – the prospect of doubling your profits outweighs the better odds you have if opting to stand. If you are unable to double, stand.
STAND IF: The dealer is showing a 2, 7 or 8. With the possibility that the dealer has a 10 in the hole (or will draw a 10 as his/her next card), it is advisable to stay put on your total of 18.
HIT IF: The dealer's up card is a 9, 10 or Ace. With the possibility that the dealer has potentially anything upwards of 19, it is best to take the hit and try and get a better total than 18 to put yourself in a strong position.
Using this guide should help you negotiate one of the tougher hands to play in blackjack.
Soft 19, 20 and 21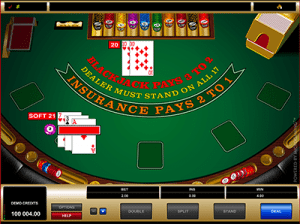 Lastly, the final three soft hands you can be dealt have identical strategies given – firstly, how strong the hand is, and secondly the likelihood you won't be able to achieve anything better if you were to hit or double down. Under no circumstances, even if they dealer shows an Ace or 10 is it advisable a player should do anything but stand.
As an example, a soft 20 could consist of the following cards: 5, A, 2, 2. A soft 21 hand could consist of the following cards: 6, A, 4. In both scenarios, you should do nothing other but stand.
Note: if the game does not allow you to double down in any of the recommended situations, take a hit unless otherwise advised. Of course, all moves are left to the discretion of the player, but the above strategies have been proven as the most successful moves for a player in the game of 21.
For more helpful hints and guides to optimise your chances of winning in blackjack, read up on the following:
Play Blackjack Online for Free
Now you have your basic strategies down pat, it is time to put it all to the test. There are several sites that will give you a terrific experience playing blackjack, all compatible with the latest operating systems including PC and Macs, smartphones like Apple iPhones, Android, BlackBerry and Windows devices, all tablets, data-enabled Smart TVs and even older WAP and other Internet-capable devices.
1/ Royal Vegas Casino gives players a plethora of options when it comes to the famous game, including live dealer blackjack (real croupiers and real cards), Hi-Lo 13 blackjack and the seldom seen Triple 7s progressive blackjack game.
2/ Casino-Mate.com offers 40+ blackjack titles, including single deck and multi-hand 21, Re-deal, High Streak and Atlantic City blackjack. Casino-Mate also offers up to a $1400 matching welcome bonus over your first three deposits, and a 10% recurring bonus thereafter.
3/ GdayCasino.com – a uniquely Australian themed gambling platform – offers new gamers an unlimited matched bonus and a free slab of Victoria Bitter for any deposit of $100 or more, and holds unique titles such as Double Exposure blackjack and player's choice blackjack.
All games can be played with practice cash for free, or with real money in a range of currencies.
We recommend Raging Bull Casino as our top-rated casino site for players from United States, which has some excellent welcome bonuses available for new players. Alternatively, refer to the casino table at the top of this page for a full list of our top rated casino sites that welcome players from United States.