Estimated reading time 4 minutes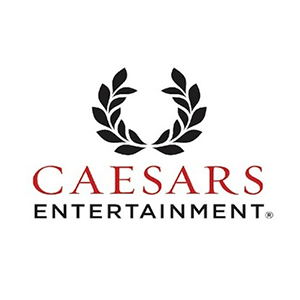 GLOBAL giant Caesars Entertainment has announced a breakthrough deal to become the first casino operator to bring Gamblit Gaming to the floor of real life casinos.
With its headquarters based in California, Gamblit is the leading technology provider for the growing market of interactive gaming meets gambling, with the company boasting a wide variety of video game genres to suit wagering experiences for both online and on-site play.
The multi-year deal was announced last week, with Gamblit's Model G and Tristation positions set to be based at the Harrah's Rincon Resort in California.
All going well, Caesars have plans to role out 125 Gamblit products amongst its casinos within Nevada and in a further 100 stations in other markets.
The new positions are set to contain varying themes and games including Match 3volution and word matching games, with future releases flagged to contain Gamblit games such as the company's 'gamblified' versions of popular video games Catapult King and Into The Dead.
Mark Frissora, the CEO of Caesers Entertainment, stated last year that the company was focusing on targeting the millennial generation with a 'casino within a casino' approach.
In line with this, both companies say the games will be available in dedicated entertainment spaces at the Caesars properties.
Frissora said the deal was a key step in Caesars' plan to create the "casino of the future", with the skill-based games catering to a younger audience and set to become "an increasingly important part of the gaming floors."
The deal follows the Nevada state government's decision to approve skill-based gaming last year, with another state, New Jersey, taking the same step in February.
Gamblit marketing executive Darion Lowenstein told the GamaSutra that there is a key to transitioning skill-based games to the casino floor – simplicity.
"If your games requires too much in terms of tutorials, if there's any kind of buildup or long-term loop, it just doesn't work on a casino floor," Lowenstein said.
Lowenstein went on to explain that "true gamblers" were more into the instant feedback of slots, whereas the younger market targeted by Gamblit is "inherently more focused" on achieving certain in-game goals – to the extent that the wagering aspect of the game almost becomes secondary to that experience.
Games Gamblit has available
Gamblit currently has eight interactive games listed on its website, all of which can be played by those wishing to experience a different type of winning in comparison to traditional casino games such as slots, roulette, blackjack or poker.
Each game is also available in a free-to-play mode, ensuring you can refine your skills before aiming for the big bucks and real money.
The games available at Gamblit are as follows:
Police Pooches vs. Zombie Cats: In Time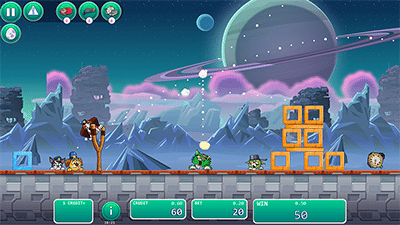 This video game requires players to battle zombie cats throughout different periods of history with your team of police pooches. The game encompasses fun physics based shooting puzzles with the thrill of real-money gambling.
Players take aim at zombie cats with their pooches, gain access to time-machine wheels which is where they can bet and win big, while they can also earn power-ups that grant their pooches an edge when battling against the zombie cats.
With over 30 levels across three time periods, there is plenty of fun and money to be made by those wishing to save the world from an invasion of mutated felines.
Lucky words
The online, modern version of Scrabble, Lucky Words requires players to form words from a certain selection of letters, with all the traditional features of Scrabble such as double and triple letter and word scores.
During the game, players place their words, but can also bet and win on a slot machine within the game which spells out winning results using letter tiles.
Additionally, players can also play against the computer or against other opponents across the globe.
Bears Beehiving Badly
A modern adaption of a classic arcade game which is combined with the thrill of real-money gambling, giving players a uniquely fast-paced and innovative experience.
Players' bears must break the honeycombs and collect honey drops to fill up their honey jar – the ultimate goal – with the more honey collected increasing a players' chances of winning.
With over 50 levels, skillful moves earn players Gbit tickets which can be redeemed for chances of claiming cash prizes.
Slice Of Cake
Ever dreamed of running a bakery? Here is your chance, with players required make their own cakes by slicing, chopping, cutting and slashing a variety of ingredients.
During gameplay, completing ingredient sequences runs a wager – with the better technique translating to greater chances of winning.
Not forgotten at the bakery are muffins, cupcakes and cookies which all come into play with special bonuses, while Gbit tickets are also up for grabs for skillful players.
Raze
Raze is a game about world domination, with players rolling a dice and watching as their fortunes in addition to the fate of the world change within the blink of an eye.
One of the most popular aspects of this game is that no two gameplays will be the same, with players experiencing a seamless, one-of-a-kind combination of chance and skillful decision-making every time they click to play.
Once again players can challenge themselves against the computer or other players.
Spinnr
A fun and exciting game of trivia, Spinrr allows players to challenge and bet on themselves to solve thousands of popular phrases. Dozens of categories are on offer with this game, ranging from sayings, to celebrities, to game shows to food and many more.
Match 3volution
Based in different environments, this game gives players the opportunity to win cash by matching and evolving a variety of cute creatures, with wagers initiated by matching creatures of the same type.
Chain matches, or matches which involve a higher number of creatures yield larger payouts as well as Gamblit's skill currency, Gbits.
Cash Pop
Possibly the simplest game on offer, all players have to do is pop balloons. Pop the correct balloon and players win more, plus chances to try again in pursuit of even bigger prizes.
Cash Pop also enables players to cash out on their skills by redeeming their Gbits for more chances to play.
Online casinos with skill-based games
United States players can join Raging Bull Casino and find hundreds of skill-based card games and table games to play for free or real money, including blackjack, craps, pai gow, poker, sic bo, texas hold'em and more.