Facebook blackjack
Facebook blackjack
More and more online gamers are looking to play and gamble on Facebook applications. The number of players choosing to play blackjack with Facebook apps is growing, even though casino games on Facebook are sub par to what you would find at virtual online casinos that don't use social media sites as a gaming platform.

Best real money blackjack sites
Below are the largest blackjack providers on Facebook – we've evaluated them and weighed up their pros and cons so you can make an informed decision about where you should be playing blackjack online.
Note: Players cannot play Facebook blackjack apps for real money – an obvious pitfall for those looking for real money blackjack games.
Blackjack Arena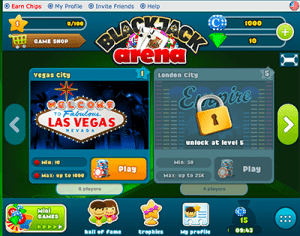 This is a massive blackjack provider on Facebook – the application has over 10,000 active users (which means they play a Blackjack Arena game at least once a month). When you open up the app you'll see a cartoon-like interface with different "locations" to play at: as a beginner you'll only be able to play at Las Vegas, while London, Nevada High Rollers and Blackjack Kings are other locations you will be able to unlock after you've played for a while.
One of the strong suits of this app is that you can play with other live players in real time and can invite your Facebook friends to join you for a game. Unfortunately, the game of blackjack itself is very basic. There is only the one type of blackjack and the graphics and animations aren't of the highest quality. Most reputable online casinos will have games available to play instantly via the Web and will also have specialised gaming software you can download for free – both these platforms offer far better graphics and gameplay than the Blackjack Arean app.
The social features of Blackjack Arena, like being able to chat with other players during a game, are excellent, however as a whole, there isn't a lot of variety in the types of blackjack offered and the quality of the games could certainly be improved.
Zynga Blackjack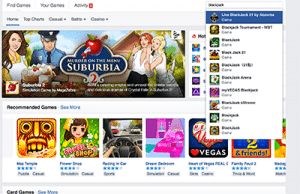 We thought it was important to cover Zynga since the article is about Facebook casino games. Zynga is one of the largest gaming creators in the world, it is estimated that 10 million people play at least one Zynga game everyday.
Zynga is behind popular games like FarmVille, Zynga Poker and Zynga Slots. Zynga briefly had a blackjack app but it has since been shut down. Zynga has said in a statement another blackjack app may be released in the future. There is also a seperate Zynga Facebook page especially for social play pokies.
Blackjack eXtreme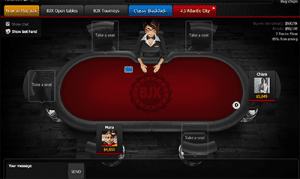 This app is a little different to the other Facebook applications. The interface reflects more closely what you would find at a legitimate online casino. Alongside the left hand side of the screen is a list of different blackjack rooms named after different capital cities. While it is the same type of blackjack being played within each room, they each differ in entry costs, with at least two other live players always occupying a room. The Blackjack Extreme game format is a mix between poker and blackjack, with players betting and raising against each other, and strategically showing one card or the other after receiving their initial two cards, in the hope they will make players surrender or simply beat the other players.
A social way to play a blackjack game with a twist, the poker-21 gamae style if the only variant offered, so again, variety of blackjack titles are lacking. In-app purchases to buy extra credits are offered within the app but you can't actually win real money.
Better online blackjack options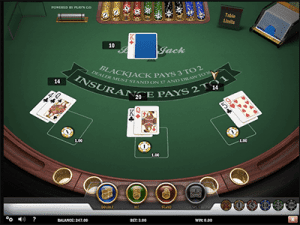 Established online casinos provide a superior gaming experience to the simplified versions found on Facebook applications.
The social Facebook blackjack games are appealing in that you can easily invite your friends to join games and compete directly against them, chat and play with other live players. In addition, it is convenient to play from a platform millions of people are already using.
However, for those searching for better variety, better player rules and odds, live dealer action and of course, the ability to win real cash, online and mobile casinos are hands down the better bet.
Online casinos supersede blackjack Facebook apps as there are countless blackjack variants (including single and multiplayer, American and European, live dealer blackjack, Perfect Pairs 21, Double Exposure, Re-deal 21, Hi-Lo 13, high streak and Multi-Hand Gold Series blackjack to name a few) instead of just one or two within an app.
Games are of a superior graphics and quality via an online gambling site, betting options are more flexible and real cash payment options so you can win cash are aplenty. All transactions and personal details are protected with 128-bit Secure Socket Layer digital encryption technology, while the casino itself is regulated for fairness standards by third parties.
The best Internet casinos for blackjack
All the below site offer blackjack in free money mode and real cash mode:
Royal Vegas Casino – download the app for mobiles and tablets or play via the Web with live Playboy Bunny blackjack dealers via HD video streams direct to your desktop in real time.
G'day Casino – exclusive blackjack games only available at G'day Casino, such as Blackjack Player's Choice and Blackjack Sixth Sense.
Casino Mate – 45+ variants of Internet blackjack (download or play via the Web).
All Slots Casino – Microgaming blackjack titles – hole card and no hole card games.
House of Jack Casino – instant Web-browser casino with games such as Pontoon, Super 7s, Atlantic City Gold Series and Pirate 21.
7 Sultans Casino – live croupier blackjack and real money blackjack tournaments with other live players.
All the above casinos are compatible with smartphones and tablets – tap on the links from your device and you'll be taken directly to the mobile-friendly site.