Casino Wars rules and where to play online
Casino Wars rules and where to play online
Casino War is considered to be one of the simplest casino games available. All you have to do is make a wager and if your card is higher than the dealer's you win. It is an ideal game for a newcomer or those after an easy game, with an option to mix up gameplay with the tie bet too.

Best real money online casino websites
While you can find the table game at Star Sydney Casino, we take a look at whether or not you can you find it online.
Online Casino War
Out of our recommended online casinos, there are two different versions of Casino War available.
Our top Microgaming online casinos all offer a true version, but it is only available on the downloadable platform. This means only PC users with storage space can download the casino client and access the table title. If you satisfy these requirements head to Royal Vegas Casino, All Slots Casino, 7Sultans Casino, Casino-Mate, and Platinum Play.
The other option is Play'n Go's variant known as Beat Me. You can find this title at House of Jack online casino.
Microgaming's Casino War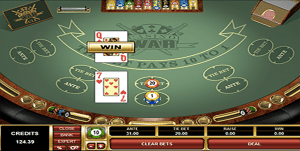 Once you have downloaded the online casino and logged in, you can locate the Casino War title in the lobby. The game is played with six standard decks and there's two bet choices to begin with.
To make a bet, you can opt for the Ante by choosing your bet size and clicking on the table where the Ante circle is, or you can opt for the Tie bet by clicking on the corresponding circle.
You will be dealt a card, and if it is higher than the dealer's you will win – with a 1:1 Payout. If the dealer's card is higher however, you lose.
If the two cards tie and you haven't picked the tie bet, which pays 10:1, you can opt to surrender or go to war. If you opt to surrender you will lose half your bet, and a new hand is dealt. If you choose to go to war then you need to click the Raise circle. This will see an additional bet – the same as your original – placed and if the next card you receive is higher than the dealer's you will win a payout of 2:1.
Play'n Go's Beat Me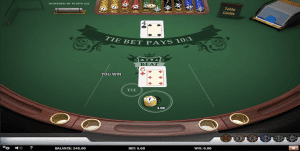 Play'n Go's Casino War variant is known as Beat Me and follows the same basic concept as Casino War, with six standard decks in play. However, there are some differences.
If your card is higher than the dealers you win a payout of 1:1, but if it is lower you lose. The tie bet is also available with the standard payout of 10:1. However, you can't place a tie bet on its own, it must be made as a side bet.
If the cards tie you can surrender, forfeiting half your bet, or you can go to war, but the payout will be 1:1 and your initial bet is a push. If the cards tie again both your war bet and your initial bet pays 1:1.
Both variants are great options if you are after the popular Casino War title.
Should you make a tie bet in Casino War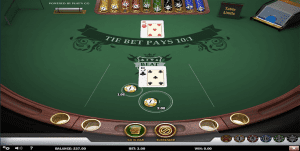 A tie bet is incredibly appealing when it comes to Casino War due to the huge payout in comparison to the standard payouts. At 10:1 we can often be tricked into placing this bet, but it is highly advised not to.
The tie bet is also known as the suckers bet as it has a high risk attached. The risk is an 18.5% house edge, which is one of the worst possible house edge you can get on online casino games.
You may get lucky every now and then, so if you put a small bet on it it may pay off – just don't go overboard on the tie bet.
Casino War strategy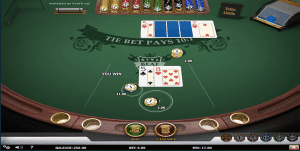 The basic gameplay of Casino War, with six standard decks, holds a house edge of 2.88%. While you can get a lower house edge on other table games, the simple 50/50 probability on every hand is quite entertaining. It also doesn't require much concentration so it is understandable why you may want to play the game.
The best advice of the game we can give is to always go to war as it makes more sense than surrendering. You're risking double your wager and potentially winning 2:1, rather than losing half your bet. Additionally, if you surrender the house edge raises to 3.70%, while it remains at 2.88% if you go to war.
As we mentioned above, it is advised to avoid tie bets due to the high house edge of 18.65%, but if you want to make a high risk, high reward move perhaps keep the bet size low.